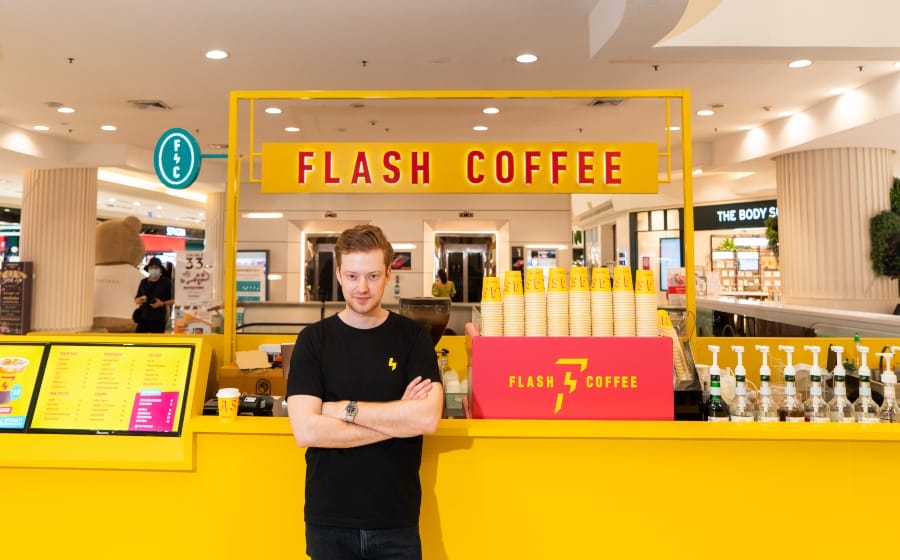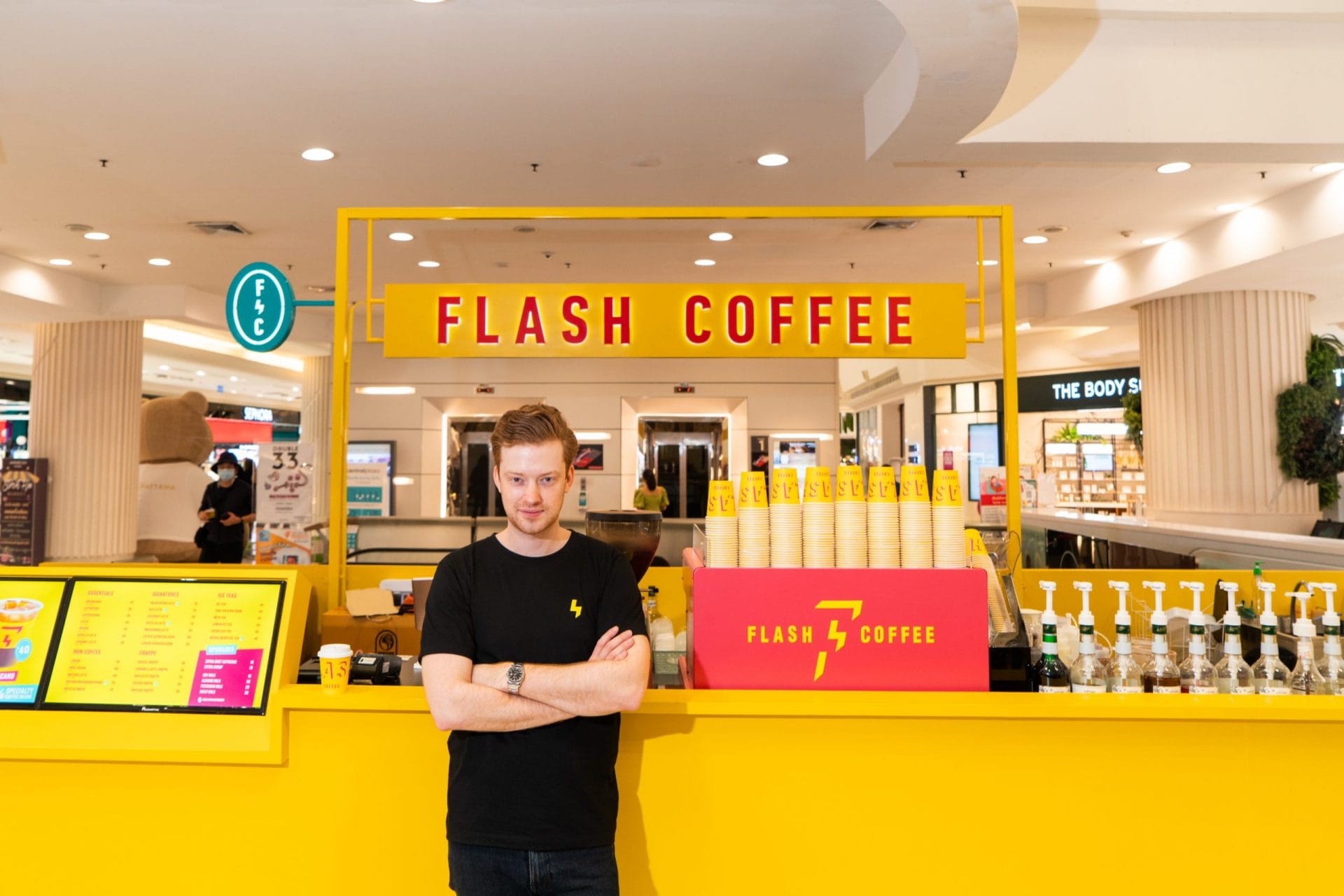 In a simple summary, Flash Coffee is a coffee place for all. Firstly, it's affordable because CEO David Brunier wants to gather the guzzlers of the beverage: millenials and young professionals like us. Secondly, the coffee is really high quality which is quite a feat for a chain with 20 stores. Thirdly, it's tech driven which means that while a leisurely stroll to the nearest one can suffice, you can pre-order or have it delivered before you have a meltdown midday.
Here, Brunier takes us through what tickles him so about the brand and most importantly, explains the Avo Latte available for you to try today.
Hello David, what I usually like to do with interviewees I meet for the first time would be to get them to pitch their elevator business in 10 words or less. 
It's also what I like to do with my interviewers I meet for the first time — so it's my pleasure. Here's the pitch: Flash Coffee is a fast-growing tech-enabled coffee chain serving affordable, high-quality drinks across Asia.
Can I perhaps, assume that you're quite a caffeine lover? What's your favourite kind of coffee?
You assume correctly. I'm definitely an avid coffee drinker, so you can understand what led me down this route to starting up Flash Coffee. You'll always see me with an Oatly Cappuccino in hand which also happens to be my go-to Flash Coffee order.
View this post on Instagram

You know, I actually tried counting the amount of coffee off the site menu and I lost count three times. How do you decide what should be sold on Flash Coffee?
I'm glad you think our menu is extensive! We have an amazing team of four internationally-renowned barista champions across the region, and they personally taste-test and curate our menus from scratch.
This includes everything from tasting and selecting the coffee beans we use in each market, as well as ongoing innovative product creations that are tailored to the tastes of local customers.
Which is the best seller then? Can you also please explain the development of the avo latte?
Our best seller in Singapore is — you might've guessed it — a comforting, classic cup of Latte. What might be surprising though, is that our Lychee Espresso Soda is actually a pretty close contender.
Like the rest of our menu, our Avo Latte was carefully conceptualised by our talented, award-winning baristas.
View this post on Instagram

Congrats by the way on your 20th store. What do you think has changed the most from the 1st to the current store?
Thank you Bryan. I'm personally very invested in the launch of every single one of our stores, and we're always trying to challenge and one-up ourselves with every new opening. With this approach, we're constantly exploring different ways to push our interior design further – in order to build the best possible, most visually appealing stores for our fans as we expand across Singapore.
With our latest Orchard Gateway store for instance, we wanted to ensure that passers-by couldn't miss our store and the team knocked it out of the park with a stunning, massive overhead structure featuring our iconic logo, and by splashing out the entire space in our unique pantone shade of yellow.
View this post on Instagram

I've actually been to the Changi City Point outlet myself and the yellow is very striking. How did you arrive at these colours?
I'm glad you think so thank you for this question. From my experience at foodpanda, I've actually had the opportunity to analyse and review the positive impact of using distinct colours in our brand, and how it significantly boosts customer acquisition and retention.
This is why from the very beginning, our goal was to find a unique colour with a positive connotation that we could stake our claim on for Flash Coffee across the region. We wanted a shade that is striking, energetic and memorable: a colour that everyone would immediately connect with our brand, the moment they see it.
Congrats too on expanding into Japan and Korea but the latter country is quite hardcore bout their daily drip so what're your plans? How are you planning to compete with their existing coffee brands?
The coffee industry in Korea has numerous players from traditional chains and specialty coffee chains to single mom-and-pop shops and a number of disruptors, who all have their space in the market. Ultimately, the coffee market is not one where the winner takes all – we definitely see a big opportunity by positioning ourselves in the underpenetrated and fast-growing mid-market sector, where we are offering high-quality coffee at affordable prices.
Coffee – especially from well-known brands – is extremely expensive and hence, usually inaccessible to the Asian middle class on a daily basis. In addition, the majority of the coffee industry still runs fully offline and lacks convenience, leaving incredible opportunities for digitisation and optimised processes. We noticed that customers were constantly paying high prices for coffee from large outlets with extensive seating in expensive neighbourhoods, while the majority of orders were grab-and-go.
View this post on Instagram

We want our Flash Coffee outlets to have a significantly higher output with less staffing than comparable businesses. In fact, we are currently working on an incentive model to have baristas participate in our stores' performance. Flash Coffee has created a concept that eliminates the inefficiencies of traditional business models, as we have chosen to invest in the product itself instead. In order to create the best-possible customer experience, we combine high quality drinks with affordable prices and tech-driven convenience via our own consumer app.
In terms of the positioning for Flash Coffee, we have an innovative menu curated by renowned baristas from Southeast Asia, with menu items like Nutella Latte, Avo Latte, Oatly Cappuccino, and many others. Our striking brand was specifically created for our target customer, and is empowering for Asia's rising middle class. We prefer to position ourselves as a bold and individualistic consumer brand, instead of a traditional coffee brand.
Our app also caters to tech-savvy consumers, who can order and pay for their drinks online, have them delivered or prepared for a quick pick-up. Consumers can also utilise Flash Coffee's advanced loyalty programme, or its newly-launched gamification feature called "Challenges".
What's next for Flash Coffee in 2022 then?
Currently we're opening five new outlets per week, an already ambitious pace that will be doubled to 10 launches per week in order to open and operate 350 stores across the region by early 2022.
We will continue to work on providing high quality coffee at affordable prices and making that even more accessible to the rising Asian middle class, by focusing on:
Accelerated store expansion – We have successfully launched more than 150 stores in ID, TH, SG, TW, and HK, and are now expanding to more markets, including Japan and Korea by the end of the year. We'll be launching in Malaysia, Philippines and Vietnam by 2022.
Continuing to lead with tech — Flash Coffee is a tech company at its core – our massive growth and brand stickiness have been accelerated by innovation, and we plan to build a tech-driven powerhouse that will equip us to become a leading F&B player in Asia that delivers the best-in-class customer experience.
Always on product innovation — Innovation is also at the core of our business. With evolving consumer preferences, we also look to continually improve and come up with new beverage options to suit different tastes across our markets.
Once you're done with this story about Flash Coffee (make an order here!), click here to catch up with our November 2021 issue! 
---