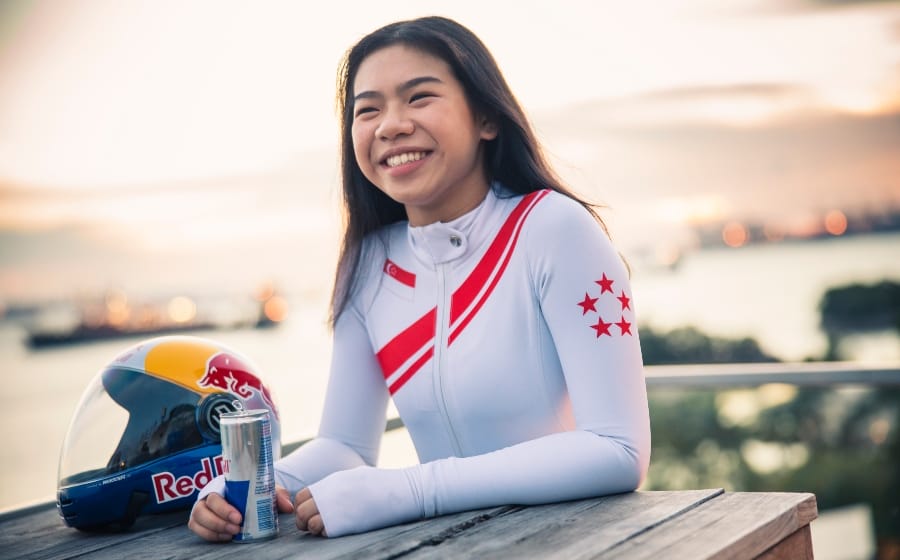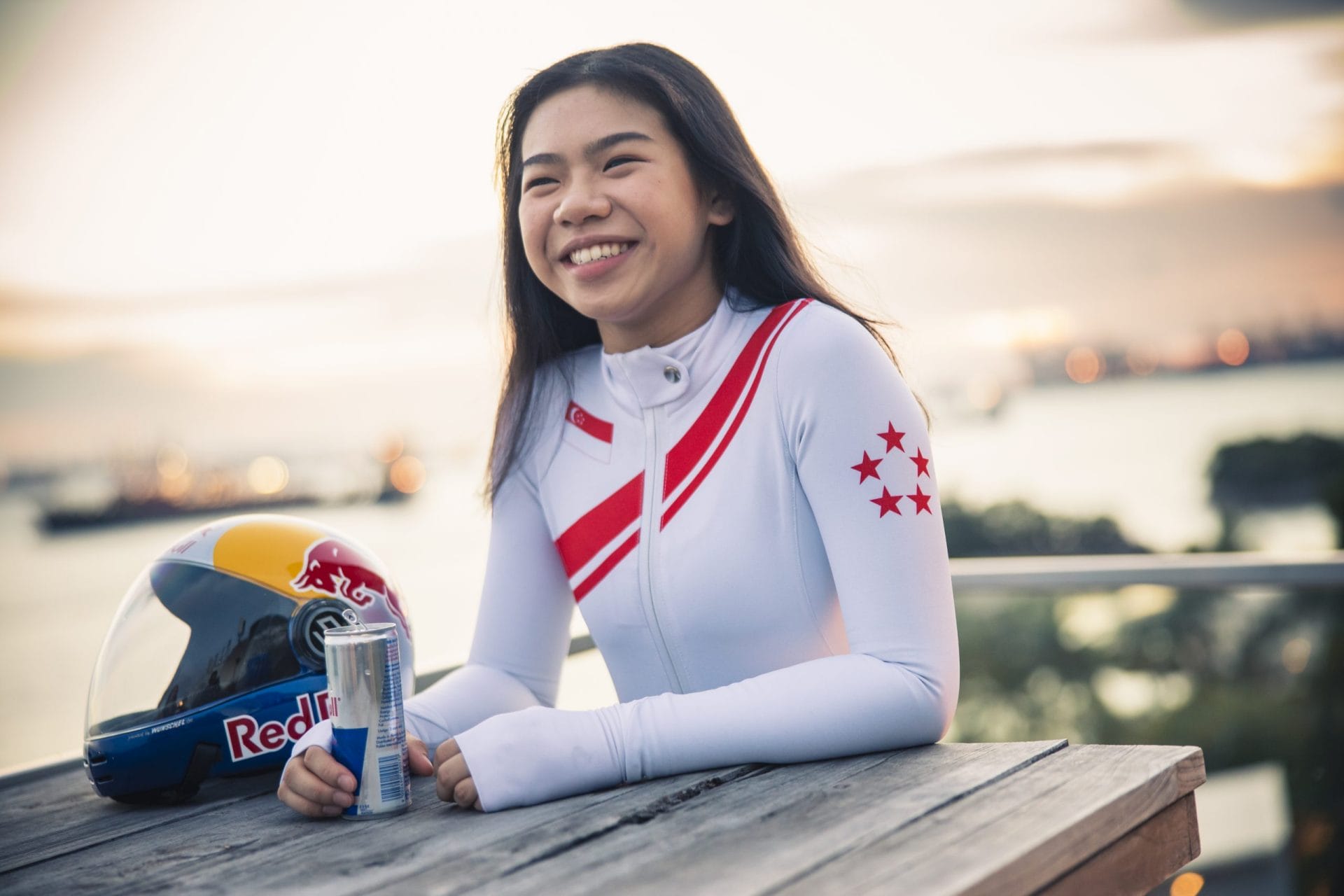 Originally, the #MensFolioMeets column was done to tell the stories of some pretty interesting people. You know, a duo helping you to shave better down there, the happiest man in the skincare world or a comic artist who's illustrating the highs and lows of dating culture in Singapore. However, Kyra Poh is in a league of her own. Firstly, she was crowned the world's fastest flyer when she was 15 having broken the record for the highest number of backwards somersaults in a wind tunnel. In context, are you even able to climb a flight of stairs without breaking out in cold sweat?
Secondly, she completed 59 jumps within 17 days. It's some kind of superhuman feat if you will because she's literally jumping out of a plane three times a day to skydive. Thirdly, if that's not GOAT enough, she's one of three females in the line-up of Red Bull skydivers and we're talking international, baby.
Here, Kyra Poh takes us through her routine, accolades and interestingly, her favourite calorie free snack pre-jump.
Image credit of Kyra Poh, Mark Teo
View this post on Instagram

Hi Kyra, what we usually like to do when we interview someone I've never met before is to get them to introduce themselves in 10 words or less. So if you could humour us…
I would say "I'm graceful in the wind, clumsy on the ground, and I live energetically." (Editor's note: Technically, she gave us 13 words but her answer was too good to edit!)
View this post on Instagram

You know, what you're doing is incredible. What spurred you to take on being a skydiver? If you could explain what skydiving is like, please do for anybody who has bizarre ideas about what it is!
Since young, I have always been interested in the idea of flight and when I started pursuing indoor skydiving, my dream was to take my moves to the skies! My first tandem was when I was 12 and I started on getting my USPA License this year.
Skydiving to me is peaceful and freeing and it feels like a story. The journey from going up in the plane to jumping off and being in free fall, to the moment I pull my parachute and land my canopy; there are so many emotions tied together and it is just simply amazing. 
View this post on Instagram

How do you get in shape from your diet down to your training and sleep patterns?
I try to be vegetarian most of the time as I feel like it helps me the best. I did a DNA test once and found out what works for my body and what doesn't. For example, I tried KETO for about six months and I did not know that it was slowly making me extremely tired! So, it's all about experimentation and moderation in everything I eat.
I also have a Red Bull nutritionist so that really helps! I try to do a lot of cardio as we need to be lean in the tunnel and I tend to bulk up quite easily –  so spin classes and HIIT workouts  are where it's at for me. I also do a lot of stretching and am super adventurous in terms of how I keep in shape – I love to boulder and wakeboard too!
Are there any "funny" things you do to get in shape?
One really unique snack I take whenever I am craving something to eat is a zero calorie Agar Agar (jelly)! My grandmother knows that I have a tendency to snack even when I have just eaten so she started making zero calorie jelly for me which contains xylitol or stevia and pandan.
I love to eat it to keep in shape and to reduce my sweet mid-day cravings.
View this post on Instagram

For anybody with severe agoraphobia (asking…for a friend…), how would you recommend them to get over this fear?
I don't have that phobia so I'm not sure how it feels like, but I think learning more about how safe skydiving can be would help if they have a fear of it! I used to have many fears but I think facing them full on really made me stronger and only proved to myself I can get through anything!
But of course, I have never experienced agoraphobia before so I wouldn't be able to fully understand how others feel. Maybe listening to some calming music and having a slow breathing drill would help. It helps me!
How did you actually complete 59 jumps within 17 days? That's almost 3 jumps per day! Any parting words to aspiring skydivers?
I'm still new to the skydiving world and I'm super eager to skydive as much as possible. As we don't have a drop zone in Singapore, I don't really have the chance to drive up to a local skydiving area every weekend like some do.
Whenever I do get the chance to skydive in other countries, I usually have about two weeks before I leave again so I just go crazy and jump as much as I can! I would say if you love something and you have a passion for a sport, go in with 110% enthusiasm and enjoy yourself.

Lastly, out of curiosity, what is your #1 song on Spotify this year?
It would be Meet Me at Our Spot by THE ANXIETY, WILLOW, Tyler Cole.
Once you're done with this story, click here to catch up with our October 2021 issue! 
---