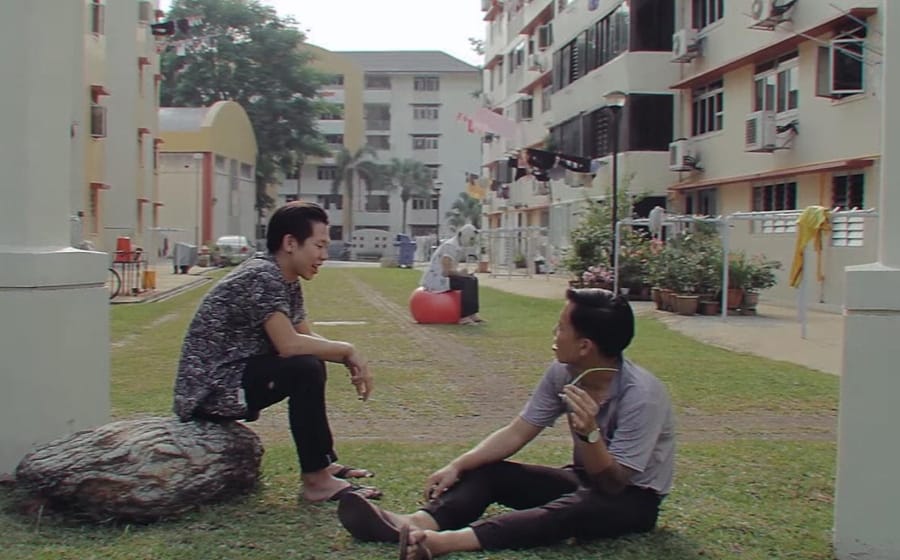 Jasper Tan uses his personal experience growing up in local heartland areas to create short films that bring out Singapore in all its realness — ah bengs and all. His recent film, Brudderhood follows two former gang members who try to go clean after leaving their gang, a story that was heavily influenced by Tan's own life.
He talks to us about his inspirations, about what life is like in a gang and his future projects.
View this post on Instagram
What was life like in a gang? How have your personal experiences influenced your work?
I would like to think my time in it was similar but different? I also think there were bad experiences but the majority of them was good — a lot of who I am was actually moulded by the people I grew up with (in and out of the gang). Of course, there will always be vices that you see growing up with them but some of the people were almost like real siblings and they were really out to just make sure I turned out well. Learning the right morals and values.
You also learn a lot of things from them actually — maybe Hokkien? Singlish? Chinese? [Laughs] Weird words they used to use like Icecream (which I made a whole series about). If there was something that you could link directly into my work, it would be how Ah Bengs act and speak and also the things we do and how we treat each other.
View this post on Instagram

Are there any artists or filmmakers whose work inspires you? If so, which element specifically resonates with you and are there specific scenes in your films that reference this influence?
I'm still pretty much inspired by the big guys — Wes Anderson for his use of static shots, zooms and huge focus and patience to craft each individual scene in terms of symmetry, colours and art direction. Quentin Tarantino for the way he uses sounds, very quick cuts, whip pans and very gory and violent scenes!
Some other notable directors I would love to mention are BRTHR, a music video director with a very unique editing style mixing VFX with graphics and 3D animations; Luke Casey for his way of directing and use of film and my old favourite Tom Welsh, one-man show music video director who is now doing very cinematic advertisements as a DOP.
A lot of it is mostly having quite symmetrical shot, colours, whip pans and mostly grading. I love how old films are graded or how beautiful things turn out when shot on real film — the grain, the unsharpness, colours and something about film that isn't perfect but perfect. One of the films with the biggest influence from Wes Anderson would be Icecreamkia.
For example, the treatment here is quite grainy and not so sharp with some weird artefacts to kind of replicate what real film looks like. The colours are a little off as well. I wouldn't say this scene is super symmetrical but a lot of things are shot to be aligned to the centre.
Most of the scenes from Icecreamkia are very inspired by Anderson. I used a lot of zooms and static shots with pans and there's always something small happening in the background behind the main characters. I also shot everything for this film around my block — everything around Redhill.
View this post on Instagram

Scrolling through your IG account, there is a strong perspective angled towards the local scene — why do you choose to put the spotlight so strongly on these heartland scenes?
I've always found heartland areas very visually pleasing and of course, convenience has a great part to play since the locations were just around my block. I stay in quite a mature heartland area, Redhill. Maybe, I also find a sense of comfort shooting things in areas like this. You don't usually look at places like this and go "wow" because there are other architectural structures in Singapore that are obviously more beautiful or famous.
Sometimes when I look out of my window and when the sun shines at an angle, it's really beautiful and I think it beats shooting elsewhere.  There's also something about the places around me which gives me a heartwarming and nostalgic feeling since I grew up here, and I'd rather share that in my work than nice cafes or city areas.
View this post on Instagram

You said your work is reflective of Singapore culture, but you are also strongly influenced by foreign filmmakers like Wes Anderson — how do the two blend together?
I guess it's mainly an influence in the way I film and direct. Like how the directors choose to direct the actors to act in a certain way and how each scene is crafted to be in a certain style or look. I guess you could call it a blend of the way the video is shot but in my own personal way of directing and with our local areas.
Were there scenes, people or moments in Brudderhood inspired by your own life?
I think some scenes were! But the majority were just in the way they talk and behave. I grew up with Ah Bengs so I'm quite influenced by them.
View this post on Instagram

How did you get your cast to fit into the "Ah Beng" roles when you were directing them?
I think we spent the majority of the casting time finding actors who could play the roles. Some came quite close to actually being able to play the part but I wasn't satisfied. I don't think being an Ah Beng is actually something someone can pull out of their pockets and become. You actually need to grow up or be exposed to it very intimately somehow or another.
I actually ended up asking two friends who don't have any acting backgrounds but were very similar to what the roles were supposed to be and it really worked out well. I think the other fact is that they were very close friends both with each other and myself, and that brought out the acting way more.
Brudderhood is available on mewatch.sg; it seems incredible that a state-owned media company would be so open to having such a film on its site — what was your experience working with MediaCorp like?
It was pretty easy actually especially with Amok, the production house that represents me. We had a lot of discussions about the script since 40 to 50% of the film was filled with smoking and cursing. But I think the good thing was that MediaCorp was really open about this especially for such an indie-styled film.
I'm really happy to have had the opportunity to direct Brudderhood in the most authentic way possible without a whole list of restrictions.
View this post on Instagram

What's next? What projects can your viewers and fans look forward to?
Mostly new music videos — looking forward to shooting and meeting newer artists but at the same time, I would really love to have more time to either bring Icecreamkia back or shoot a season two of Brudderhood.
---