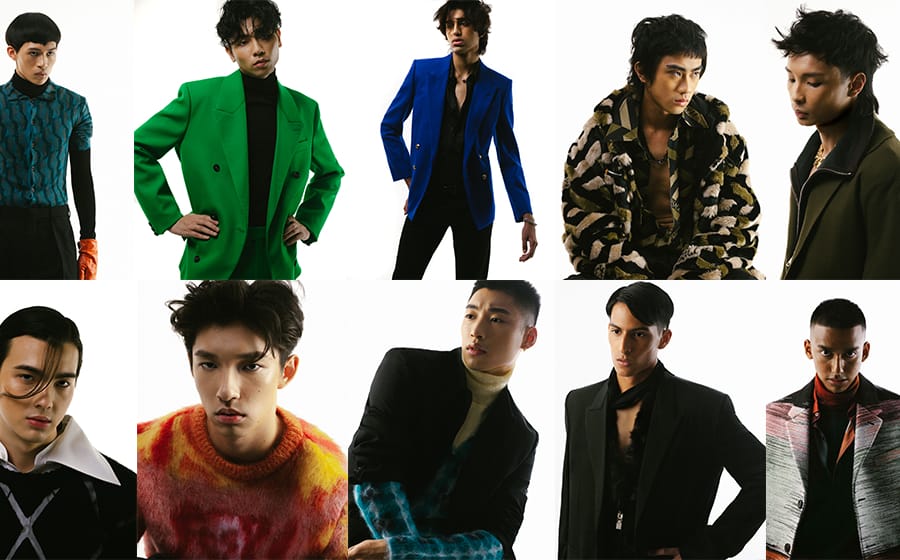 The annual Men's Folio Model Of The Year competition is finally back for its 2021 iteration.
Meet the aberrant troupe of this year's contestants as they demonstrate a renewal of the male model face in Singapore. Spot any favourites yet? A public vote to decide who will move on to the next round has now been opened and will close on 30th August 2021, 6 p.m.
__
Harvin

Saint Laurent Wool jacket, silk shirt, jeans, metal necklace, leather belt, metal bracelet 
__
Kevin

Prada Wool jacket, mohair sweater, wool-knit turtleneck sweater 
__
Hakiim

Ermenegildo Zegna XXX Wool jacket, wool-blend vest; Givenchy Metal chain necklace
__
Jonathan

Valentino Wool knit and nylon appliqué sweater, cotton shirt 
__
Arif

Bottega Veneta Wool jacket, cashmere-blend turtleneck sweater, wool pants
__
Hamza

Berluti Wool-knit coat, cotton-blend shirt, cotton-blend turtleneck sweater
__
Erwin

Versace Faux-fur anorak coat, cotton shirt, nylon shorts; Givenchy 4G chain necklace
__
Hamzah


Givenchy Wool-blend coat, mink fur and wool knit gilet, cotton balaclava
__
Spencer

Prada Wool knit cardigan, wool turtleneck jumpsuit, wool pants, leather gloves
__
Oliver

Dior Men Wool and mohair sweater
__
Voting will close on 19th August 2021, 10 p.m. 
Only one vote for each boy is allowed for the entire voting period. Any vote submitted after the voting deadline will not be considered. Men's Folio reserves the right to decline votes we may deem as fraudulent, or of not on fair grounds. 
Any queries on the competition may also be directed to [email protected] 
__
Photography Ethan Lai
Art Direction & Casting Izwan Abdullah
Styling Manfred Lu
Production Petra Natasha
Styling Assistant Bing
Production Assistant Erwin Canuela
Grooming & Hair Eric Tan, Leny Fu, Adelene Siow using Tom Ford Beauty & Kenue Haircosmetics | Palette.inc
Haircuts (On Erwin & Spencer) Tomo | itto+lim 
Once you're done with this story about the return of the Men's Folio Model Of The Year 2021 competition, click here to catch up with our August 2021 issue. 
---