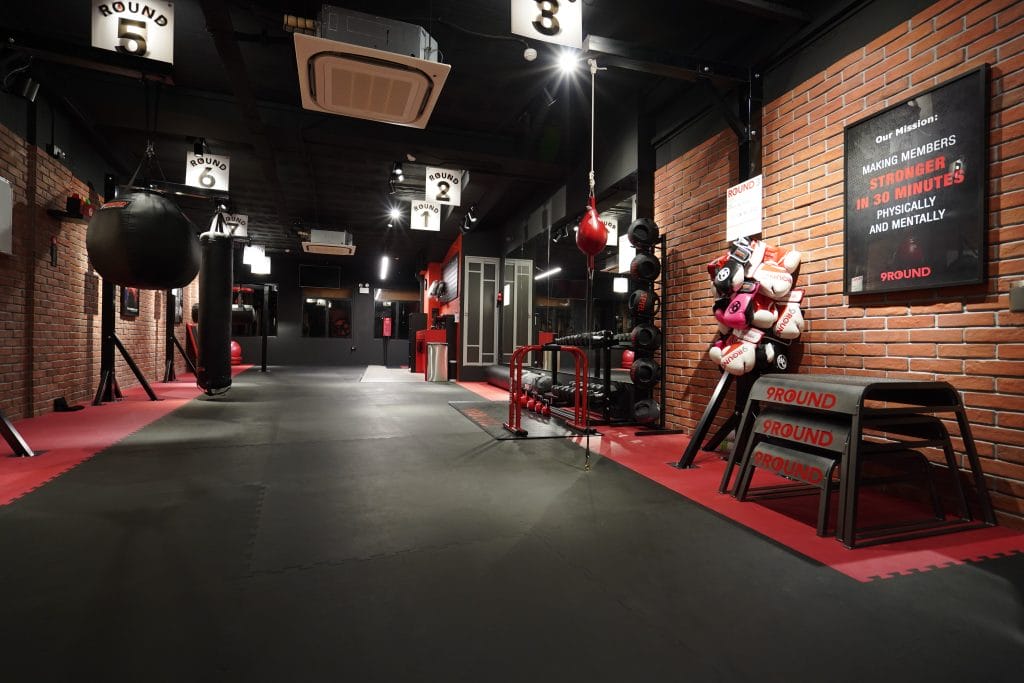 Sorry to the Japanese, but the number nine in boxing gym 9Round actually has a useful connotation.
It should not come as a surprise that Singapore boxing gym 9Round has a predominantly female clientele. After all, women have been punching their own weight through the glass ceiling since English boxer Elizabeth Wilkinson drew first blood in June 1722. Perhaps it can even be said that the art of boxing has the potential to be a great gender equalising activity — one requires four limbs and a decent reactionary time to partake in it. However, 9Round has its reason — there is zero human sparring during classes which erases physical contact and in turn, eliminates the nerve factor one might experience in a testosterone-filled environment. 
—
View this post on Instagram

Can a boxing gym with the removal of human sparring prove to be efficient? Humans are theorised to develop a predilection for fighting — over conflicts of interest or greed;  entertainment or politics; pain or pleasure. Biologist David Carrier even proposed that the human body has developed "signs of design of aggression" since we became bipedal — our heels have evolved to apply free moments to the ground which are integral for fighting and our facial features have developed into a more robust shape to withstand punches. 
The answer 9Round provides is that after nine rounds of 30-minute session — rope skipping, medicine ball tossing, punching, kicking and core workouts among others — one will not even have the energy to lift his arms and his vision of red will dim to green. The beep of a 9ROUND PULSE™ belt (it measures one's effort rating, calories and heart rate — the latter, a requirement of the sweet spot between 60 to 90 per cent in an instant which makes the results of boxing more significant than other forms of cardio, creates a pleasant rhythmic tempo to soothe and calm.
The wonders of boxing on the entire body is also great for one's mental health, an antidote to one's aggression and prudent it is as opposed to unleashing obscenities at strangers. Three times a week is advised by the coaches but the beauty of a boxing class (like most other fitness classes in the new) is that it can be tailored according to one's requirements.
—
View this post on Instagram

Tailoring is exactly what 9Round in Singapore does. A new circuit starts every three minutes be it starting at six a.m. or eight-thirty p.m. weekdays or even eleven-thirty a.m. on the weekends and they are triangulated geographically like a boxing triangle itself — East Coast Road, Novena and River Valley.
This story about 9Round Singapore first appeared in our May 2021 issue. 
---