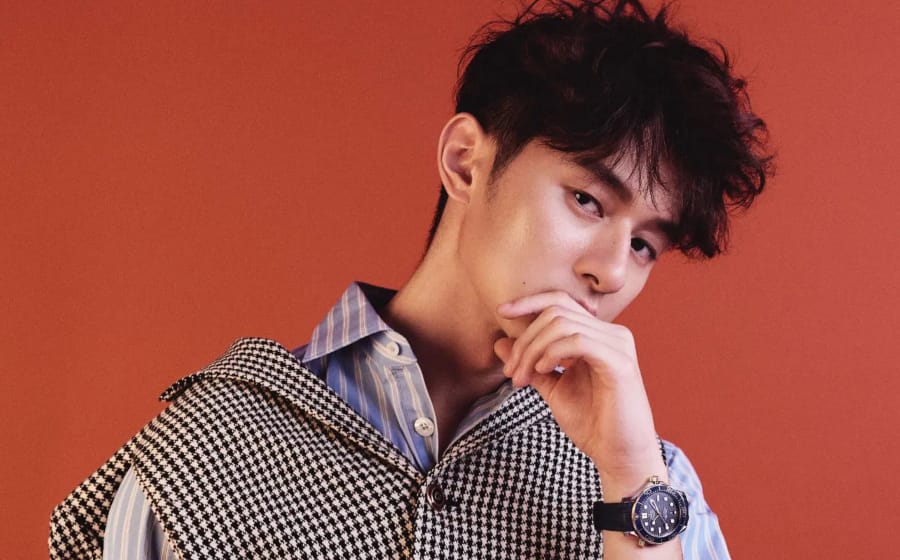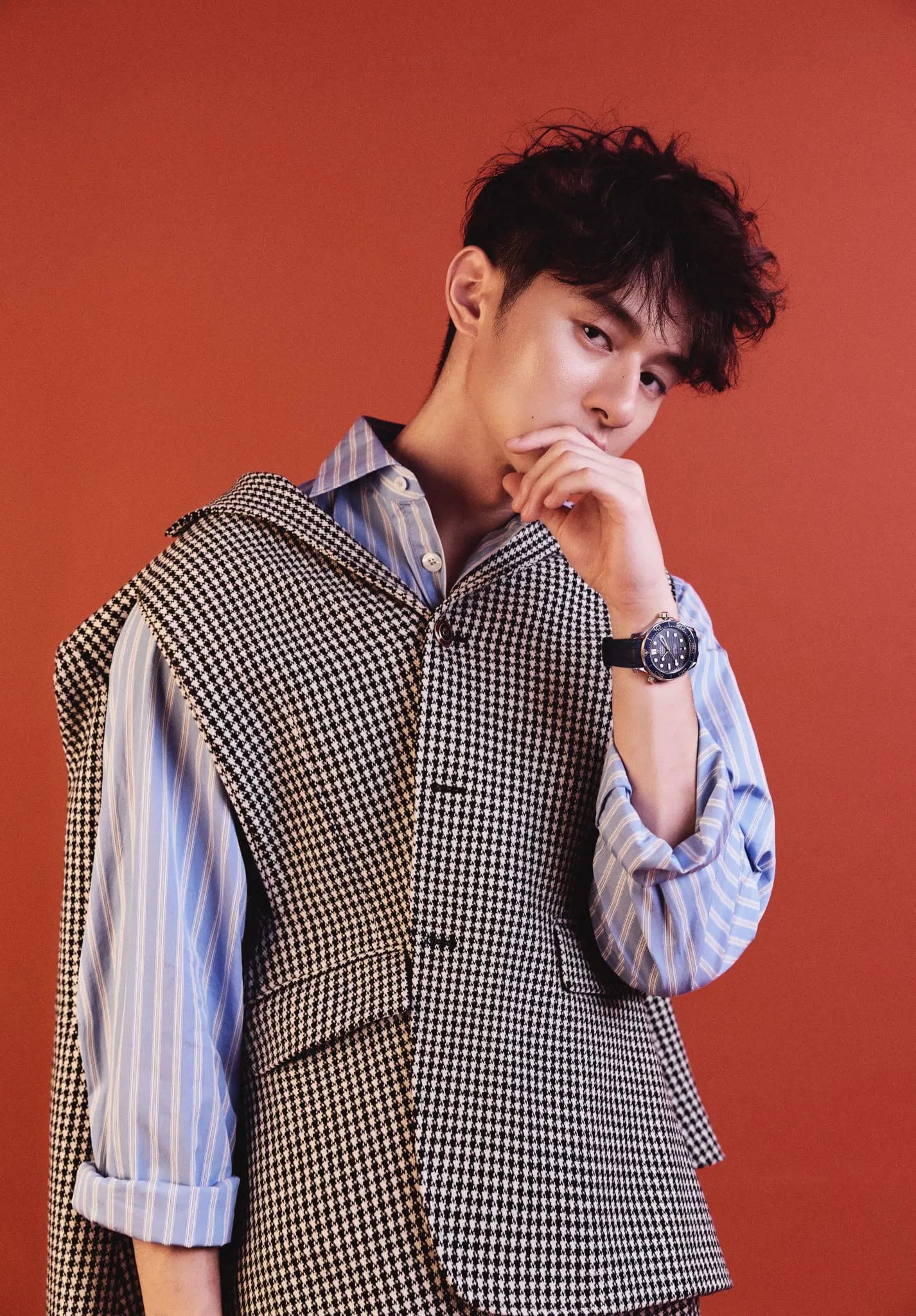 Before we deliver the DL on skipcare, let me start of this article by saying that in the name of grooming reportage, I have done some pretty weird stuff. Putting a flaming towel on my face to treat sagging? Yeah, cool. Getting slapped on the face for 15 minutes to treat wrinkles? Been there, done that. Or, how about paying 570 frickin' euros to have a therapist massage the insides of my mouth? Very pleasant, actually.
However, the latest trend that really has me intrigued isn't finnicky or GOOP-level strange. It's actually very simple. Enter skipcare — a concept I found out about from the good ladies behind cult skincare label Glow Recipe.
To put it simply, it's the subtraction of one's skincare routine by using products that multi-task. But don't just take it from me. Here, Willie Chan, founder of Wellaholic, takes us through the science behind it.
This image of Derek Chang first appeared in our September 2018 issue. He's wearing a Gucci Wool jacket, cotton shirt and an Omega Seamaster Diver 300M Co-Axial Master Chronometer in steel and Sedna gold with rubber strap.
—
Hi Willie! Have you heard of the concept "Skipcare?". It's one where you're encouraged to combine as many steps into one product as possible, what are your thoughts?
Yes, "Skipcare" is a skincare concept which started in South Korea a couple of years back and became more popular worldwide. Interestingly, it was a movement that was started in creative opposition to another skincare concept which focused on a complex, time-consuming layering of skincare products.
While the original beauty routine was the 10-step Korean skincare routine which outlined steps to cleanse, prepare, nourish and protect the skin, it was time-consuming to do this on a daily basis. Moreover, its critics suggested that over-applying the layers of skincare products might be excessive and lead to breakouts.
All these culminated in the rise of Skipcare, which condenses complex skincare routine into a few essential steps.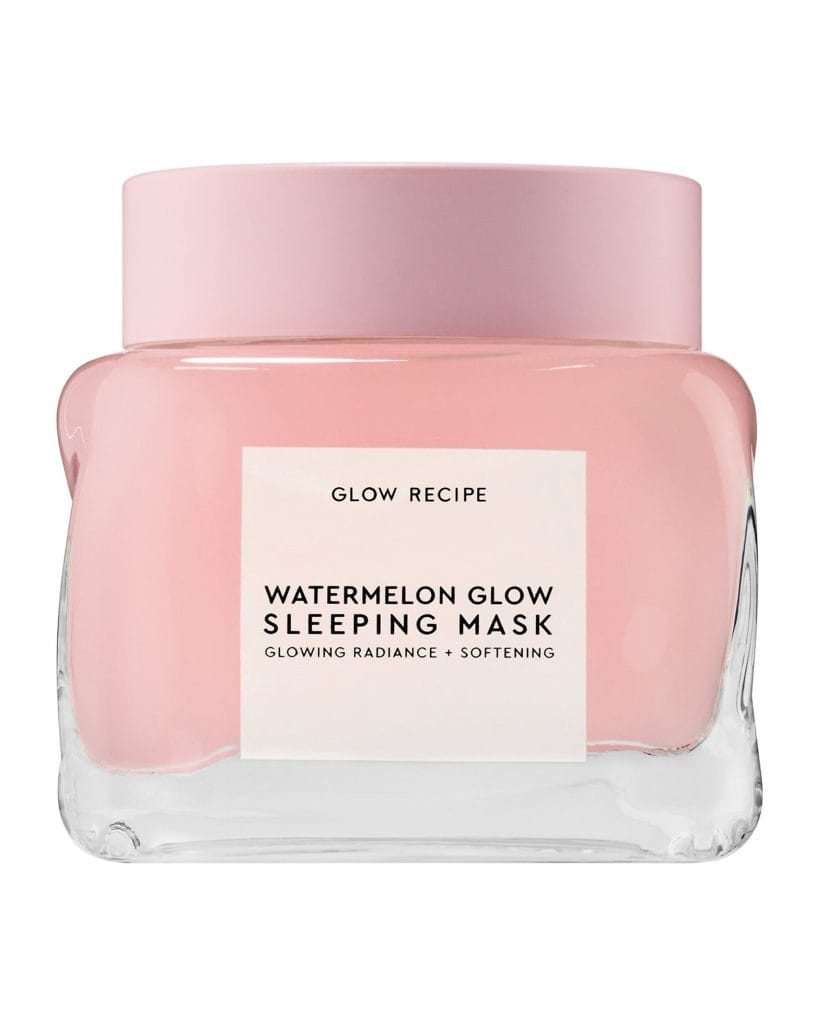 Editor's note: It boosts radiance, smoothens and gentle exfoliates. It's the Glow Recipe Watermelon Glow Sleeping Mask. 
I am a supporter of Skipcare as I believe that a good skincare routine should be one that we can stick to easily. Skipcare is ideal not only for the millennials who popularised this skincare trend, but also for men in general. Skipcare encourages us to identify the essential ingredients for our skin and avoid the use of unnecessary products for a simpler yet effective skincare routine.
This works well for guys, who tend to place an emphasis on convenience and simplicity when it comes to skincare. Skipcare helps to simplify the regular skincare routine, especially when most of us men do not apply make-up and hence do not require the layered cleansing, for example.
—
Is it possible to overload your skin with products or even ingredients? What happens then? Can too much of, for example, Vitamin C be bad?
Too much of a good thing can certainly cause problems to the skin. At Wellaholic, when we are assisting a customer with a microneedling facial, for example, we will need to caution the customer against the use of any retinoids a day before or after the treatment. This is because microneedling creates small channels in the skin and the retinoids, or any Vitamin A based skincare could potentially irritate the skin's deeper layers. In addition, it is important to apply sunscreen (SPF of at least 30) constantly for two weeks after microneedling.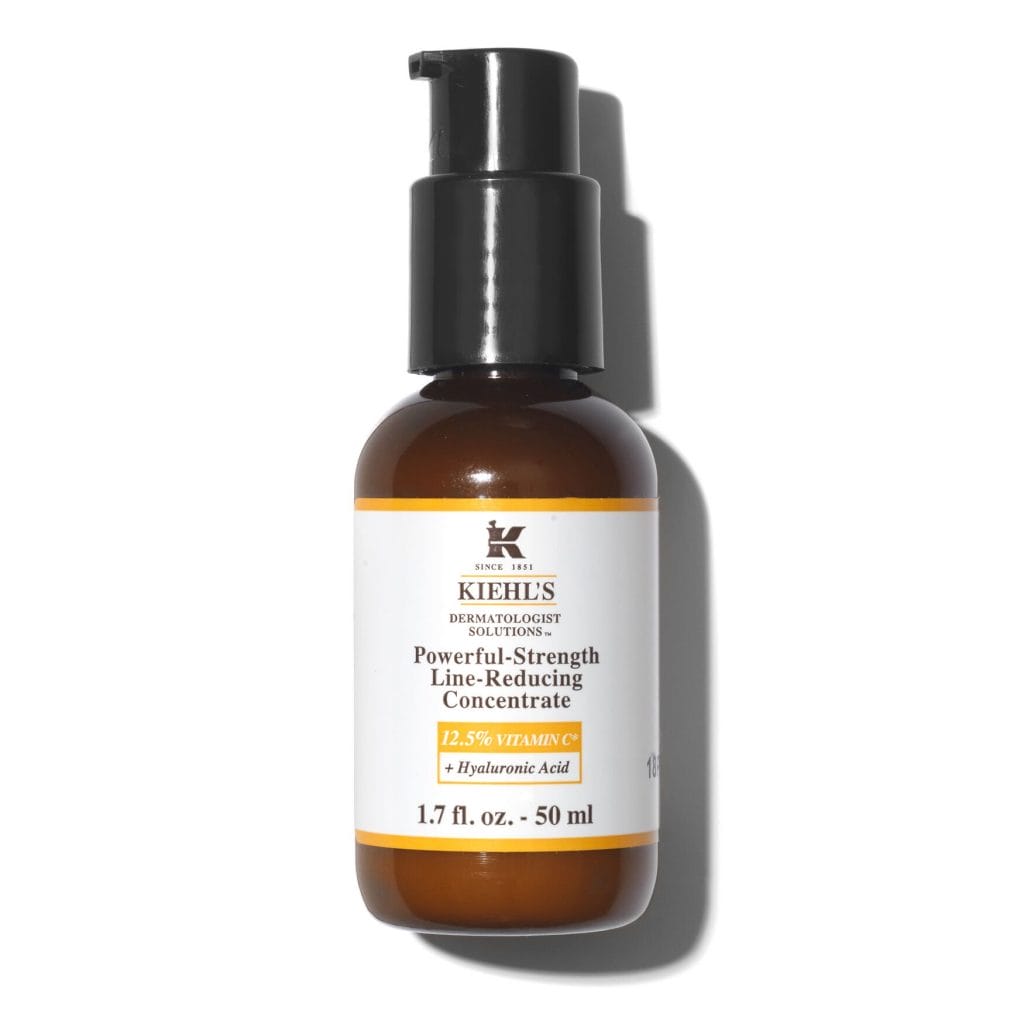 Editor's note: A whopping 12.5% of Vitamin C in the Kiehl's Powerful-Strength Line-Reducing Concentrate effectively exfoliates while banishing wrinkles and fine lines. 
In a similar manner, we should never mix certain skincare ingredients. Vitamin C is effectively an acid, so we should avoid layering it with AHAs or BHAs such as glycolic or salicylic acids. If you would like to incorporate both vitamin C and acids in your skincare routine, the key is to apply them away from each other, at different times of day. This is because AHAs, BHAs and L-ascorbic acid are all acidic ingredients. These acids will affect the overall pH balance and neutralise the effectiveness of the Vitamin C serum.
I am a strong advocate of the use of retinol for its anti-ageing properties and its use in reducing fine lines and wrinkles. However, retinol does not mix well with Vitamin C as both used together will increase the skin's sensitivity to the sun, leading to higher chances of UV damage.
I will always use retinol at night, just before I sleep, and Vitamin C during the day. All these can be rather confusing, hence the easiest thing to do is to stick to a simple tried-and-tested formula.
—
Can you just give us the basics of a skincare routine?
A good skincare routine for men must be simple and easy to follow. The first essential step is always cleansing, and I recommend doing it in the morning and before going to bed. Most people wash their faces in the morning but they do not do it before going to bed.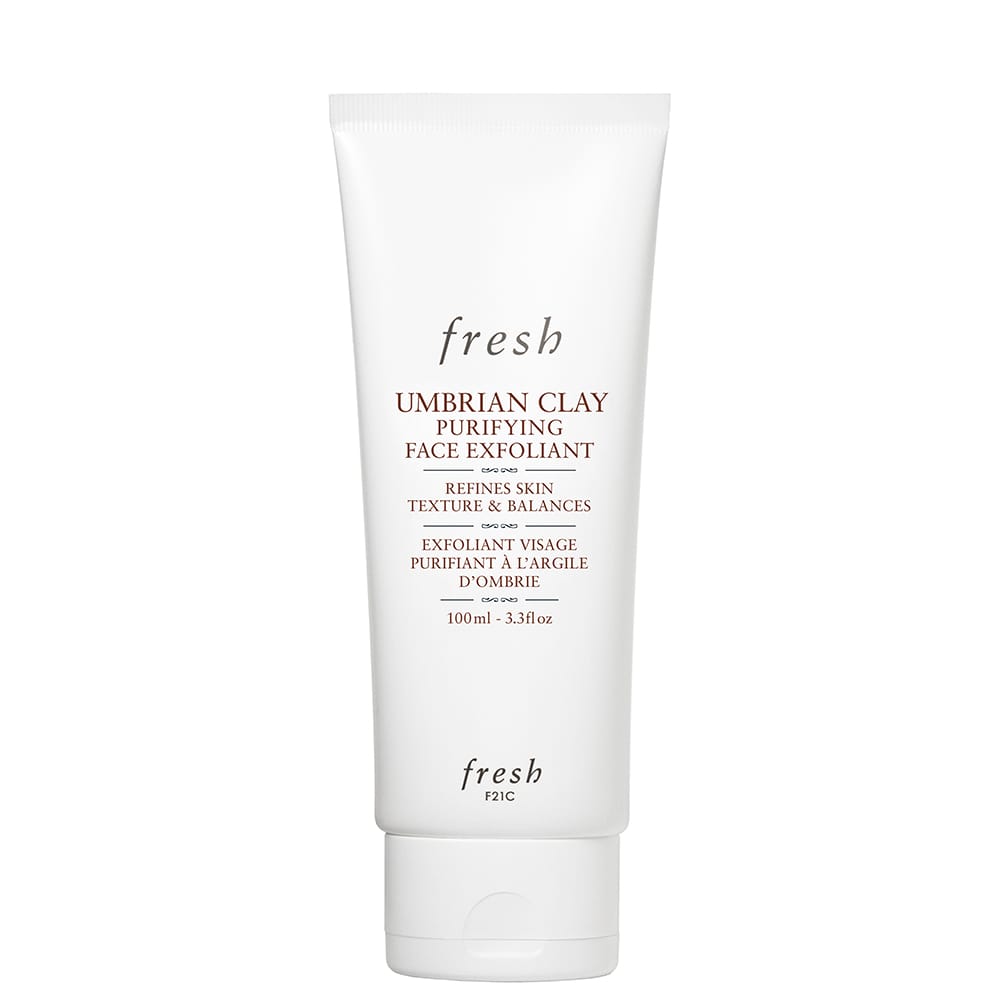 Editor's note: The fine bamboo and olive extracts in the Fresh Umbrian Clay Purifying Face Exfoliant exfoliates gently while umbrian clay balances and clarifies. 
By washing their faces before sleep, they prevent oil and other pore-clogging bacteria from sitting on the face the entire night. I will use a face scrub at least once a week in addition to the cleansing to help exfoliate my skin. To make this a habit, I wash and scrub my face during my shower, as the warm water helps to open up the pores and remove any impurities in the face.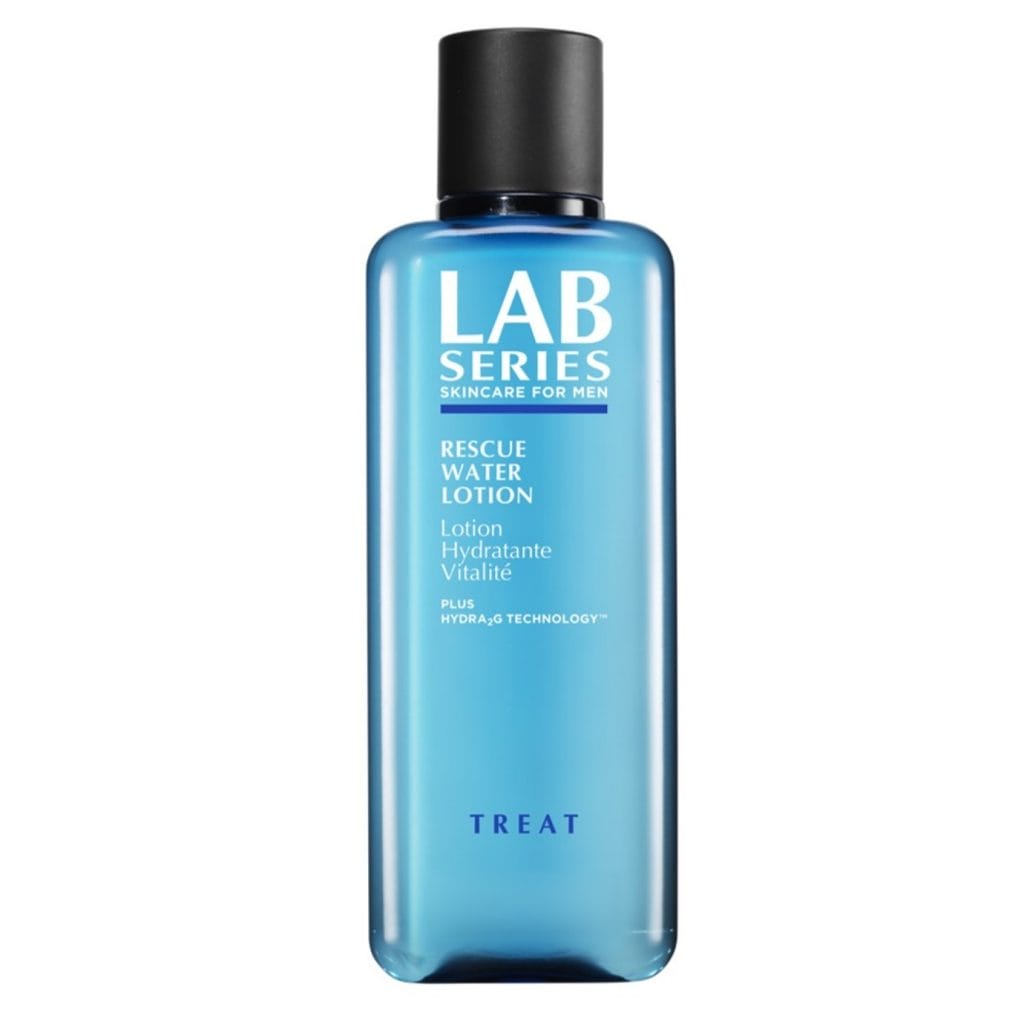 Editor's note: As a toner, the LAB SERIES Rescue Water Lotion removes impurities and dirt. As an after-shave, even better. 
I do advocate the use a toner at night, after cleansing and just before sleep. A toner helps to adjust my skin's pH balance post-cleanse, and helps to clean dirt, oils and impurities more efficiently than the cleanser alone. I will use a toner rigorously not only around my face but also around the lips and the ears, to counter the possible increase of bacterial infection from "maskne". Masks impose heat, friction and occlusion on the skin and when combined with the humid Singapore climate, the heat and sweat can cause problems for the skin.
The next step is the use of a facial moisturiser to help hydrate the skin, especially around the forehead and the eyes. The moisturiser can be used right after cleansing, in the morning and at night. By moisturising consistently, we can keep oil in check and help reduce the change of blemishes, while keeping wrinkle formation at bay.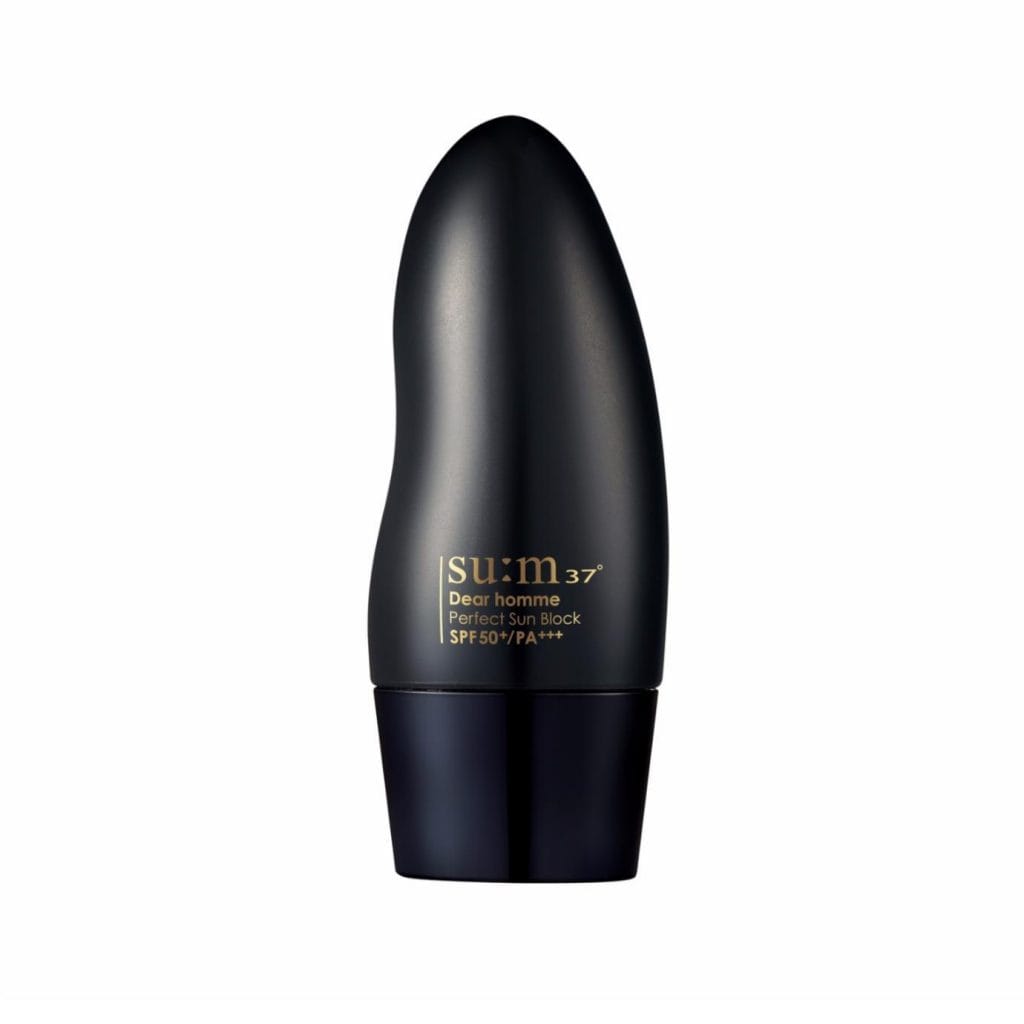 Editor's note: Non-sticky, water resistant and boasting an SPF of 50, the Su:um37 Dear Homme Perfect Sun Block can and should be applied all day. 
And of course, always apply sunscreen, ideally with an SPF of at least 30 and with UV A and B protection throughout the day. This is especially so in Singapore when it's sunny all-year round. A good moisturiser will have SPF in it so we can skip this step. In short, if we are going to be in the sun for longer than thirty minutes, we need to apply sunscreen on all parts of our skin. Sun damage is the leading cause of the ageing of the skin.
Cleanse, tone, moisturise and protect. That's all it takes.
—
What are some products that are really essential though?
I do have my preferred arsenal of skincare products that I use regularly and consider essential.
Cleanser — I believe any basic cleanser would do the trick of cleansing, while some might splurge on an expensive quality cleanser, I believe a regular cleanser would be more than adequate. For cleansing, what's more important is how thorough we are at cleansing. For this, I do recommend getting a cleansing brush.
Retinol — Retinol is a proven ingredient for skin cellular turnover, and I do incorporate retinol in my skincare regime. I use Wellaholic's Retinol Serum, which contains retinyl palmitate, the most gentle and least irritating form of all four retinoids and is ideal for all skin types. It can also be used on a daily basis. I also use Wellaholic's Retinol Moisturiser just before bed, to not only moisturise my skin while I sleep, but also allow the retinyl palmitate to do its magic of producing collagen over the night.
Matrixyl —  Matrixyl helps to stimulate the lower layers of the skin to help them heal themselves through increased collagen and elastin production. This healthier lower skin eventually becomes the surface skin tissue and makes for a healthier, more youthful appearance. We introduced Matrixyl as part of Wellaholic's microneedling treatment, and have seen customers' complexion improve dramatically with the help of this amazing ingredient.
Resveratrol — Resveratrol is part of a group of compounds called polyphenols, which acts as key antioxidants to protect the cells against damage which leads to cellular ageing. I have been taking resveratrol supplements on a daily basis for more than twenty years, and the numerous studies, especially by Dr David Sinclair and the Harvard Medical School continue to substantiate the benefits of resveratrol. At Wellaholic, we are also using Resveratrol as an active ingredient for customers as part of the microneedling treatment. Resveratrol can also be used as part of the nighttime skin routine to boost antioxidant production within skin cells.
If you're doing downsizing your skincare routine with skipcare, click here to catch up with our November 2020 issue.
---