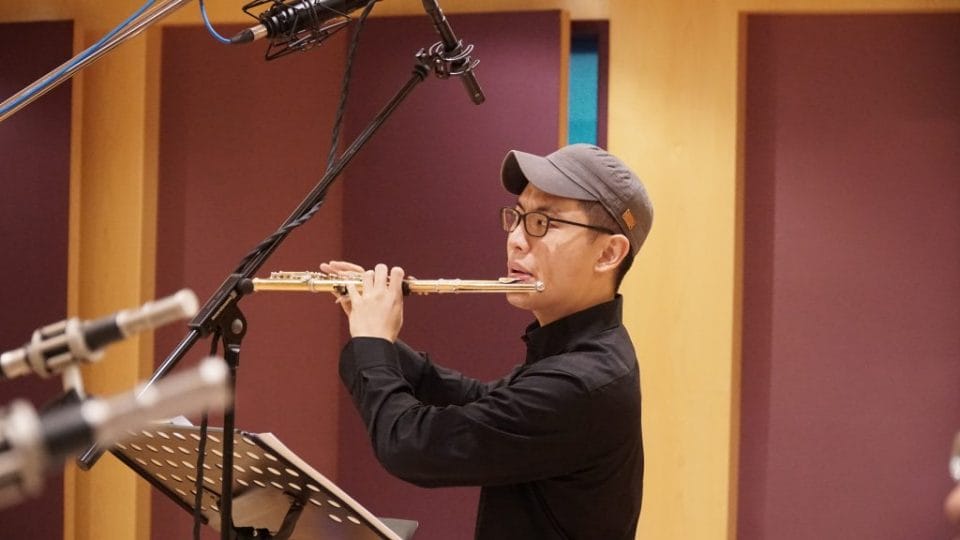 Conceived earlier in 2019 —  consisting of Cheryl Ann Spencer on the piano, Tamagoh on the drums, Fabian Lee on the double bass and Rit Xu on the flute — Evolution Quarter is grabbing jazz music by its scruffy colllar and propelling it into a new spangly future.
To celebrate their latest album Reflections — "an ode to the jazz scene and love for papa to shoe-shopping and magical carpet rides" — we have Rit Xu to introduce it himself.
—
Hi Rit, for those not in the know, please introduce yourself!
Hi! I'm a flutist, composer, music educator and occasional parkourist!
—

You have been described as a musician that never colours inside the lines, how so?
I think it's important to know what came before; to be well-informed — as best as we can — and grounded in the tradition of the music as well as in the tradition of the instrument that one is playing.
My approach to music has always been to study, study, study. When the time to play comes, be true to yourself and really listen to what every musical situation really needs, and how best you can contribute. For me, nothing begins until one starts to listen.
—
Do you think it's something you share with your Evolution Quarter members?
Definitely!
—
What is so charming about jazz to you? Do you have a favourite composer or piece?
I guess it is purely a personal choice. Jazz — its language, idiom, structure and freedom — provided me with a solid vehicle to express my musical identity through improvisation. That being said, it is the classical foundation that gave me mastery of my instrument, which allows me to perform written and/or improvised music at a high level.

Right now I'm listening to lots of lesser-known works of Duke Eillington. I'm also listening to and dissecting the famous works of Debussy, Stravinsky, Prokofiev, just to name a few.
—
What is your favourite track on Reflections and why?
I love all of it — especially Cheryl's original compositions. As I get more deeply involved with music, I realise that [music] has its subtle ways of projecting every musician's personality, be it through performing or composing.

To me it is evidently so in Cheryl's compositions — her kindness and thoughtfulness reflects in every note of the respective pieces.
—
What is perhaps a myth about flautists that you'd like to debunk?
That we could hold our breath in the water forever! Not true.
—
View this post on Instagram

What's next for you and Evolution Quarter next year?
I'm currently finishing up with my Masters degree in jazz performance at Queens College, CUNY. I'm also involved in some ensemble projects with other musicians while leading my own group (Rit Xu Group) and writing new compositions.
It's quite an uncertain situation right now due to the pandemic, but I am using the downtime to take care of loved ones and improve my skills, one note at a time. Hopefully we get to perform live again in the new year.
Stream Reflections by Rit Xu and his fellow Evolution Quartet members here!
---
RELATED ARTICLES