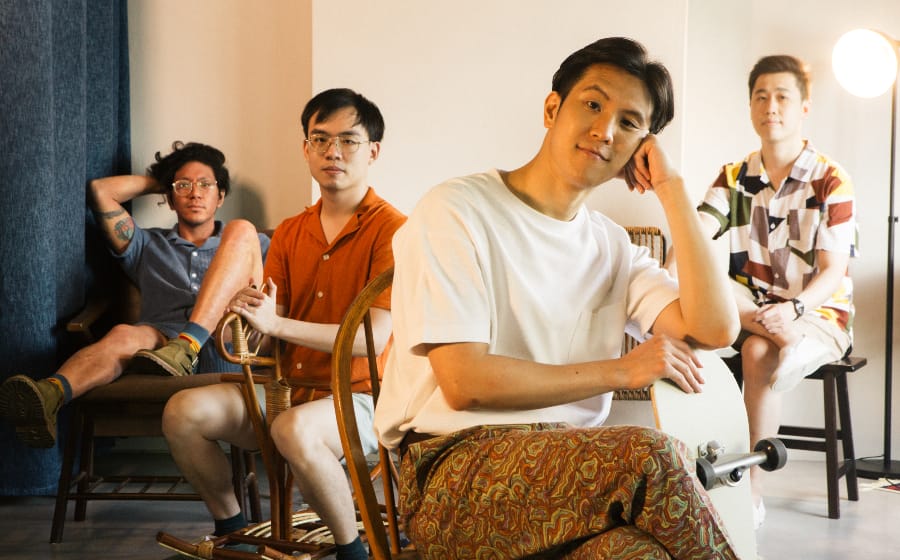 Before we get into the thick of the latest single by M1LDL1FE titled "Can't Seem to Get Anything" — a lyrical fantasy of fuzzy guitar reverbs and eerie synth sounds — let us tell you two things:
Firstly, you oughta be streaming it. Seriously, it's an earworm.
Secondly, brace yourself before reading this interview. It's going to get dank, hilarious and oddly, sentimental.
—
Hi boys! For those strangely unacquainted with all of you, can you introduce yourselves? Actually, how did the name M1LDL1FE come about?
Peng Sing: We're a four-piece band from Singapore. We wanted it to be extra unique so we put in the numbers, for better or for worse.
Jeryl: We actually wanted a rebranding after our previous guitarist had left, and what better way to do that than to rename the band? After many long discussions, we finally settled on M1LDL1FE as we felt it related the most to us.
David: The name accurately captures who we are as people — we enjoy l1fe with all the nice m1ld things like chamomile tea before bed and hot chocolate in a cold winter.
—
View this post on Instagram

What do the four of you do in your spare time and how does it influence your music?
David: Spare time is a foreign concept nowadays, perhaps I should reevaluate my l1fe.
PS: The ironic thing is that we started out wanting to just make music and have fun. But beyond just usual paying-the-bills kind of activity, we actually spend a lot of time giving back to the music scene — organising workshops, running an indie label to support new artistes, speaking on panels and webinars.
Paddy: I spend my days looking up random things on YouTube, hoping that they lead to new ideas for our music. My latest inspiration for lyrics come from surprisingly poetic YouTube comments. [Laughs]
—
What exactly is the M1LDL1FE sound?
David: Big dose of jangly guitars, paired with nice sides of groovy drums and melodic bass, with just a pinch of synths.
Paddy: I think we always have in mind how a song might make people feel when it's played live. So we subconsciously put that into our songwriting; whether it's in the beat or the timbres and sounds we create with our instruments.
—
View this post on Instagram

How did "Can't Seem to Get Anything" come about? What was the inspiration behind it?
Paddy: One too many days of dealing with anxiety and depression-related symptoms, really. The song was written as a catharsis of sorts, and we wanted to write something that expressed how it feels like to be stuck in your own head.
—
Do you think it strays a little differently from what you boys usually do?
PS: This is not a happy song, and there's no real motivational or uplifting message behind it. It's a lot darker than the songs that most people know us for, like Distraction or In Your Arms. Beyond the fact that 2020 is a pretty bad year for music (and life in general), a good bit of it is us coming to terms with "adulting".
David: I'd say this song is a lil' more intense than most of the others, but given the topic I think it's quite apt that the intensity is well, intense.
Paddy: I think at the core it still sounds like us. We're always keen on hooks and pop-music structures. The sounds are just there to reflect the emotions expressed, but songwriting wise, it's still pretty much what we strive to do.
—

Which is your favourite lyric and why?
David: For me it's "I can't seem to get anything, am I dead", gotta listen clearly to hear it!
PS: "Feels like a thousand foreign objects in my mouth" — Comes from the idea that society's trying to force feed you all kinds of ideas about what you're supposed to do, perhaps certain ideals or "coming of age" things.
Jeryl: I really resonate with "leave me alone, no not that much". I've experienced moments where I'm conflicted between choosing solitude or company.
Paddy: I like the repetitive refrain, "I can't seem to get anything into my head". Just sums up how one feels when there's too much going on and you don't know how to get out of a funk.
—
Do you think your sound will change five years into the future?
David: Nothing is certain, but for sure we would grow and evolve as people, so the music would reflect that as well.
Paddy: Most definitely. A lot can happen in five years, and it will definitely influence the kind of music we make. The key is to stay true to ourselves as artists and keep writing from the heart, making the music we want to make, and hopefully everyone will be with us along for the ride.
—
What are you looking forward to this December?
David: January, where we can set new resolutions and break them.
PS: A Covid—19 vaccine. [Bitter laugh]
Jeryl: Christmas! Hopefully the world lasts until then for a little merry festivity.
Paddy: 2021! Cause when you've hit rock bottom, the only way is up… right?
Stream the latest single "Can't Seem To Get Anything" by M1LDL1FE here today!
---