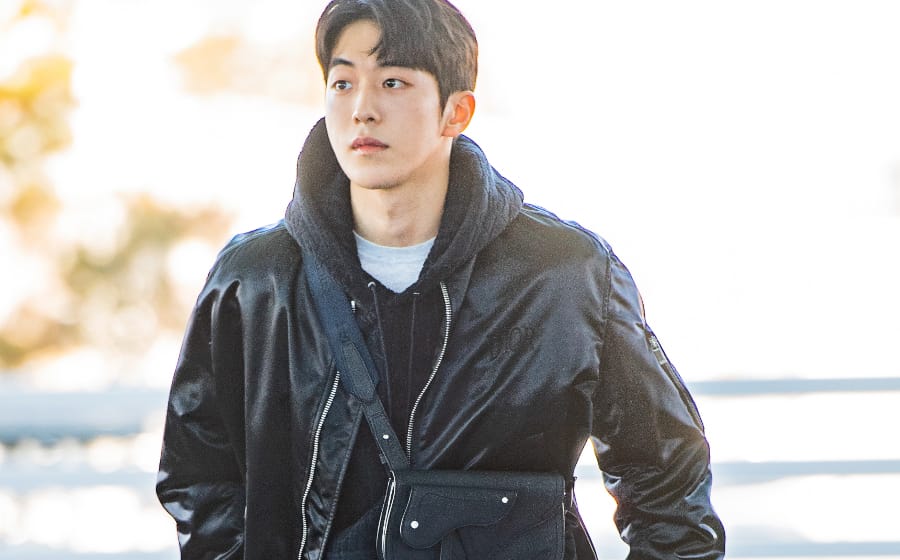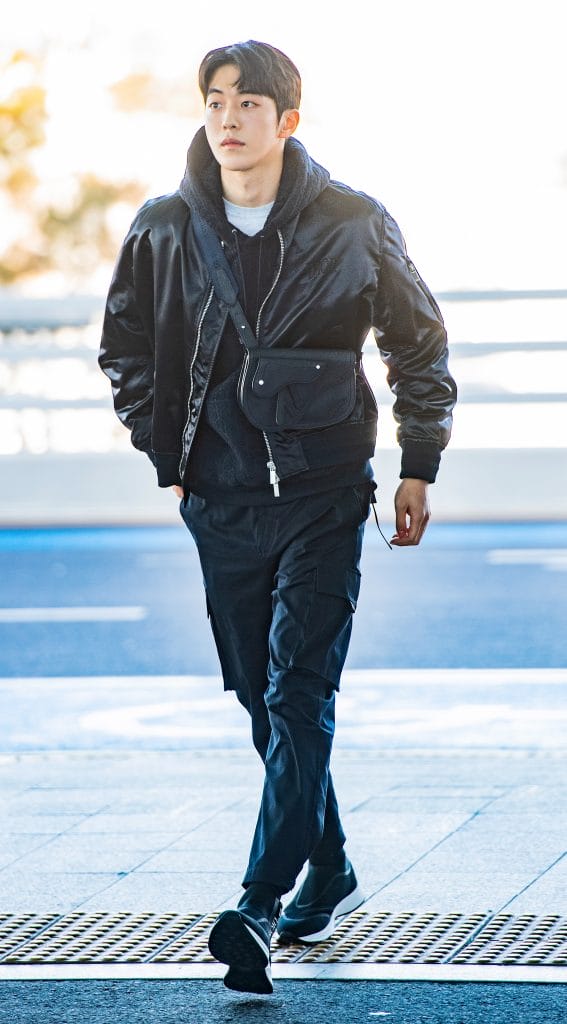 We've previously mentioned the 1990s sensibility that Nam Joo Hyuk frequently employs in his every day life — the all-black outfit (very Helmut Lang!), the comfortable puffer jacket (very North Face!), the pull-it-over-my-head-cause-my-seat-neighbour-keeps-coughing hoodie (very Umbro!), the relaxed trousers (very Gap!), and the slip-it-off-at-immigration sneakers (very Converse!).
But what we've failed to mention was what Kim Jones – the artistic director of Dior Men who was also recently appointed the artistic director of Fendi women's collection — has sent out over his past runway shows that has really gotten us interested.
Yes folks, it's the Dior Saddle Bag as casually carried above by Nam Joo Hyuk — the purse previously designed by John Galliano that Mr Jones has resurrected and pimped up for a new generation of fashion folks.
While it has been equipped with the signature buckle from Alyx, attired steampunk style by Sorayama and eerily painted over eerie artist Daniel Arsham, our favourite reincarnation of the Dior Saddle Bag has to be in its purest form.
It retains the iconic kidney bean silhouette slung by it-girls in the noughties but how has the Dior Saddle bag been dialed-in to the new millennium?
It's now as utilitarian as it's fly looking and the former is very much appreciated — case in point? The exact way Nam Joo Hyuk is wearing it in the above picture.
Who doesn't want to go hands free?
—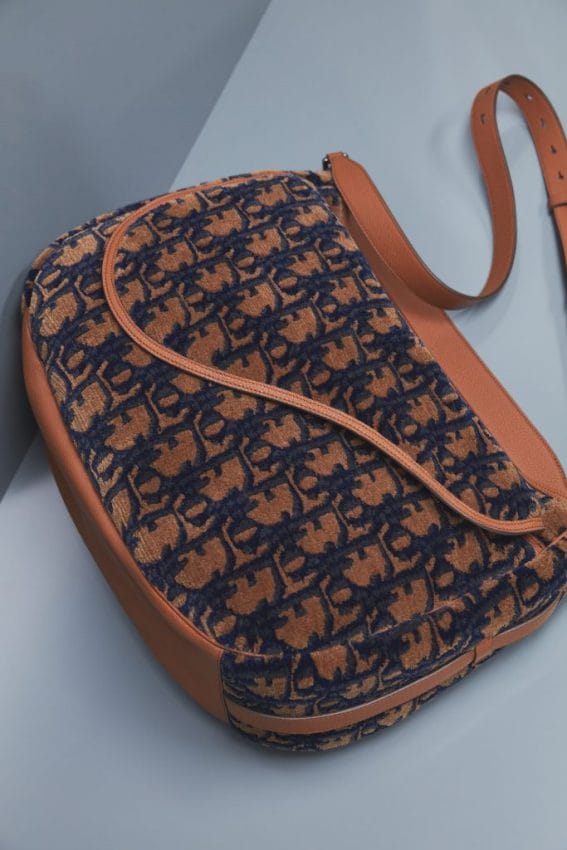 The Dior Saddle Bag now comes in a crossbody form with a plush velvet body — we like that it doubles up as a makeshift pillow.
—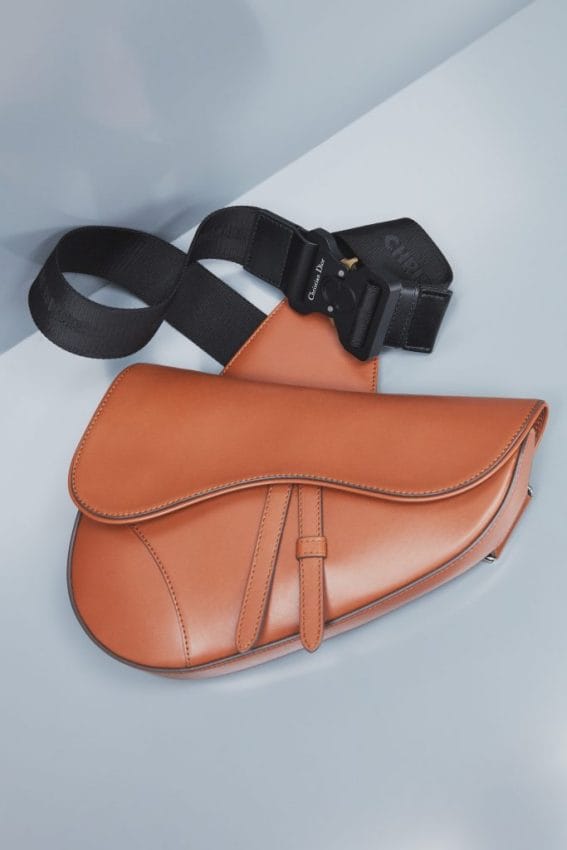 The latest variation of the Dior Saddle Bag comes in the season's signature colour, camel and a sharp structured look. Where does the Dior-ism come in?
The lining that features the iconic Oblique logo.
—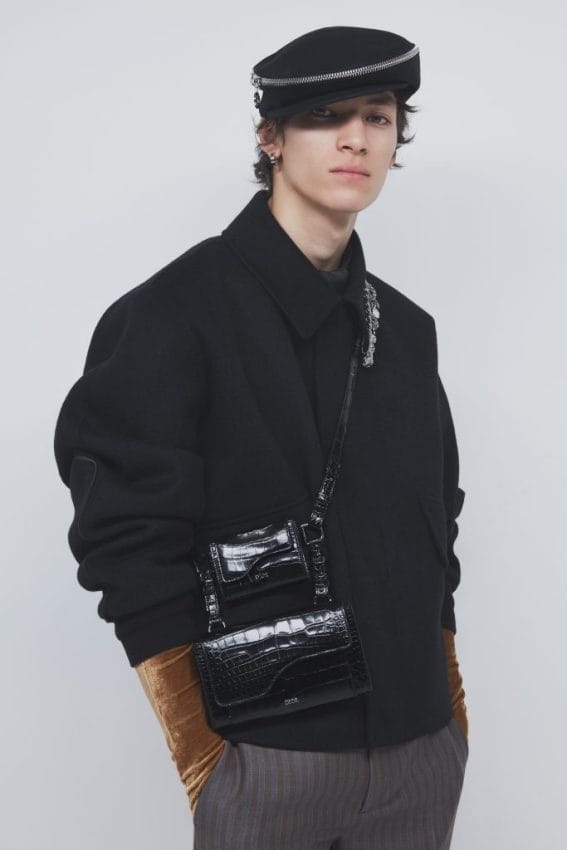 Another bag we have our radar on — the Dior Elite shoulder bag that becomes a necklace when worn over the neck, a bag when worn crossbody and a really, really fashionable bracelet when strung around the wrists.
Bonus: a pouch for your wallet and phone and the other for your mints and other bawdy items you'd like to put inside.
If you're bored, listless or sick of doing your job, click here to catch up with our September 2020 issue! 
---