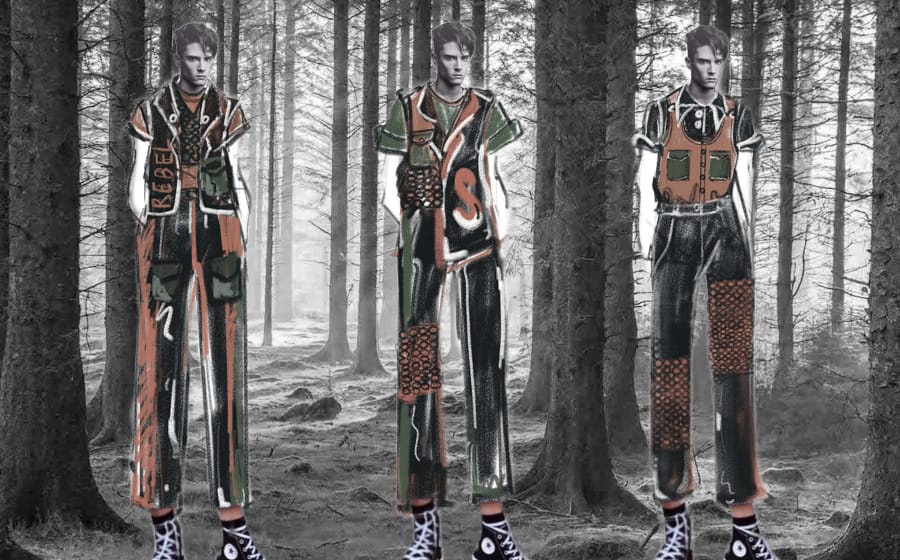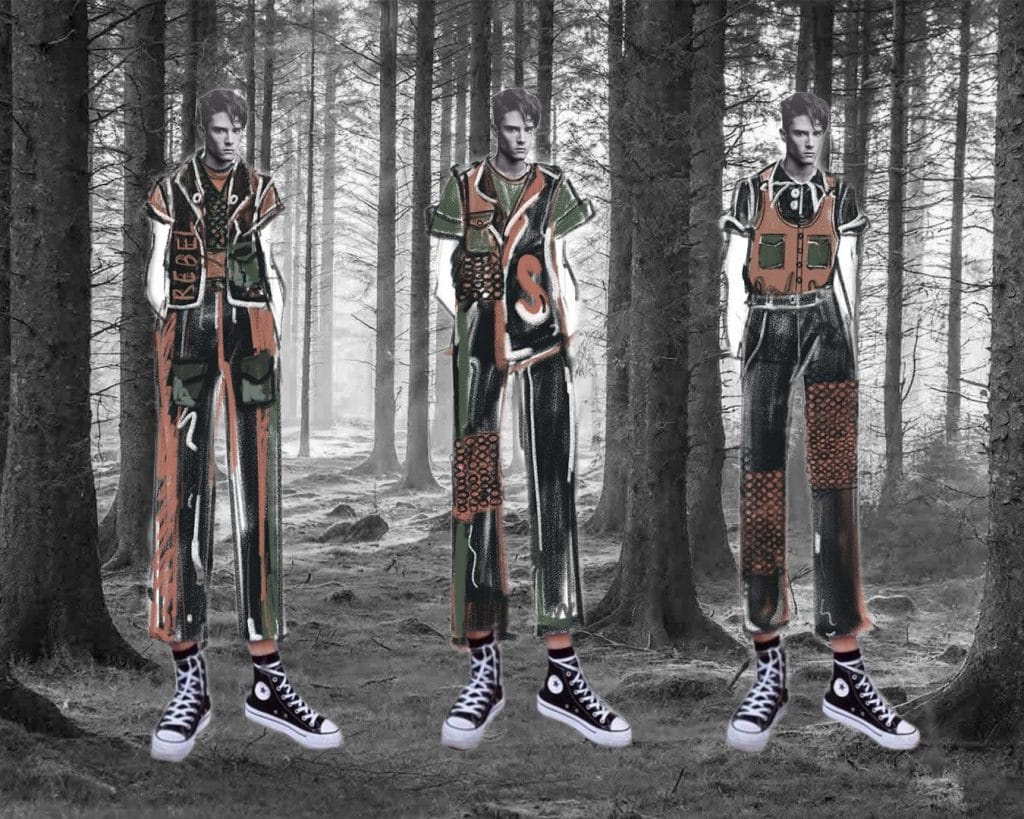 Our mission at Men's Folio isn't just to champion the youths of today but we're also a platform for unfamiliar, budding talents to display their work.
Here, Men's Folio announces the ten designers who will compete in the Men's Folio Designer of the Year 2020 competition, interpreting this year's theme of Rebel Rebel to celebrate our 23rd anniversary.
Pictured Above: Oh Wei Qi — The Different One:
Every individual is different and that applied the same in the greaser era. My collection focuses on a particular personality during the 1950s — Greaser Fashion.
This individual is daring with colours and takes a twist as compared to the usual monotone colours back in the era.
I took the silhouettes and key features such as the shirt, singlets and high waisted trousers while keeping the main silhouettes as they represent the trend of the times. I also incorporated the twists such as the colours, laced fabric and unsymmetrical vest to convey the "difference".
My collection pictures  a "subculture" in the the times of the 1950s where we always had people who are more daring in dressing compared to others, in different trends.
—

Zeynalova Ayan — Rebellious to Revolution: When I first thought about "Rebel Rebel", the first thing that came to mind was a cool muscular look with leather textures.
But I decided to go more in-depth by making a mind map where it brought me to my theme — Rebellious to Revolution (because I always liked to go out of  the box and not stick to a theme I'm given).
Nowadays, human rights are a topic of current interest — the way people raise their voices and fight for their rights. We all follow the news and see different movement hashtags. So that was what I wanted to show in my collection: the rebellious spirit and feeling of freedom.
—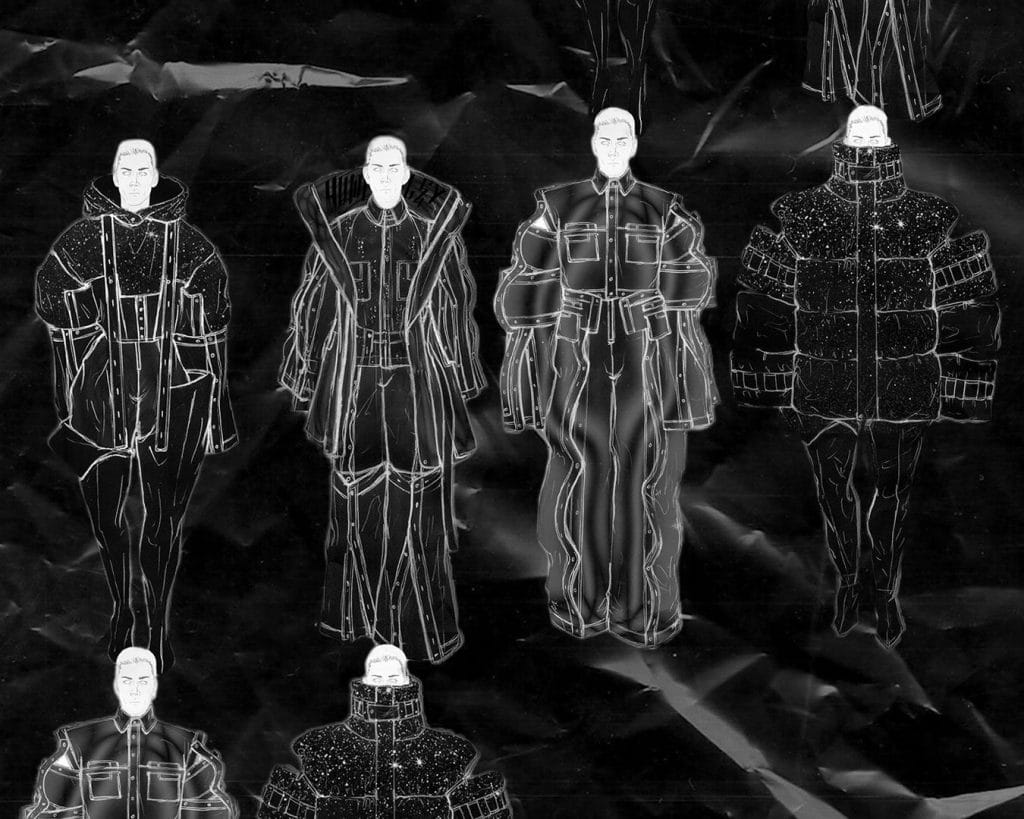 Hamkah — The Renascence: Imagine the Mona Lisa as the most influential Instagram baddie or David, the narcissist, who floods your feed with endless shirtless photos. Why? Because being ancient is the new black.
To be relevant again, is to revive the outdated and capitalise on it but only the best of the best — the Renascence that is a store of the fashion trends' cycle. Creating one's own new narrative through remixing the outdated and current. Keeping it fresh but classic.
Black has also been known to be a colour that matches anything. Rejecting any form of colour creates a versatility that lasts through any trend.
—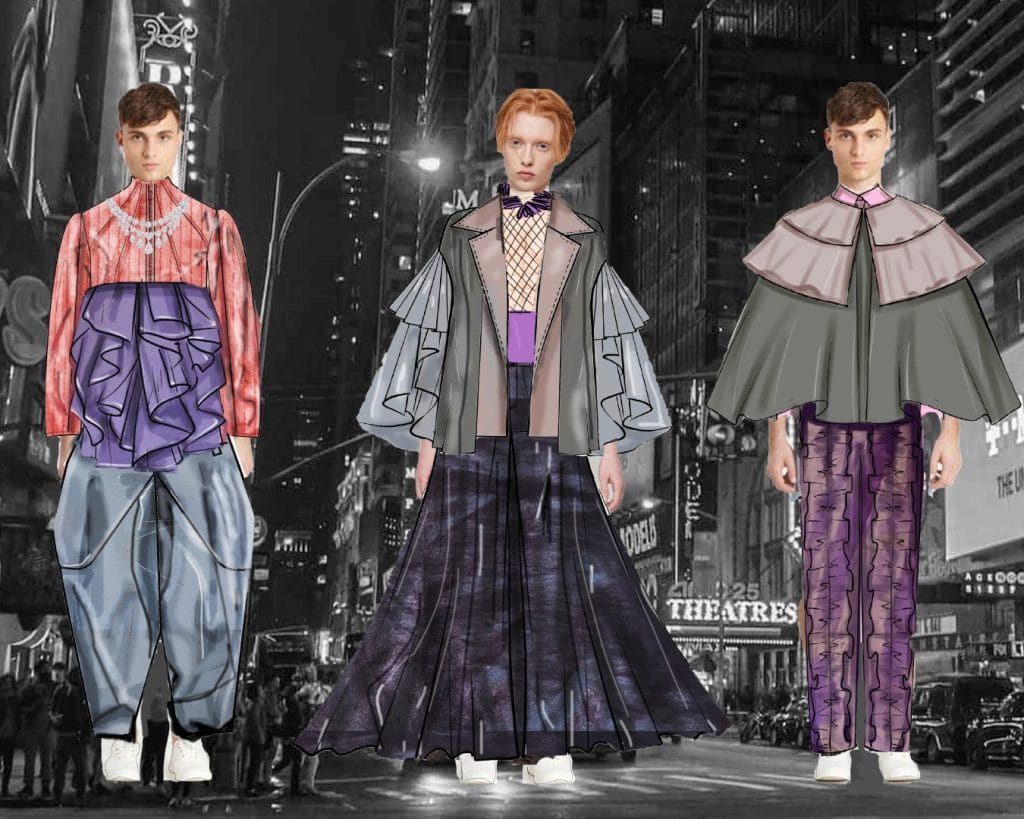 Quinn — Egg, Bacons and Jellied Eel: Every new fashion is a refusal to inherit, a subversion against the oppression of the preceding fashion.
I think of the future of menswear when designing for the collection, and I aim to redefine masculinity and challenge the social norms. Rebel Rebel to me is uninhibited and unorthodox. I am reimagining the tumultuous life of the artist Francis Bacon woozily walking into seedy bars.
To me, he is the greatest artist of all time and definitely embodies the spirit of Rebel Rebel, and if, anything is a rock star in the world of fine art. He introduced overtly queer subject matters into his painting without dressing it up in classicism during his time.
So I wondered what it was like if Francis Bacon danced to the very song of Rebel Rebel — fully invigorated, and certainly intoxicated without all of the tragedy in is life.
Carpe Diem, because hey baby let's stay out tonight. Rebel Rebel is a dance that never stops and a night that will never end. I make sure of that in all the ruffles, pleats and the volume of the garments.
When you swirl, the clothes move together with you. I believe these garments are more than just an extension to your body —  they are the spirit that you embody.
—

Cody — Cyberpunk Club Kids: This collection tells the story of a club kid who was reincarnated back into a cyberpunk future where looking sickening can only get you all the way to the top.
The looks are strongly influenced by attention seeking drag elements with the combination of cyberpunk iconography and high-tech detailing.
—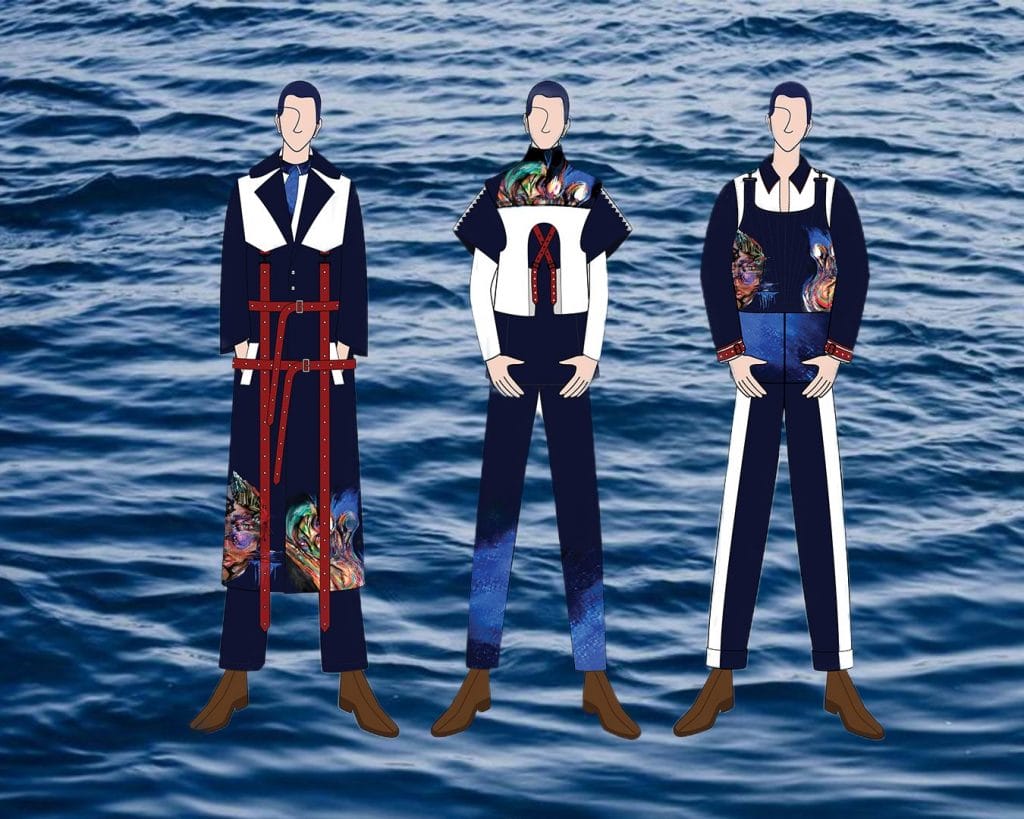 Shanen — Jiwa: Jiwa in English means soul. Soul represents our mentality where it is the most important part that will affect someone's condition. When people have an unhealthy soul or mentality, it is called a mental issue.
This collection is inspired by mental health issues and as we can see, people have started to speak up about their own mental health conditions as of late. This movement was triggered because shockingly, most people world have mental health issues without realising it.
So, I wanted to join this awareness movement to show who we are even though people might think we're rebellious. Why not be a rebel to show who we are in our most free selves?
—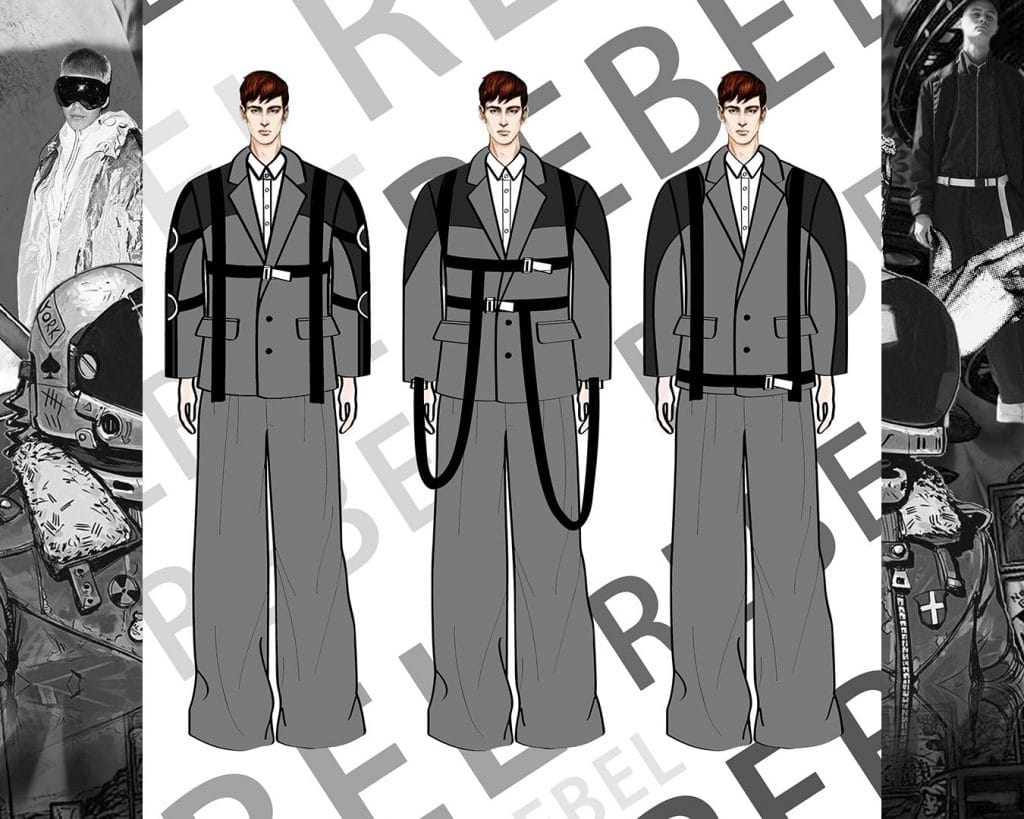 Wu Tian — Escapade: Rebellion is usually the expression of rebellious thoughts, behaviours and the making of unexpected things. It is a strong desire for self-expression and it is a "different thinking" in the form of thinking itself. 
The purpose is to attract the attention of others. However, this collection actually expresses a spirit of rebellious resistance — resisting the living conditions brought about by the influence of parents and social environments and it is not rebellious adolescence in the traditional sense. Rebellion does not mean bad thoughts or bad children, but instead, means pursuing the choice of things that you like and not to be ordinary in a state of life.
Resist the influence of parents or a social environment, living step-by-step, the arrangement of parents, conventional thinking and also, to boldly express yourself and against reality. A positive and optimistic quality, according to their own wishes to pursue their dreams and to dress themselves according to their own wishes.
—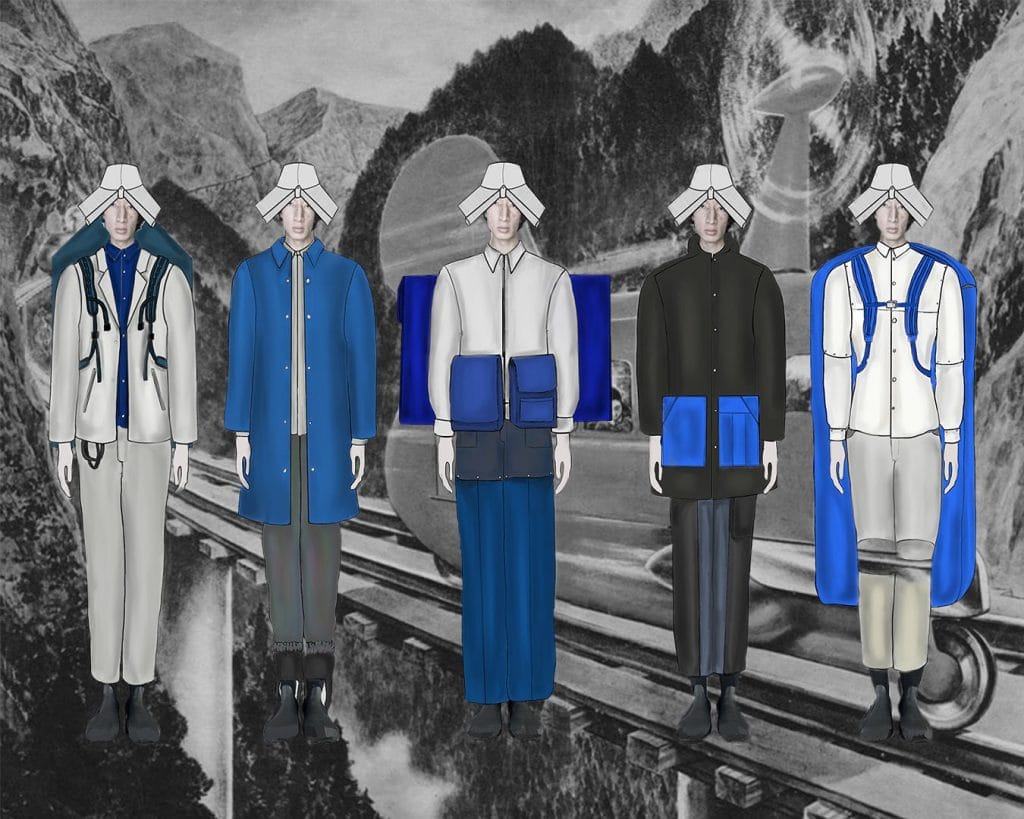 Darren — The Daydream of a Digital Nomad: This collection is about the lifestyle of a Digital Nomad — location-independent and digitally-dependent.
It is an interpretation of an alter ego rebelling against the social norm and desiring freedom, they are free-spirited individuals that are limitless. This is represented through the function of packability in the designs — allowing one to drop all responsibilities, showcasing their defiance, readiness to travel, and not getting tied down.
Inspirations were drawn from various digital nomads' needs; such as items like waist bags and neck pillow. The products are heavily designed by packability, while some items intend to be modular or transformable capability. Clothes can be able to turn from neck pillow to jacket, hoodie to drawstring bag, and tote bag to jacket.
Modularity is introduced through either magnets or snap buttons; such as magnetic pouch pockets. All garments aim to retain its primary functionality.
My clothes are all packable and the instructions can be found on the tags I've placed in front of the hangers of each garment.
—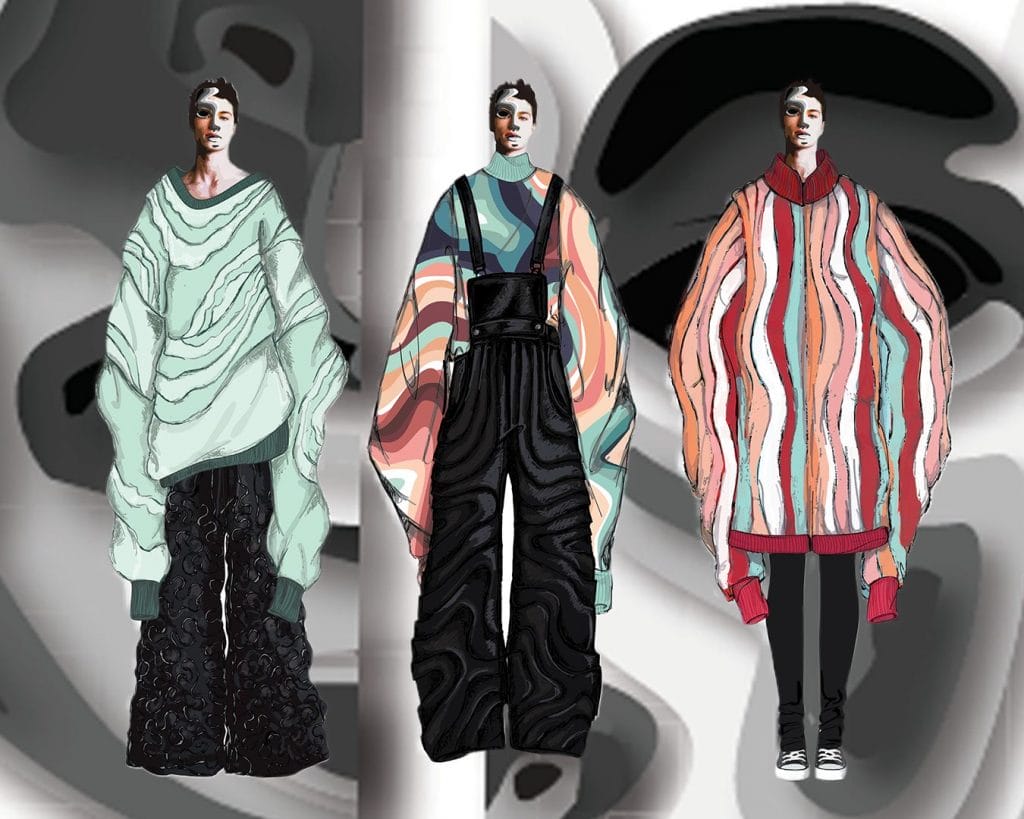 Latika Balachander — Blurred Bodies: My collection brings about an interpersonal dialogue between the body, garment and viewer. Visually inspired by the skin, the garments signify that the skin is the only determinant of our identity — the only organ that separates humans based on age and race differences.
In a world consumed by differences and conflicts, the collection rebels against labels and conformity. While the prints are derived from abstracted skin cells and the textures are exaggerated reflections of the body, the bulbous and oversized garments promote body acceptance and gives the wearer a warm hug.
Often, the term rebels suggests an intensified conflict but this collection creates a positive celebration of a rebellion against differences, labels and conformities.
—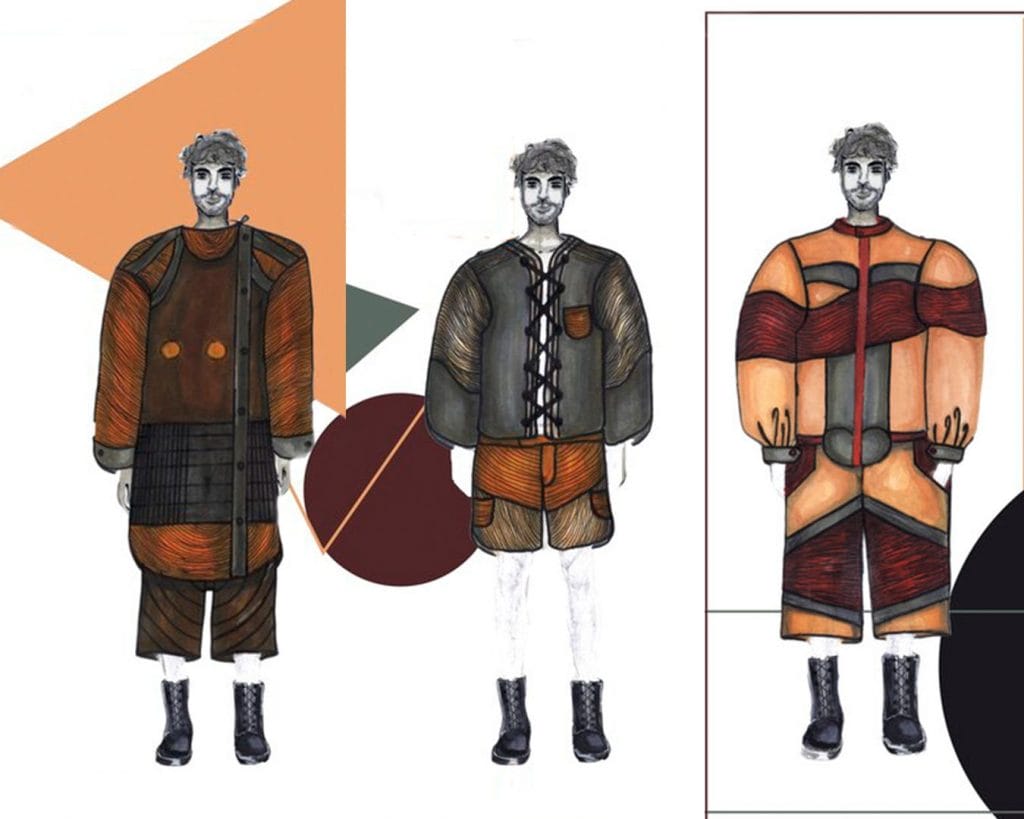 Edna — Afrikannse Kunns: Geometric shapes outline the african sculptures and mask and by using the shapes and geometric lines, the collection was adapted into a Spring Summer collection.
Bold colours and silhouettes are exaggerated with dark tones neutralising the outfit and by taking influences from textures and prints carved on sculptures, the outfits have pin tucks and pockets to make them conventional and functional. Bold silhouettes are not the norm of modern menswear but with it being so on a garment of neutral elements, one cannot help but think, does my body encapsulates what I wear?
The answer is valiantly indefinite.
—
*The voting period for the Men's Folio Designer Of the Year 2020 competition ends on 18th September — voters are only allowed one vote every 24 hours. 
If you're bored, listless or sick of doing your job, click here to catch up with our September 2020 issue! 
---