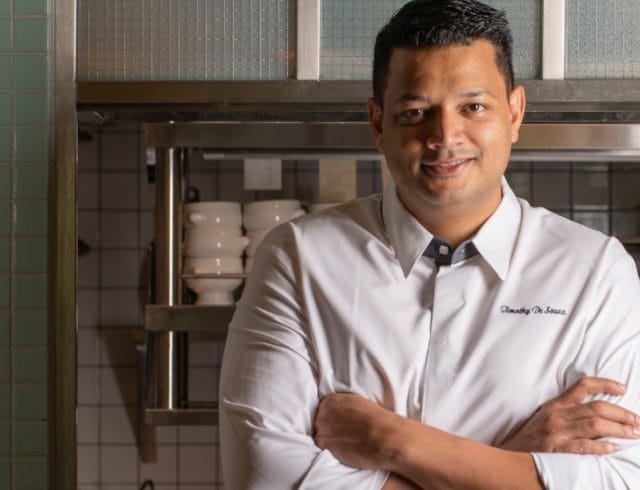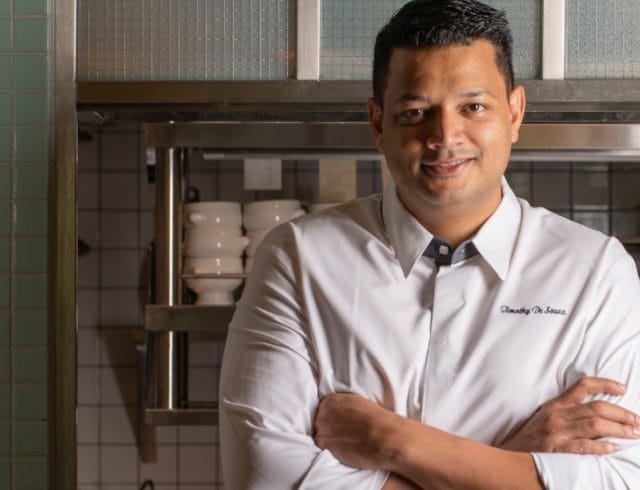 Welcome to #DeliveryDiaries, an initiative we have come up with to highlight the delivery menus of some of the gut-busting dining establishments we've been to.
In the twentieth installment of this series, we have chef Timothy from Culina Bistro to review five of his favourites.
–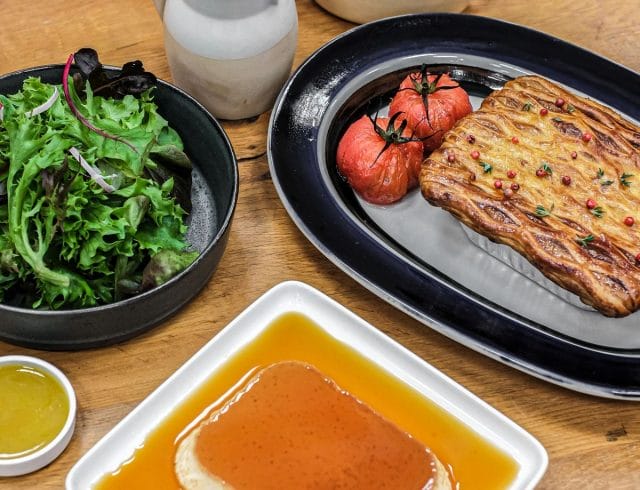 Home Made Pie (Cottage Pie), $45 or $7
This is a comforting family dish that's great for sharing, and will be sure to fill your family's tummies.
Consisting of humble and homely wholesome ingredients that can be found at Culina Market (minced beef, peas, potato and gruyere cheese), it's a great dish that feels like home – without you having to do any of the cooking!
The pie ($45) is good for two persons and is available on its own, with three other pie variations (chicken pot pie, braised beef pie and fisherman's pie).
It is also available in a set ($75) with starters and desserts, and is good for two to three persons.
–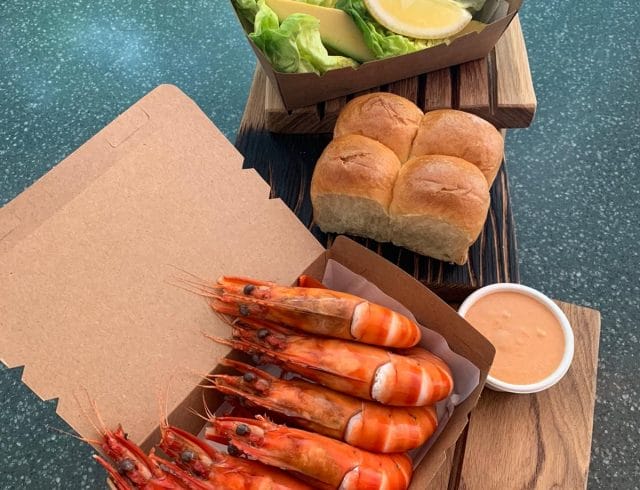 Poached Chilled Prawns, Warm Parker House Rolls, Sucrene Leaves, Avocado, Lemon & Cocktail Sauce, $50
This dish is a DIY version of the classic prawn cocktail that can be consumed at home. It's a fun dish where you can get your hands dirty and peel the prawns with your loved ones.
If you don't like getting your hands dirty, have them peel it for you!
Like all Culina Bistro dishes, it is made with only the freshest produce, such as prawns, avocado and sucrene lettuce.
You can't go wrong with a classic – I created this dish because it reminds me of sitting by the beach on a warm summer day – even though we're not able to go to the beach now, it's nice to reminisce fond memories.
–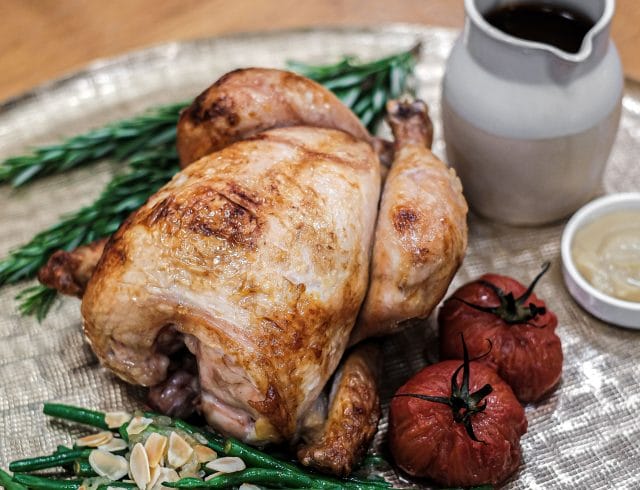 Rotisserie Bird Set, $75
This Rotisserie bird set (good for two to three persons) features a whole lacto chicken served with garlic puree, truffle potato mash, sautéed green beans, confit vine ripened tomato, red wine sauce and a flourless chocolate cake for a sweet finish.
Our signature hormone free lacto free-range chickens are roasted with a magnificent French Rotisol Rottisserie, and is one of the only few in Singapore.
I find the process of brining the bird the day before and waiting for it to spin during service therapeutic and reminds me of Sunday family days which was always roast chicken.
Roast chicken is a really versatile dish, where you're able to have cold chicken sandwiches the next day or bake a chicken bone broth out of the carcass for the next day.
–


Whole Rainbow Trout Cooked In Crazy Water With Side Salad & Garlic Aioli. $45 (only available every Friday)
I enjoy this dish because of the simplicity and joy of cooking a whole fish on the bone. Using a 450g petuna rainbow trout, it's cooked cartouche style – everything is cooked in a bag, meaning all the delicate trout flavour is locked in and holds well in delivery.
The "crazy water" in its namesake is a direct translation of the Italian cooking term "aqua pazza", which I love and refers to a recipe for poached white fish.
The "crazy water" and fresh haut clos tomato (delivered weekly) also lends depth of flavour to the fish.
–


Chicken Tagine, Preserved Lemon, Olives, Fragrant Cous Sous, Spiced Yoghurt, $25 (only available every Tuesday)
This dish is a pot of flavoursome middle eastern style curry, which features amazing herb spice blends, harissa paste and preserved lemons that are readily available at Culina Market.
For me, the key highlights of the dish are its aromas, the balance of spices and the use of lemons and olives.
I am fortunate enough to be working in such a space where such produce are available, all carefully hand-picked from all four corners of the world, making it easy for me to create new and exciting dishes.
With Singapore's diverse cultures or more specifically, "curry cultures", this chicken tagine is a spin on the Singapore staple, chicken curry.
Make your order today from Culina Bistro at https://bit.ly/2Sm8y6n.
---