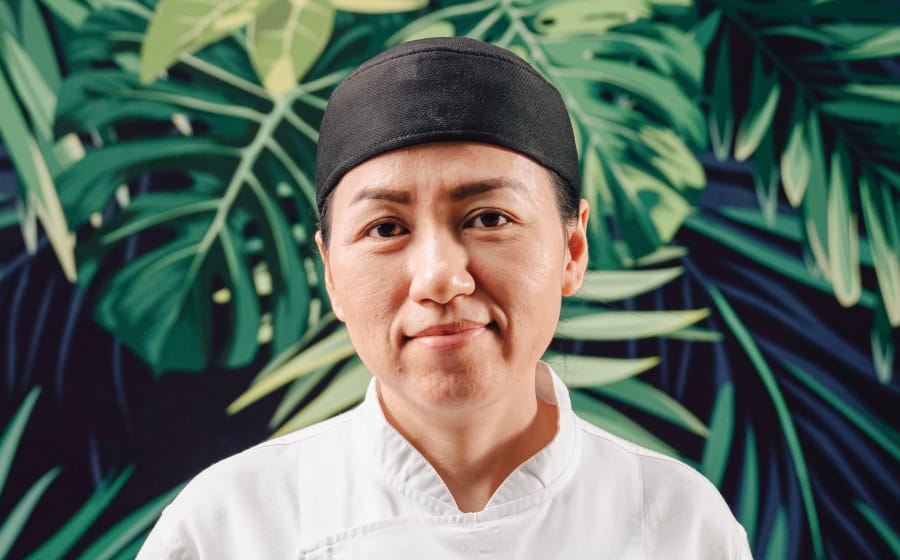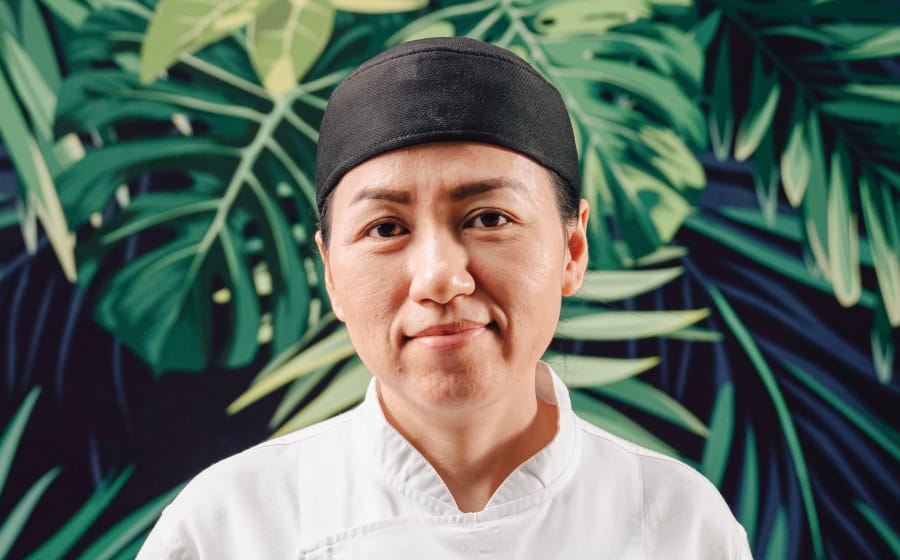 Welcome to #DeliveryDiaries, an initiative we have come up with to highlight the delivery menus of some of the gut-busting dining establishments we've been to.
In the seventeenth installment of this series, we have chef Nipaporn Doungiaisantisuk from Blue Jasmine to review five of her favourites.
—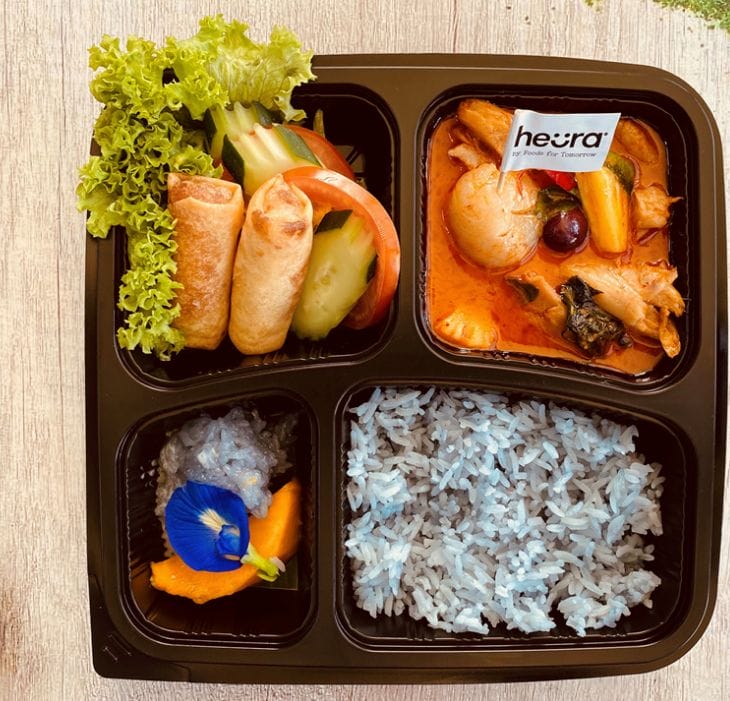 Heura Red Curry Bento Set, $15
A flavourful base of housemade red curry paste and coconut milk, the curry packs a gentle heat but I freshened it with sweet and sour notes of pineapple, grape and lychee together with plump Heura chunks. In the past, the addition of fruits into red curry was only for Thai royals.
VIPs weren't given regular red curry (usually with only eggplants and long beans) but with fruits. It gave a special touch as the ingredients were considered premium then and balanced the sweet and salty flavours of the red curry.
This is available in the Bento Box menu that offers free direct delivery for orders of eight boxes and above.
—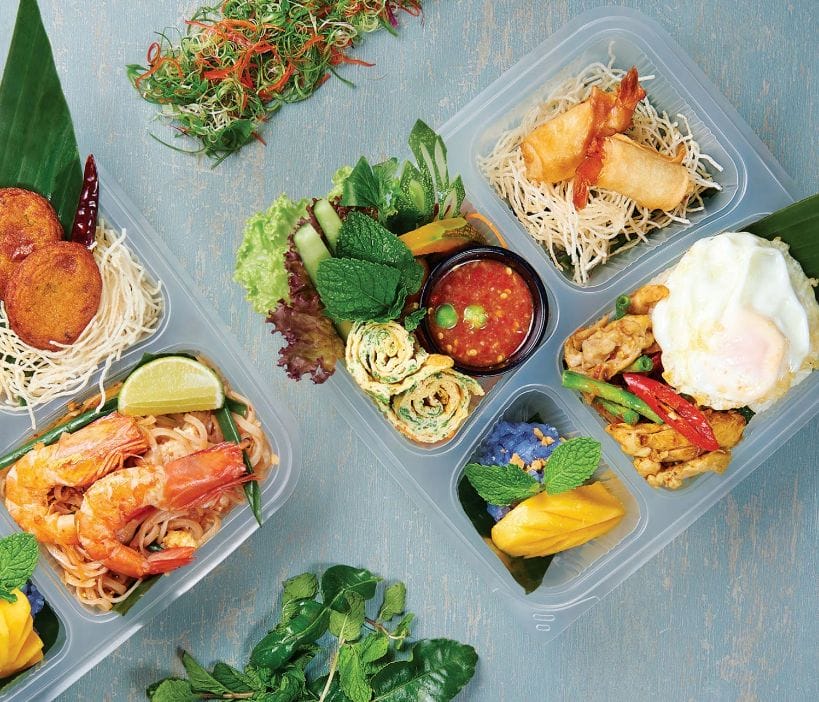 Basil Chicken Kaprao Set, $13
A signature of Blue Jasmine and a favourite amongst our guests, this heavenly dish is distinguishable from the moment the bento box is opened. It features fresh housemade basil paste with my own recipe of big red chillies, bird's eye chillies, galangal, shallots, garlic, fresh turmeric.
The juicy minced chicken is packed with the fragrant sauce from the slow simmer of long beans, sweet Thai basil, basil paste, fish and oyster sauce that are stir-fry together.
This is available in the Bento Box menu that offers free direct delivery for orders of eight boxes and above.
—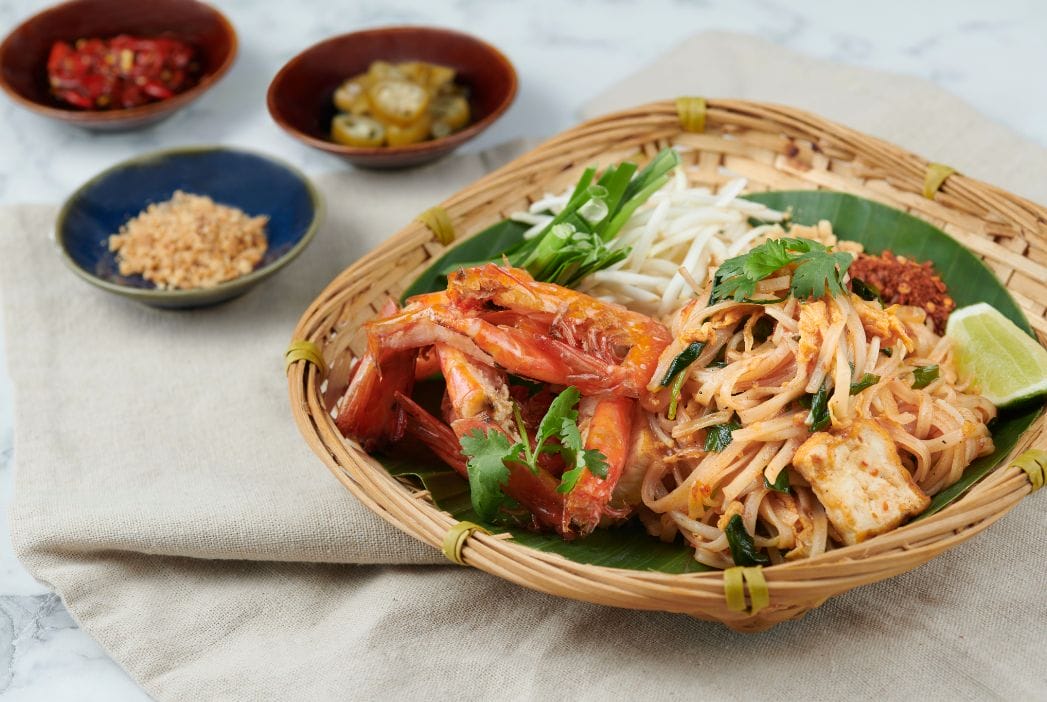 Pad Thai Bento Box, $13 or $13.16 on Foodpanda
What makes our Pad Thai stand out is the use of our housemade sweet-sour sauce with just three key ingredients —tamarind paste that adds depths to any dish by giving a unique sharpness and bite, dried chilli and palm sugar. I learned this recipe back in Thailand and ensures its authenticity, compared to some restaurants where chilli and tomato sauce are used instead.
Shallots, pickled red radish and the housemade sauce are stirred together in a wok, followed by eggs and rice noodles. More of the delicious sauce is poured in before prawns and vegetables are thrown in last while being stir-fried on high heat.
Available for delivery on Foodpanda, this dish is also in our Bento Box menu that offers free direct delivery for orders of 8 boxes and above.
—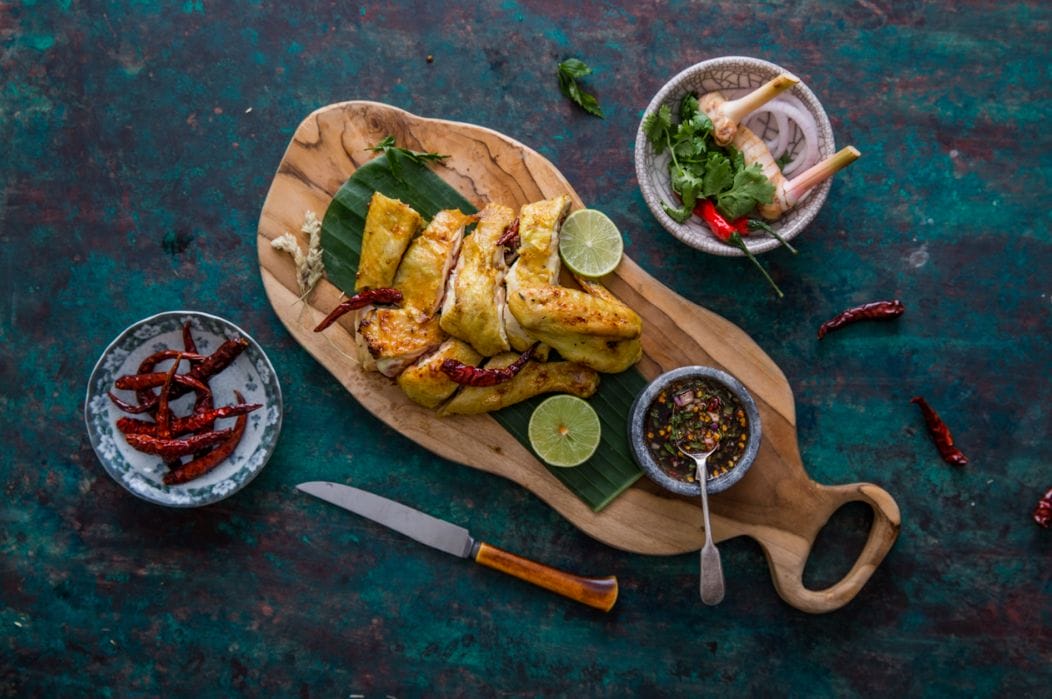 Roast Chicken Esarn Style, $17.44 on Foodpanda
Similar to how it is back home in Chiang Rai, kampong chicken is cooked Thai kampong style; marinated overnight with a variety of herbs such as coriander (including roots), galangal, fresh turmeric, garlic, lemongrass and white pepper seeds that are blended together, fish sauce and palm sugar; that adds a beautiful glaze.
I usually cook my dishes with herbs as I grew up eating them everyday and besides adding aroma, it has health benefits as well. The chicken is then roasted twice, at 160 degrees celsius for 10mins, then 180 degrees celsius for another 10mins.
This dish is paired with a deceivingly spicy and simple housemade dip called the Nam Jim Jaew. The recipe is complex and requires many steps — black and white glutinous rice are toasted and grinded till powder form. A variety of herbs are roughly chopped then grinded and blended together with the powdered glutinous rice. This paste is then boiled with fish sauce, palm sugar and chilli till thick and topped with coriander.
—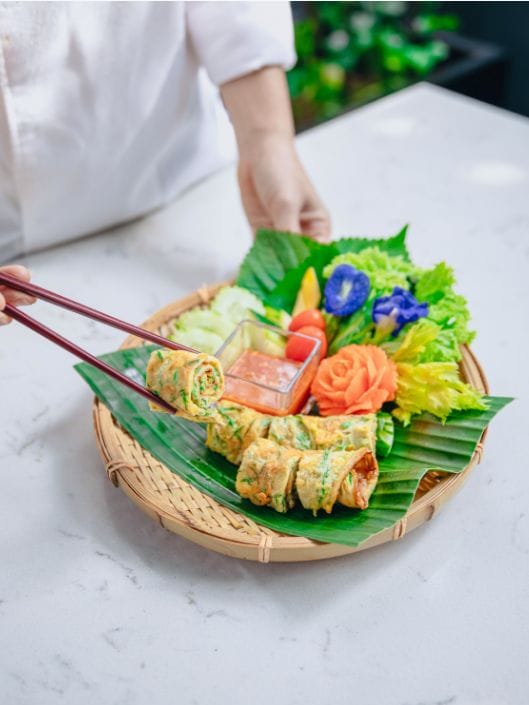 Cha-Om Fried Egg, $13.16 on Foodpanda
In Thailand, acacia leaves are commonly eaten with papaya salads or cooked with eggs, known as Cha Om Omelette. The fried egg is usually paired with a dip named Nam Prik Kapi but locally, this sauce is only served with boiled vegetables.
I wanted to introduce the pairing of these two key ingredients as how its eaten in Thai markets and thus created my very own recipe of Nam Prik Kapi — shrimp paste, lime juice, palm sugar, red chilies, garlic, dried shrimps, pea eggplants pounded with mortar and pastle, and Cha-Om Fried Egg, a fluffy egg whisked together with fresh, slightly bitter Acacia leaves and rolled into delicious, moreish rounds.
It's available for delivery on Foodpanda and also as a side dish in our Bento Boxes.
Make your order today from Blue Jasmine at https://www.parkhotelgroup.com/en/farrerpark/promotions/bento-box, or on https://www.foodpanda.sg/restaurant/w7gu/blue-jasmine.
---