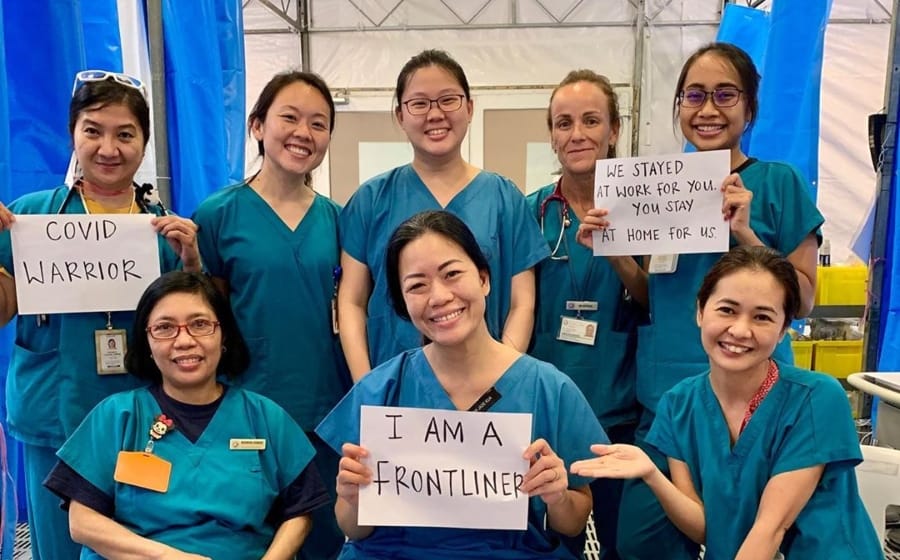 The novel coronavirus has impacted our lives in many ways, but perhaps no workers are harder hit than those on the front lines. Especially healthcare workers who have been dealing with the heightened amount of cases since the start of the year and meeting the increased number of cases with long hours at work.
Dr Jade Kua is a senior consultant with the Department of Emergency Medicine in a public hospital in Singapore, President of the Singapore Anti-Narcotics Association and previously held the title of President of The Association of Women Doctors, Singapore. She is a pediatrics emergency specialist by day, and a mother of six at night. Here is how her life has experienced upheaval since the COVID-19 outbreak.
—
The Beginnings Of the Outbreak
"I have to say, it's pretty overwhelming. Having worked through Christmas, to throngs of unwell patients, I was almost at the end of my tether. I remember handing a New Year's Day shift over to a colleague, telling him that there was a zero-bed situation and a long waiting time for minor emergencies. Just then, we received word about an unknown virus originating from Wuhan.
At first, I did not realise the magnitude of the situation, and stayed home and monitored the situation from work. Subsequently, news came of mortality & morbidity from patients in China as well as the arrival of the virus in Singapore.
By the time, Chinese New Year rolled in, we really felt the heat. With every shift, my colleagues and I were revising new protocols to screen patients, initially just from Wuhan, then from all of mainland China. A plethora of other associations met case definition as well, including contact history and symptoms. We started going for training sessions to put on protective gear which many hadn't touched since SARS.
Moreover, there were of course our regular patients, including critically ill ones, whom we were now resuscitating with N-95 masks and goggles.
I made small jokes about our outfits of the day. These accessories would not pass muster in Next In Fashion! N-95 masks caused zits and the goggles interfered with my eyelashes which are as long as they are fake. In the infectious disease annex, the full gear made us perspire and my hair was hopelessly flat."
—
—
The public's reaction to healthcare workers
"A Gojek driver accepted my order despite it stating I was going to a hospital. With recent public shunning of healthcare professionals, I'm now very grateful for small things like that. A crisis can do that to you, I'm told. As my daughter helped load sunflowers into the car, I kept thanking the driver just for showing up. When we made it to KKH where young doctors helped unload the treats, we all posed for a photo with the hero of the hour, this kind driver, Norhisham.
In the rest of the days that followed, we were overwhelmed by the good wishes that flooded in from the community. Handwritten notes of encouragement, daisies and more bubble tea kept our spirits high. Week 2 of DORSCON Orange sure seemed less depressing than the week before.
I think, because of these gestures of kindness, we were able to develop a strong sense of mental fortitude. This despite long hours & increasing cases of COVID-19, with no end in sight."
—


—
Limiting Interactions
"Since the outbreak, I've had limited interactions with everyone, other than my kids. I also take extra precautions now: I shower at work after seeing patients in the fever area.
Current opinion is that if we stay at home, the fewer the chances of precipitating more clusters of outbreak. And so we stand at the edge of reason, where the best solution to save the human race is simply Netflix & Chill.
As for my children, the youngest three are taking a leave of absence from school due to travel to Malaysia. For most part they stay home, twisting through the house like a tornado. Time with these exuberant kids is precious but I am certainly missing some quiet time.
Just when I am starting to count down to the final week of their leave of absence, their eldest brother returns from the UK. An MOH directive about household members returning from countries of heightened vigilance prompts a reset of the 14 days leave of absence from school. I take a deep breath and remind myself to be grateful for our good health."
—
Destressing
"I'm quite tired, but am trying to stay positive. I have made it an effort to be grateful for the things in my everyday life. I've taken the opportunity to spend more time at home and give thanks for whatever comes my way.
Floral therapy has been key, as with dabbling in self-care at home that has been heaps of fun with treats from La Mer & Dr GL. But perhaps the best thing about staying at home is time with my puppy Mara and old Dylan, who is 18 this year."
—


—
My Advice to Fellow Singaporeans
"We haven't seen the worst of the medical impact. There will be economic and social impact too, that are much more far reaching.
Physically, we can reduce transmission by being sensible about personal hygiene. Mentally, we can set intentions to be mindful about our behaviour. You can help us frontline staff by sharing our stories and truths, rather than spreading fake news borne out of fear.
Can we outsmart a virus? Maybe not. But we can learn, react, cope and mitigate. And we can do this best, together. The entire community, and extensive healthcare team, working together, with open hearts.
I'm not sure when life will return to normal. I'm sure it will but I don't know at what cost. What I do know is that when that happens, I will be much more appreciative of little things. Like, my youngest child being able to go to kindergarten or violin class. Maybe that's one of the lessons we shall learn.
On a personal front, to take nothing for granted. On a systems level, that cautious preparedness is better than complacency. And when it comes to public healthcare, social responsibility lies with every single person."
This story first appeared on https://www.lofficielsingapore.com/ with excerpts taken from Dr Kua's blog here. Photos courtesy of Dr Kua too. 
---