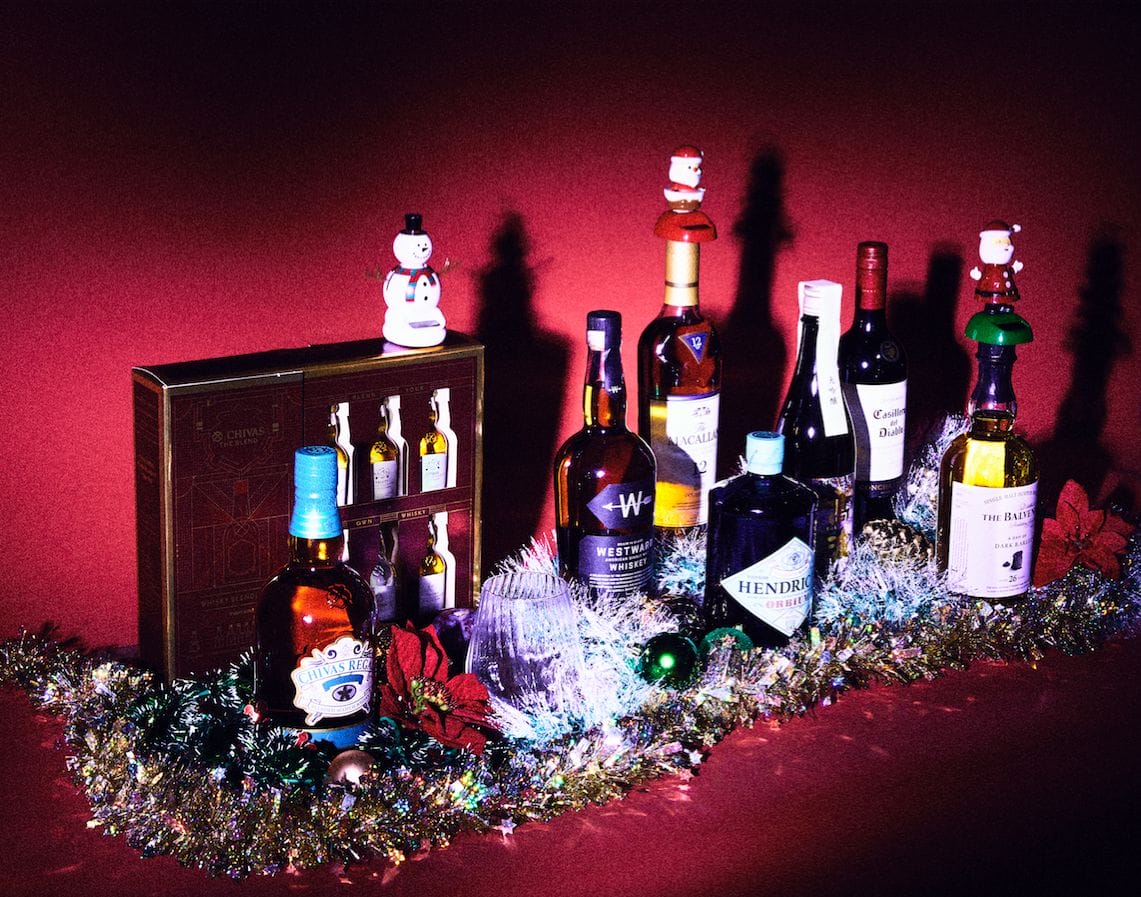 Liquor treats made to uplift modern men – from Japanese oak barrel matured whiskies to wine bottles that light up.
—
From left to right:
Chivas Regal Mizunara Whisky
The world's first Scotch to be finished in Japanese Mizunara oak casks, this whisky is rich and fruity on the nose (pear and orange) while its taste is smooth and rich with honey sweetness and hazelnut notes.
—
Chivas Blend at Home Kit
Five whiskies – four single malts and one single grain – come with a pipette and beaker to create a blend perfectly tailored to one's palette. A bottle of benchmark blend, Chivas Regal 12 Year Old is included too.
—
Westward american Single Malt Whiskey
The spirit starts as an American pale ale that is distilled twice before being aged in lightly charred American Oak barrels in Portland, the result: a robust and fruity aroma that finishes off with tobacco, dark chocolate, and lingering oak sweetness.
—
The Macallan Highland Single Malt Scotch Whisky 12 Year Old Double Cask
A whisky that has been matured for a minimum of 12 years in a combination of American and European Sherry, each sip is creamy and honeyed like zesty marmalade, sweet cinnamon, and warm pastries.
—
Hendrick's Orbium gin
Orbium contains the same distillates as Hendrick's classic gin, but the addition of bitter quinine, spicy wormwood (a variety of herb), and bittersweet blue lotus blossom lends it a darker and alluringly bitter taste.
—
Takanami Daiginjo Sake
An award-winning sake, this particular one is the only one from Takanami that uses Yamadanishiki rice, known as the king of sake rice. Fruity on the nose, the first sip evokes the taste of apples and peaches before it ends with a light and clean finish.
—
Casillero del Diablo Cabernet Sauvignon
The Cabernet Sauvignon from the world-renowned Chilean wine brand – medium-bodied with silky tannins accompany a ripe fruit and berry aftertaste – now comes with decorative fairy lights for the season.
—
The Balvenie a Day of Dark Barley
The third release in The Balvenie Stories range is a throwback to 1992 – a day when Balvenie mashman Brian Webster and mailman Robbie Gormley experimented with a delivery of dark barley. Toffee sweetness, tangy orange peel, and oak vanilla warm the palate, while the whisky finishes off with gentle vanilla and oak spices.
—
Photography Jeff Chang
Styling Bryan Goh

This story first appeared in the December/January 2020 issue of Men's Folio.
---