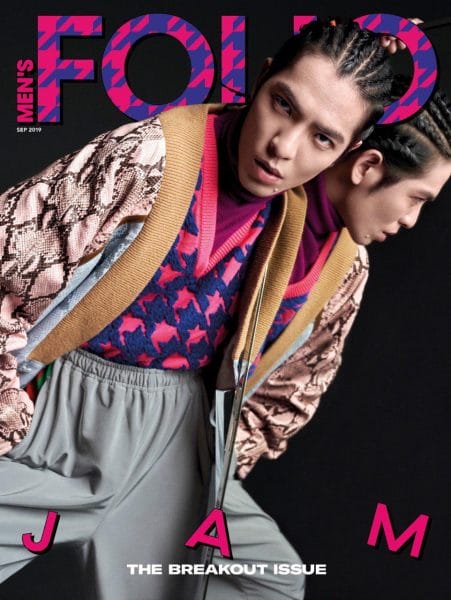 The first thing the Men's Folio crew notices about Jam Hsiao is how incredibly focused the 32-year-old is – as he gets on set, he changes out of his sweater and jeans to slip into the various looks. Throughout the shoot, he is contemplative and quiet as the camera's shutter clicks and the lights flash. This is not a bad trait; in fact, it propelled him to fame in the 2007 television reality singing show, One Million Star.
Back in the early noughties, when variety shows encouraged one to constantly wear a smile while appeasing an audience with antics, Hsiao stood out with his bad-boy, brooding demeanour and powerhouse vocals, which got the audience to sit up straighter and brand him as one of the nation's new rising stars. This is a man who knows his personal favourites since the beginning, and this faithfulness is what his fans appreciate in turn — an artiste who has not succumbed to the era's trend of mumble rap or pulsating EDM beats.
—


—
The interview section of the shoot is where Hsiao starts to warm up, and his tone takes on a friendly disposition when he is talking about a topic that is close to his heart – music.
"Tired, frequent, and repetitive" are the three words that Hsiao uses to describe the music of today. He continues, "This is the trend of pop music, but this is slowly changing as listeners are getting more demanding as they seek out their own preferred genres." These are also qualities that Hsiao equated to the death of classic instrumentation, but he hopes to see their comeback despite living in the digital age – a rebirth where music sounds come from a musical instrument but of course, played with deft hands. 
"Many people these days, when they learn music, they never have to physically come into contact with a music instrument, unlike how we learnt to play the piano 10 years ago. Now, three square buttons that can play chords are put into a loop, and a song is composed. In the last few years, music-making has been simplified, and the skill required is lesser, so the foundation is weaker," Hsiao explains.
That is not to say he is the kind of artiste to rest on his awards and commendations because Hsiao is surprisingly realistic about his work. It is always a work in progress to him, and in line with his humble nature, he does not speak of his numerous accolades because he prefers to look to the future. "I feel there are no peaks to speak of; I do everything to the best of my abilities – the things I have always wanted to do; I am still working on it. I am slowly going at it; the road ahead is still long."
—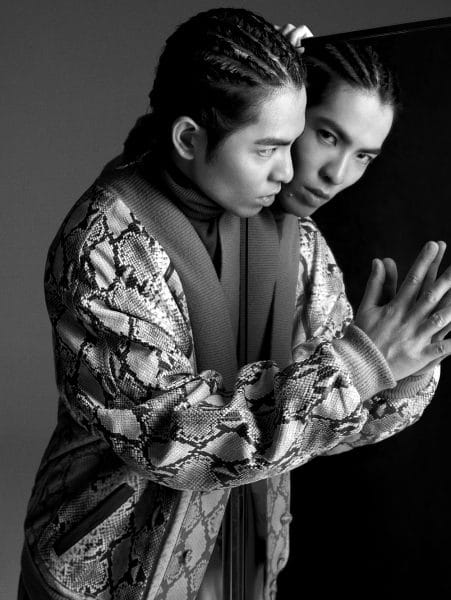 —
Rarely does one encounter a singer who speaks so honestly about his work, but Hsiao says it in a matter-of-fact manner. "For sure, I have accomplished many works in the past 11 years, but they are all works in progress, including the works that I took on 11 years ago," he says.  The ensuing explanation is equally matter of fact. "Work-wise, they are pretty much the same. Take for example, when I formed the band (Hsiao's own rock band, Lion), I wanted more people to know about us, and I have been working on it."
The bedrock of every karaoke session will include a love song by Hsiao, whether it is the 2008 single, Forgive Me Please ("After we break up / please don't recall our kiss-sealed promises / Your forever is no longer mine") or the 2018 hit, A Love Song For You ("In the most ideal of fairy tales / you will be the one embracing me").  The common thread is love, a topic that Hsiao is famously tight-lipped about.  However, he is not tight-lipped about the realistic nature of his career.
Hsiao is aware that the longevity of his career is tied to his mortality. "The end goal is to stop singing. Don't mistake me [for not loving my career], death is the end of the road too. Therefore, not singing is the end of the road, because perhaps even if I wanted to continue singing, I physically can't do it," he shares.
—


In a world where artistes try to hang on to their relevance for as long as possible, Hsiao's charming cocktail of passion, indifference, and pure talent makes him as refreshing today as it was in 2007. Now, that is a true star.
Photography Chee Wei
Fashion Direction Wilson Lim
Styling Kevin Cheng
Photography assistant Ong Poh Siong
Styling assistant Sapphire Chin
Outfits Gucci
Grooming Jade Lee
Hair Nino Chen
---