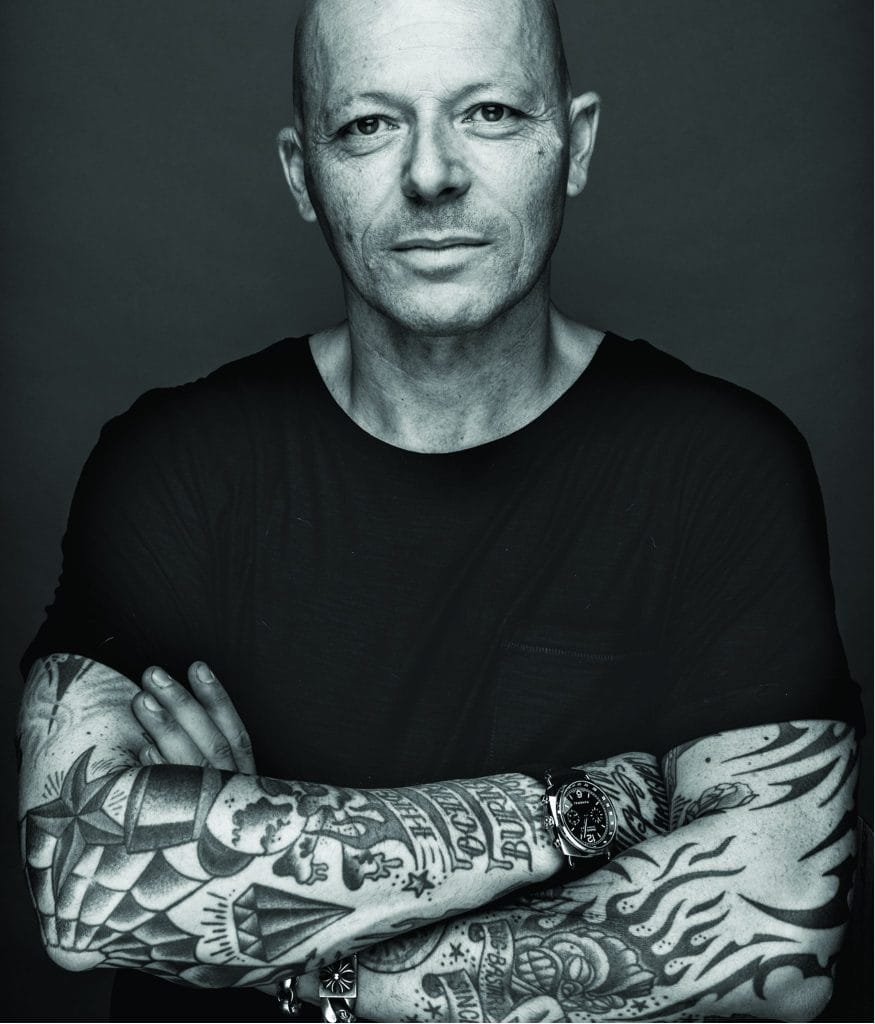 Fabio Panzeri brings a larger-than-life rock-and-roll attitude to his position as creative director of Braun Büffel, signifying an emotional revolution for the 131-year heritage brand. The lead designer's solo on the German leather atelier's centrestage seems almost inevitable, as he has previously honed his craft at (mainly) Prada and Helmut Lang, which lead to his focus for functionality and mould-breaking materials. In his first Spring/Summer'19 collection for Braun Büffel titled "Retro Future Vision", Panzeri introduces a unisex collection together with its new mascot, "Bully X" – "X" representing a new start for the brand, with a focus on Generation X.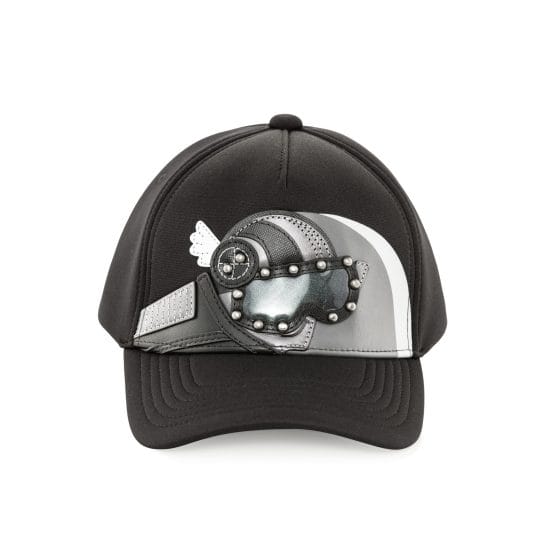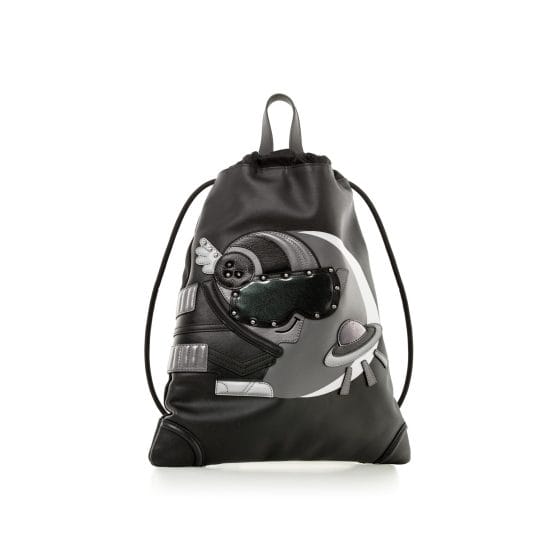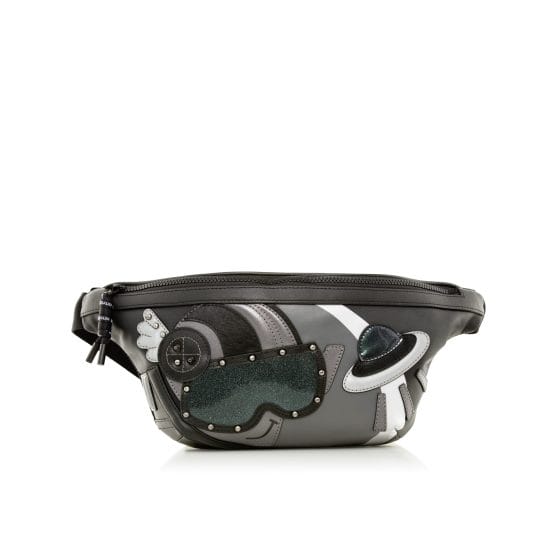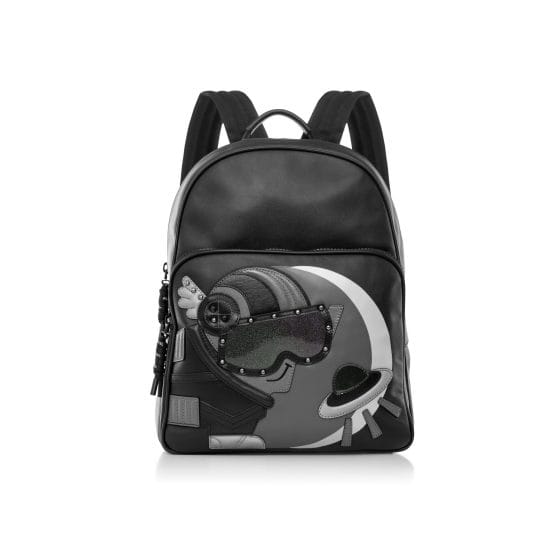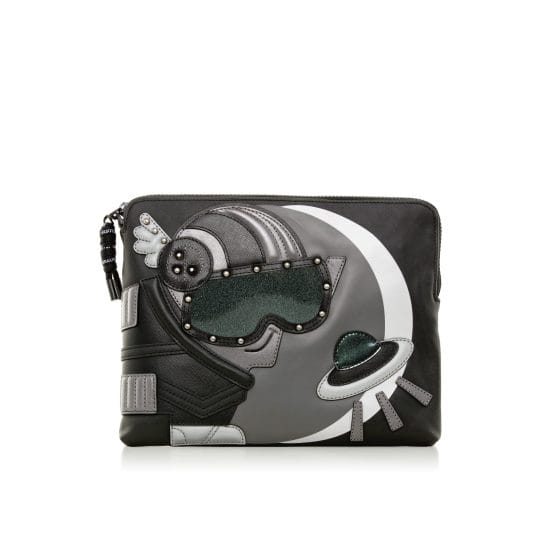 Bully X wears a spacesuit in the collection, a subtle message that the brand is jetting towards another direction and (possibly) universe. The campaign – reminiscent of Stanley Kubrick's 2001: A Space Odyssey – follows three DJs flying around the universe playing music, "because music is not sex, religion nor borders. The message is to be open, modern, refreshing and accessible for everybody," says Panzeri. Men's Folio sits down with the creative director amidst his busy schedule to discuss his history, philosophy and futurist vision.
Tell us about the Spring/Summer'19 collection, "Retro Future Vision".
When I started this collection, I began to think of the 16-hour bag – an everyday bag that you can use for everything. Instead of having to go back home from work to switch to your gym bag, the 16-hour bag has enough pockets and dimensions to do both. We are using newer materials (not just leather) such as neoprene, and we are currently exploring a new kind of nylon. It is all experimentation. Being classic means you sometimes miss the opportunities to be modern; for me, to be classic is to be modern.
Since the collection revolves around "16-hour bags", what is the one bag all men should have?
Backpack. In terms of dimensions, it is a 16-hour bag because there is enough space for the weekend as well as everyday activities. Some people carry a sling bag for the entire day, and when they go to a nightclub, they have a look that says "I want to kill somebody". Why would anyone appear at a party with a sling bag?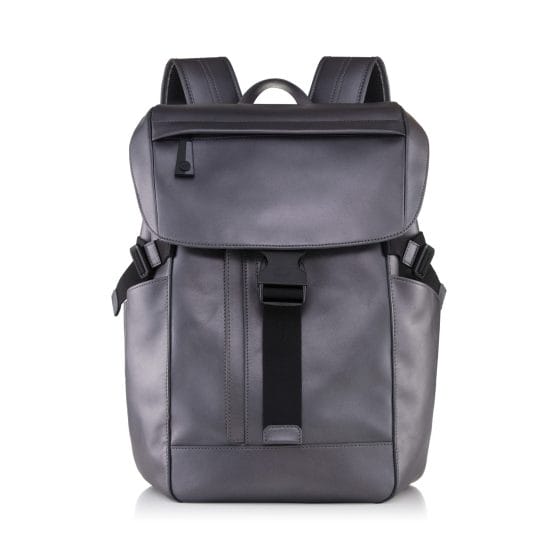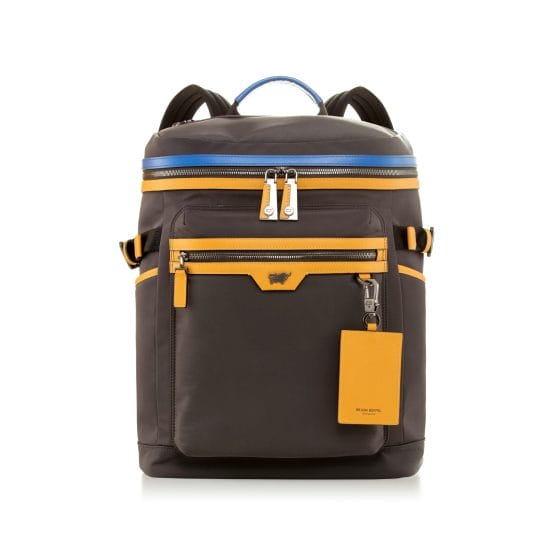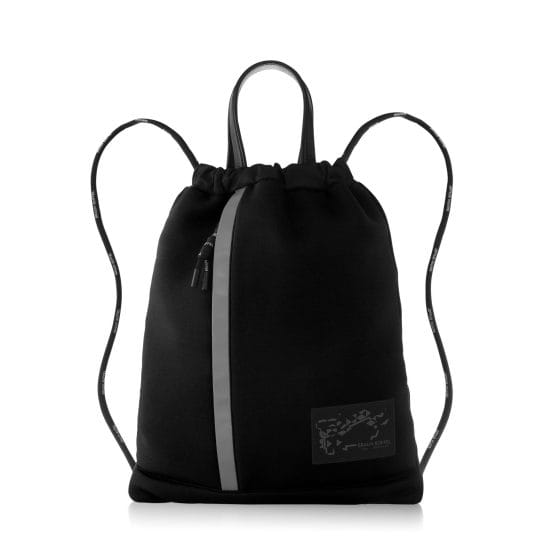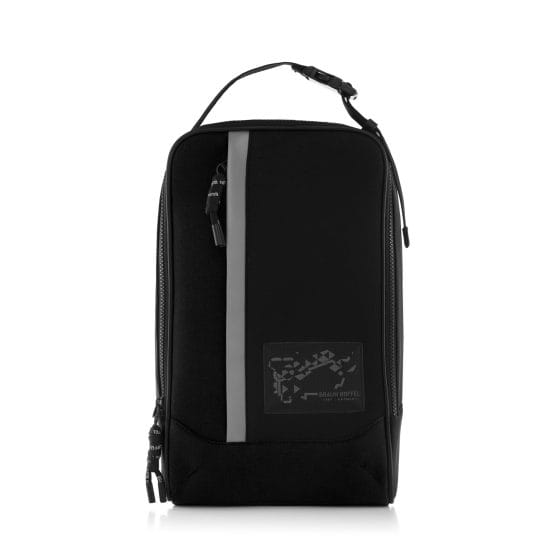 You have a long history as a leather goods designer. Did you go to fashion school with that already in mind? 
I initially wanted to be a comic designer, but my grandfather advised me to explore something more classic before deciding on my career. When I first started studying design, I realised that too many people designed clothing and nobody would talk about bags and shoes. Nobody could explain to me about how to design bags and shoes, which made it difficult. Fortunately, Prada called and I learned the craft from them. That was when I found it was more interesting to create bags and shoes than ready-to-wear.
Karim Rashid mentioned that to design modernity is to use modern techniques and materials. Is there a future where you won't even use leather at all for Braun Büffel?
Oh I know him very well. I believe yes. I believe in 10 years, all brands will stop using leather. There is a conscious evolution to move away from leather to other materials. It is like the electric car; when Porsche first presented their electric car, some people would say "Oh no", but I say "Wow it's cool!" Because there is no choice! When people say that the electric car is not as powerful, it is not true; Tesla has one of the fastest cars in the world and it is electric. People are afraid of change, but we have to use progress to do great things instead of dumb ones. That is the reason for "Retro Future" – I want to continue using craftsmanship and quality and construction but not necessarily leather, because that is the future.  
We are exploring something more evident now by not using logos. Before, it would be a useful bag with a big buffalo, but I think it is no longer the time for that. The Braun Büffel bag has to be recognisable by its style without the logo. I want to create a community of people who can recognise the product without the brand.
That is interesting, because today it's all about logomania and you are doing the opposite.
I'm not a logo addict in general, because my favourite brands are not about their logos. They are all super underground; Rick Owens, Boris Bidjan Saberi, these brands that are quite difficult to find. They go for style and experimentation, and they don't want to be mainstream. Available only in small quantities, limited editions and difficult to find. I think on the same level, but in a different phase.
Did this preference emerge when you worked with Helmut Lang?
 He is really a genius. I was really lucky because I worked directly with him a long time ago.
And even now, you are still channeling his spirit.
He was one of the true avant-garde designers. He was a person who could imagine a collection from a piece of paper. It is really difficult now, which is why he decided to stop. He was so modern for his time. He once cancelled a fashion show that had been organised completely one week before the event, and his reason for doing so was because he wanted to do the show online. And this was 20 years ago! It is common today, but back then it was super genius. That experience was a really important step in my career.
Where do you draw your inspirations from?
Music and movies, for sure. I'm a heavy metal guy in general; my first LP was "Dressed to Kill" by Kiss. From there was an evolution to death metal, electronic music, and industrial music. Not commercial music for sure. These kinds of music help me imagine a different environment for a collection to exist in. I also take references from movies (Star Wars is the best movie in the world) but I don't believe in one-track movie inspirations. Take the Black Panther film; if you take the time to look at the colours, clothing and environment, there are a lot of combinations that are really beautiful, and by watching the movie you may start to imagine something new.
In the Spring/Summer'19 collection, you see references from 2001: A Space Odyssey and Blade Runner because these movies talked about the possible future. However, nothing happened in 2001 and 2007; we are definitely moving forwards, but it is not as dramatic as seen in sci-fi. These things on the other hand [picks up mobile phone] changed our lives completely. You see people walking around the city like zombies. Last week, I saw two guys on their phones crash into each other and said completely nothing. All they did was look up and continue walking.
In our campaign video, you will see a lot of "Retro Future" because it is always present. For example, the sculpture in Kim Jones' Pre-Fall show for Dior Men is an homage to Metropolis. And if you look at Queen's "Radio Ga Ga" music video with restored Metropolis footage, you can see the same references in the collection in terms of presentation. I think we all work together in a different yet same level, with a different range of styles; Dior, for example, is really futuristic like The Jetsons. 
What is futurism for you? 
My perfect futurism is being environmentally respectful, because if we don't respect the planet, we won't have a future honestly. My personal approach is more philosophical than commercial: you need positive vibes in order to live better, which is why I took a positive approach with this collection. For example, I made sure the focus here is not on making something that sells, but rather something that is genuinely nice. People may or may not like it, but it will for sure give me good emotions. I am a creative mind and I work for creativity and style. My team will often start a project with one direction and end up with a completely different one – it is a continuous evolution.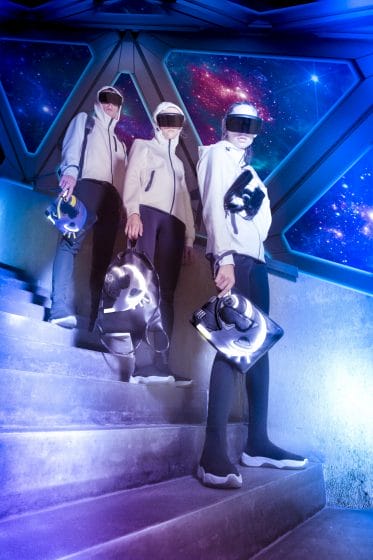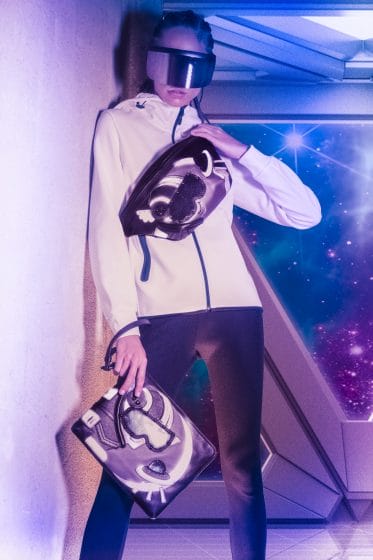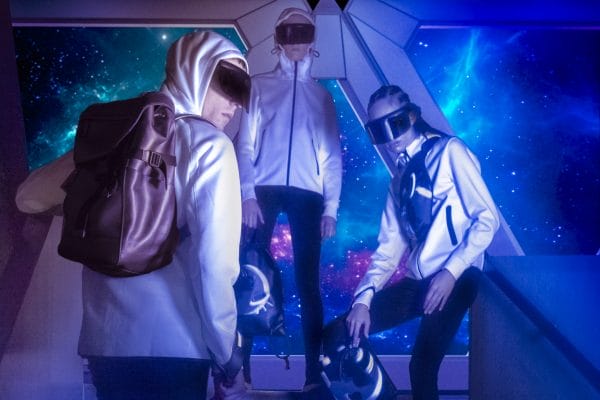 So the future is not a huge jump straight to The Jetsons, but more of sustaining ourselves to ensure a future happens.
In the 1970s and 1980s, inspirations are constantly changing for every season. For me, it will be more of an evolution. Next season will still be "Retro Future", but we will be exploring other sides of it. It is about starting and slowly evolving a message, and "Retro Future" is more of a new DNA for Braun Büffel than a collection inspiration. Millennials are not interested in buying something old. They want something new and cool, with a great history behind at the same time. That is why we have to be brave and change.
---