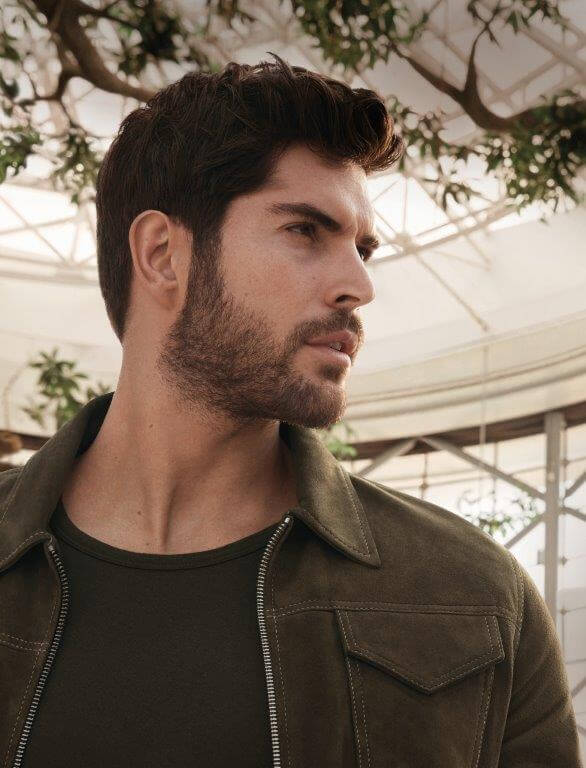 The Italian luxury jewellery maison's latest gem in the olfactory family, Bulgari Man Wood Essence's tagline is "#CitizenOfNature". With a captivating scent of bold woods — cypress, vetiver and cedar — combined with the zest of Italian citrus and essence of coriander, the fragrance reminds that we are all, first and foremost citizens of nature. The intense woodiness lets man reconnect with nature and re-establishes his tie to it, then muster his inherent strength to take control of his urban environment.
Hence, Canadian actor, model and influencer, Nick Bateman was chosen as the face of this empowering scent. Selected for his rugged yet refined natural beauty, Los Angeles-based Bateman, who is also a four-time world-champion martial artist, is perhaps best known for his amazing handling of the Bo Staff. Beyond the dazzling display of skills, Bateman is also a big supporter of rescue dogs. Men's Folio caught up with the nature-loving Bateman during the London launch of Bulgari Man Wood Essence to discuss this new ambassadorship and his revelations about social media.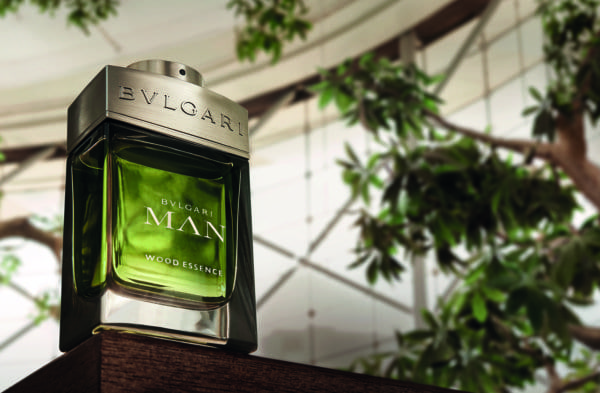 Now that you are the face of Bulgari Man Wood Essence, how do you feel about being part of the Bulgari family?
I feel great. It's obviously a big honour to be working with such a prestigious company. I've known about Bulgari for a while now and I think anyone who starts in the fashion industry and starts modelling, the biggest thing you can get is a fragrance campaign. So, when I found out that I was going to work with Bulgari, I was thrilled. I feel that some clients when they book someone to represent their brand, they don't really know a lot about that person. What I appreciated about Bulgari is they actually knew who I was and they picked me specifically for this fragrance. I actually found out yesterday, Alberto (Morillas, master perfumer) was sent pictures of me together with inspiration to make the fragrance. It's really an honour even in the making of the fragrance, they had me in mind for what it would smell like.
So you were part of the inspiration?
Yeah, I was and I didn't even know that. They really wanted to have someone to have a connection with nature and the connection with the city, and that's what the fragrance embodies. My entire life I've had a great connection with nature — grew up in the suburbs because I'm Canadian. I have an awesome connection with animals and with animals hospitals as I was growing up, I've raised the most random animals you could think of — raccoons, squirrels, dogs, cats. I've also lived in a lot of major cities around the world — Miami, New York, Los Angeles, so I've been able to have a connection with the city and with nature. I feel that they really embodied the essence of what the fragrance is about.
How would you personally describe the scent?
Just being natural. I've mentioned before that I'm brutally honest, I can't lie about things so if I don't like the fragrance, I would've been like "it's not my favourite, but it's good". But I personally like it. I smelt it the first time and I would describe it as natural. And I think that's one of my favourite things about a fragrance, if it smells natural it could almost be someone's natural smell. I don't like it when you spray a fragrance, it's overwhelming and you're just like "Oof", someone walks by and that person will think about the cologne. This cologne is more natural smelling, which is good because it's got all the wood essence, hence the name "Wood Essence" and all the natural things like citrus added to it to give it a really natural smell.
You were sharing before you got this deal, you haven't smelt the perfume before. So, what was your first impression, first imagery when you first smelt it?
When I first smelt it, I was sitting in the Bvlgari villa in Dubai and it was difficult to forget it — it is insane, so beautiful. When I was smelling it, I was in this villa  and it was just all beautiful wood, and some of the video was shot there. When I walked into the video, it kind of embodied who I was at that time. I was in this beautiful villa, looking out, there was a pool, in the back of this room that led down into a private beach, with cabanas. I was just breathing in the moment, and it was beautiful to be in such an awesome villa. I've stayed at the Palm's at the Hugh Hefner suite and I thought that was good, this trumps that for sure. So, I felt very in the moment when I smelt it for the first time. Funny enough, because I was able to see the imagery and what they were going for; and when I smelt it, it smelled like what they laid out for me. So I was very impressed with Bulgari's team and creative-wise, how they wanted to platform it with the city and the woods. Putting it all together, it's nice because it does have the wood undertones with the citrus, so you can really smell both of it.
So how do you think the Bulgari Man Wood Essence fit into a man's daily wardrobe? 
It depends on what feel they are going for. Some fragrances you feel like you want to wear it to the city, some are daytime but that's the great thing about this fragrance, I think they made a perfect balance for all of these, so if you want to wear it to the city, it's not smelling too feminine, but if you're wearing it in the nature, it's not smelling like you're in a suit and you're clean cut. So I feel that this hits on the perfect middle ground for the fragrance, for a man to wear this. It's so versatile that you could literally wear it with anything. And I think that's the successful thing they have. Because I have fragrances that I wear for the daytime that I won't wear it for night, and vice versa, but I feel that I can wear this for both day and night so it's cool.
You're a martial artist, tell us more about your background of getting into modelling because you said you use it as your inspiration but modelling was not your first port of call?
No, it's actually a really funny story of how I started modelling. I was competing for martial arts and at that time I won my first world title. I was in Miami doing a little thing for ESP international and they brought the 10 best weapons competitors from around the world to compete against each other, in different age groups, 18 and under. I was 17 at that time and when I was there, there was a competition for model universe going on and it sounds quite cheesy but it's for guys who do fitness modelling. And jumping into the modelling universe, I didn't want to do it because I was a martial artist, but my friend was like, "You're doing it, I'm putting you in the competition, you're going to have fun." I'm like "Ugh, no." And he was like "I've already signed you up and paid your entry fee of $300, you're in." So I did the runway walk, I met some of the judges and they were like "Oh, we were rooting for you and we want you to win this," I was like "Oh, very cool." So this judge walks me over to this tall gentleman and I didn't know anyone from the fashion side so I didn't know who anyone look like, and he was just like "Nicholas, this is Calvin," And I said nice to meet you, and then I walked away from him because I didn't know what to say to him, I was 17 and an awkward teenager. And the judge asked me did I just walk away from him, I replied "Yeah, why, who is that?" He said, "That was Calvin Klein, you just walked away from Calvin Klein!" And I'm like "Oh, s***." So he walked me back over and I chatted with Calvin for a little, got a picture and from there on I started modelling. So it was kind of a unique story and I went to Milan, New York, kind of did the bouncing around and the rest is history.
Last checked, you have managed to amass 6 million followers on Instagram, which is more than most models and actors. How do you achieve that?
First off, I got very lucky that all these people embraced what I was doing. At the time when Instagram was a new thing, it was bustling, they had something called the popular page. And if you had a photo or a video that got a certain number of likes or views, you'll make it to the popular page. I got lucky enough that my social media account was snowballing, and the algorithm worked me into the popular page everyday and it just kept growing and growing and growing. It just got exponentially bigger and I posted my life, my relationship with animals, travelling, and I guess it connected with people. They shared my page and more people followed. I was just very lucky that the worldwide reach went out as far as it did and I was able to capitalise on Instagram when the algorithm was not the same as it is now.
And your Bo Staff skills also attracted people?
I have 69% female followers, 31% male followers, and I think the only reason I have any male followers, is because of the Bo Staff. I'll see guys who follow me on Instagram be like "Hey man, you're the Bo Staff guy!"
Instagram is a huge platform for marketing and with a brand like Bulgari, what do you think should be done for marketing with social media?
Social media is a funny thing because in the last couple of years it's gone up and down. And the fact that when it first became a thing, people didn't know how to properly read the analytics, see which person was right for what brands, and in the future I think we're learning how to get the analytics and figure out what works and are now more knowledgeable about the advertising. So I think as the future goes, people who are smart enough to properly utilise what the demographic is, who they're advertising to and what works for their brand, it will definitely be stronger for brands like Bulgari. So for me, this synergy of the fragrance of the company just works well with my branding and I turned down probably 99% of things that come to me to do collaborations because it doesn't fit with my branding. I think if brands are smart about which influencers they are working with, then it will continue to be strong. It makes me mad because whenever I work with the company, part of the reason I say no is not because of my branding but because I don't want to lose them money. I would rather work with the company that I know that I can help push properly and there's an organic story there. For me, anytime I work with a company, I have to be real. I want it to be real. I don't want to lie to my followers.
---