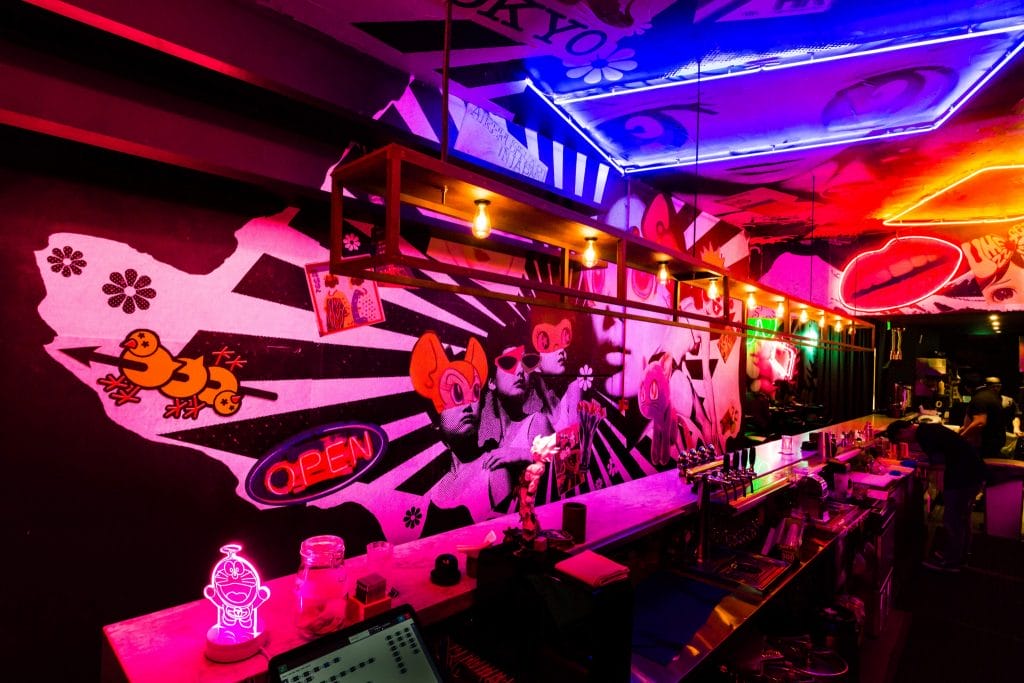 The reputation of Sichuan cuisine is widespread and the spicy flavours are cooking up a fiery storm in local kitchens, cafes and restaurants.
Mention Sichuan cuisine and people probably think of a big bowl of "mala" (numbingly spicy in Chinese) hot pot — a toss-up of meat and vegetable stir-fried in peppercorns and dried chillies, which would reduce any anti-spice evangelist to tears. However, the cuisine from the Southwestern province of China is more than just a one-dish wonder. Due to its addictive acquired taste and depth in flavours ranging from salty, sweet, sour to bitter and yes, spicy, the cuisine has since found Singapore fans and is being served on tables at exquisite eateries. In fact, Shinsen Hanten, restaurant specialising in Sichuan food, was consistently awarded two Michelin stars in the past two consecutive years.
What could be so good about Sichuan cuisine that it is getting the world all hot and numbingly bothered only now? For starters, we are used to the traditional "mala" taste of Sichuan peppercorns and dried chillies mixed with the occasional garlic, ginger, scallion and bean paste to enhance the flavours of dishes such as mapo tofu. Interestingly, some contemporary restaurants want to move beyond the fiery palate consumers are, for the lack of a better term, numbed to. Think fusion between Asian, Western and Sichuanese cuisine where peppercorns and chillies are scorched alongside Japanese sweet potatoes and marinated with pork bellies in a sandwich.
The potential evolution of taste and flavour profiles in Sichuanese food is evident in the new hybrid dishes concocted at the below eateries. After all, our taste buds are constantly changing, and about time the cuisine gets the recognition it seriously deserves.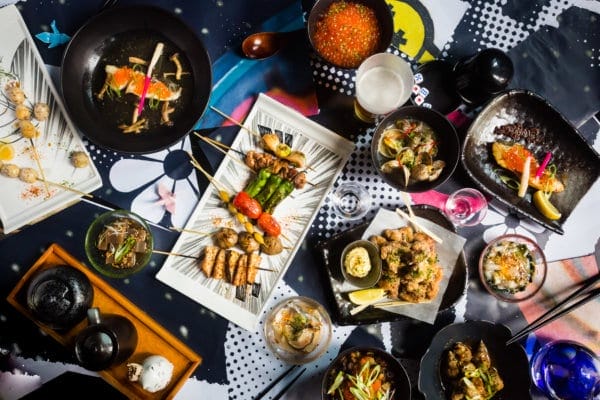 Chikin (chicken in colloquial Japanese) is the first izakaya in Singapore to serve yakitori flavoured with Sichuan peppercorn, combining the flavours of Sichuan shao kao (barbecue in Mandarin) with the art of Japanese yakitori. While we are used to eating skewers dipped in salt and tare, Chikin provides diners the choice of dusting their food-on-sticks with Sichuan spices in various levels of spiciness. Nestled in the streets of Bukit Pasoh Road, the menu offers 12 different parts of the chicken alongside choices of vegetables, beef, pork and foie gras grilled over traditional Japanese binchotan flames, which effectively combines the Japanese method of cooking with the profiles of Sichuan flavours.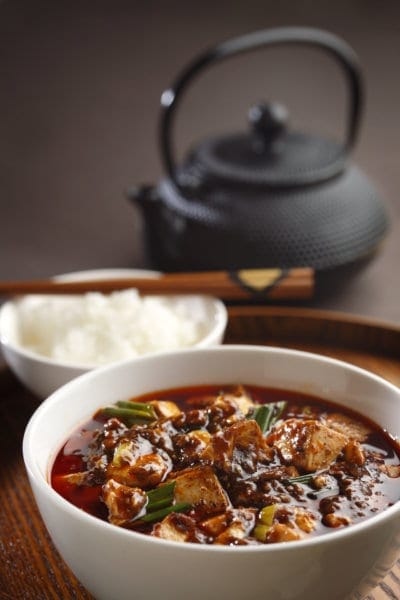 Chef Chen Kentaro continues to demonstrate elegance in his mastery of Sichuan cuisine at Shisen Hanten by Chen Kentaro, recently awarded two stars in the Michelin Guide Singapore 2017, bagging the prestigious award two years in a row. Marrying both tradition and modernity, third-generation chef Chen translates Sichuan cuisine into a reverent art form. Take for example his signature soft and silky mapo tofu, cooked in spicy dou ban jiang (broad bean paste in Chinese). A fresh take on the classic dan dan noodles is Chen's original spicy noodle soup, springy yellow noodles coated in spicy sauce and combined with sesame paste for a flavourful finish. In addition, the Sichuan chilli chicken favourite is given its own savoury twist where Chen fries the marinated chicken chunks with dry hot peppers while adding a thin layer of Hokkaido potato flour. If a Michelin-starred restaurant is able to innovate and elevate Sichuan cuisine into something extraordinary, it sets a precedent for the amount of depth Sichuan flavours can bring to the international gourmet arena.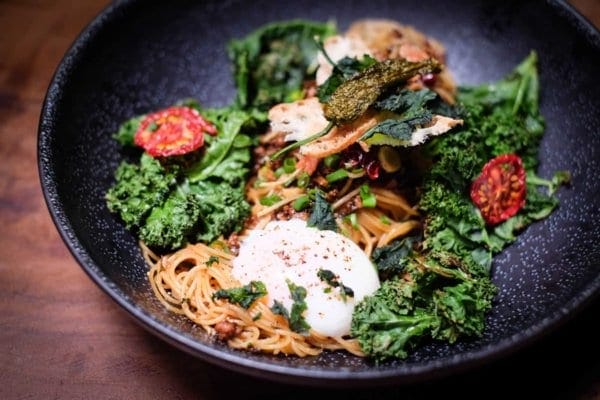 Birds of the same feather who delight in Sichuan cuisine are flocking to this all-day dining bar, cafe and restaurant in Amoy Street. Resembling an aviary adorned with plenty of foliage, the restaurant evokes memories of a green Chengdu city and serves contemporary Western cuisine with a pronounced Sichuan influence. For instance, the traditional mapo tofu is now transformed into a hearty tofu burger with mapo meat sauce while zha jiang mian (Chinese soy bean paste noodles) reconstructed into a spicy oriental bolognese of angel hair pasta, pork ragout and onsen tamago (a Japanese-styled low temperature egg). The signature burger dish is made of charcoal grilled patty, foie gras, cheddar, caramelised onion with a chilli soy tapenade inspired by dou ban jiang. Even the ubiquitous and popular Sichuan chilli chicken is not spared from the winds of change with a rename to "Find the Chicken in the Chillies". Birds of a Feather is the perfect example of East meets West, where Sichuan cuisine sheds its traditional image, and is now spun by the wheels of modernity.
Since the boom of Sichuan cuisine, the conventional flavours have made way for multicultural interpretation. This phenomenon has metabolised less daunting recipes that lure even patrons of the most resistant who fear the authentic overly-rich Sichuan flavour profile. Thus, experimental takes or hipster renditions of Sichuan fare continues to flame its hype with the contemporary twists that builds on the core of traditional ingredients, finding new admirers for the famed cuisine.
---