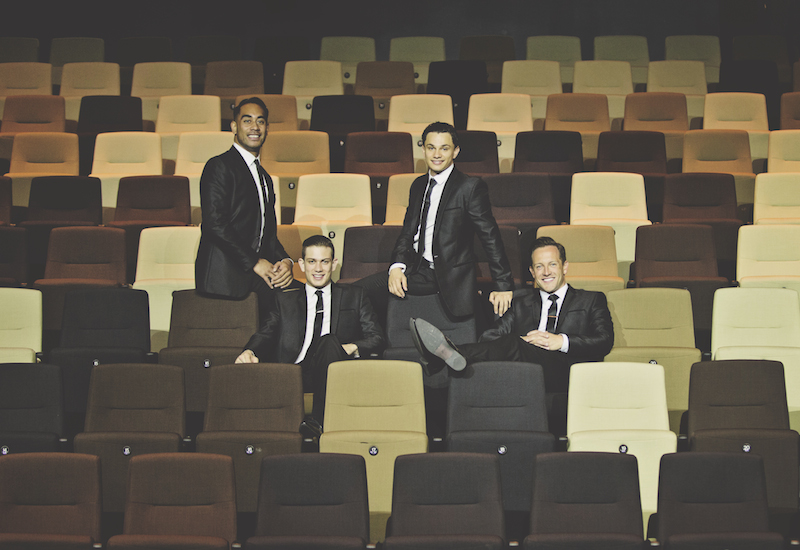 All the way from Down Under, Boys in the Band was in town for its first concert at Marina Bay Sands Grand Theatre, which played on April 8. It dished out the ultimate medley of hits from the 1950s to 1990s. With songs from Frankie Valli, Jackson Five, The Beatles and The Beach Boys, concertgoers relished in the international hit show's amazing vocals, sharp choreography, and enjoyed some blast-from-the-past nostalgia. Men's Folio caught up with Boys in the Band co-creator David Malek, original cast member Simon McLachlan, and new member Mat Verevis (who was also a finalist on The Voice Australia), before the show.
How would you describe Boys in the Band?
David Malek: Boys in the Band is an all-Australian show that was created after I saw a show in London called Jersey Boys. I thought it'd be great to tell a story of not just one band, but many different bands — The Platters, The Drifters, The Spaniels, Frankie Valli, The Four Seasons, The Beatles, and Backstreet Boys.
What can concertgoers expect from the show?
Simon McLachlan: Our concert is a journey that celebrates five decades of music. When people come to the show, they can expect a 90-minute spectacular. We cover boyband songs from the 1950s to the 1990s. They get to immerse themselves in a world of music. And everybody loves the legendary Jackson Five. On top of that, the boys are singing in four-part harmony with a spectacular light show and different choreography styles. For example, for the 1960s, the choreography is disco, funky and retro.
What are your personal favourite songs to sing?
DM: Mat can answer this question (laughs). He was a contestant on The Voice Australia and has over a million hits on YouTube. Mat Verevis: It's hard to choose when we cover over 50 songs. I would say my top three are Can't Take My Eyes Off You, Bridge Over Troubled Water and Backstreet's Back.
What's on your iTunes playlist now?
MV: Fifth Harmony, John Legend and Adele. Simon listens to Bruno Mars and Katy Perry (laughs).
Tell us about the stage outfits.
DM: The costumes play an important part of the concert, as they have to represent five decades of music. We needed something versatile that could make our guys look fantastic, sleek and sophisticated. We approached Australian designer Arthur Galan for the boys' first suits. We've moved on to a brand called Politix. The suits look like they could be from the 1950s, but they also look contemporary and modern, and are slim-cut to flatter lean bodies. The suits also have some stretch to allow the boys to dance. We don't want anyone splitting his pants!
Has that ever happened?
DM: (Laughs) Yes it has. One of boys kicked one of his legs too high and ripped his pants.
What are some of the highlights of the show's career thus far?
SM: We first went on the international concert stage in 2013 and had a two-week stint at The Mandela Theatre in South Africa. We also shared the stage at F1 Singapore Grand Prix in 2015 with Bon Jovi, Maroon 5 and Pharrell Williams. Recently, we had a sell-out show at Gold Coast's Jupiters Theatre — many interactional stars have had their concerts there.
What can we expect from the boys next?
DM: We're constantly adapting our repertoire to include new artists and bands to keep things fresh and exciting. We're always changing and making the show better, working on dialogues and the choreography. There is so much good music out there. We're constantly pushing boundaries to create a new medley and hope that our fans will love and continue to love the show.
---