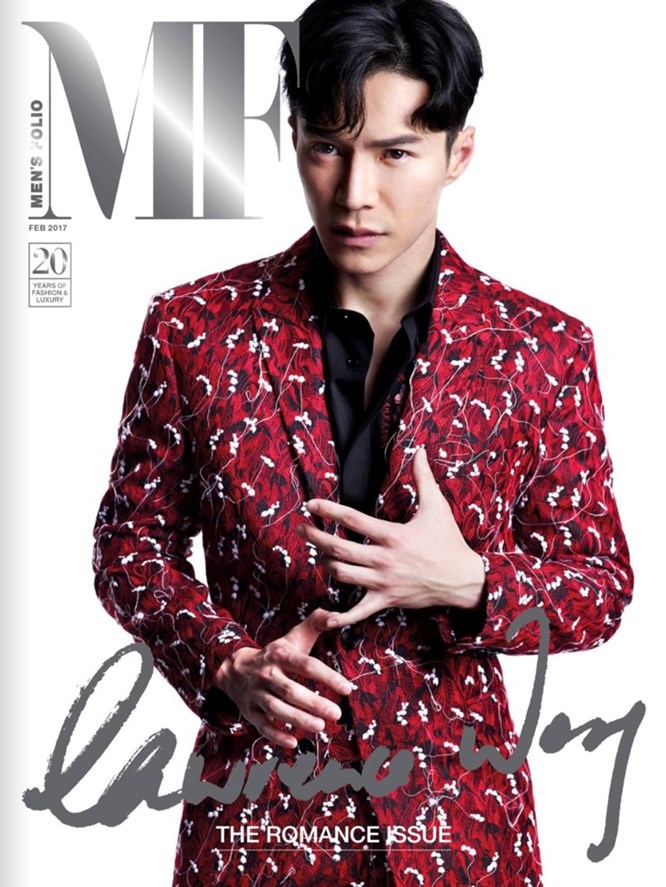 2017 marks the milestone 20th anniversary of Men's Folio. And even before the big, eagerly-awaited October birthday issue rolls out later this year, the team behind Men's Folio has produced a labour of love in the form of February's Romance Issue.
Get in the mood for love with our luxury watch spread inspired by all his smooth moves on a first date, and look your smouldering best with charming, inspired dos in the magazine's Grooming section. The issue also packs ideas for that exotic getaway for two in the Okinawa travel special. The team has even roped in Men's Folio's friend, Bagaholicboy, for a collaborative spread of the best SLGs for Spring/Summer 2017.
If there's one bloke who has started off the year romancing Beijing, it's our cover boy Lawrence Wong. In the exclusive cover story, Wong dons Dior Homme's latest. Editor Ian Lee says of the former Men's Folio ambassador: "One star who shares our affections for 2017 is Lawrence Wong. The model-singer-actor tell us about his new life after a big move to Beijing, and candidly reveals his favourite rom com, romantic ballad, and idea of a perfect date."
Finally, as a magazine that has been celebrating local men and talent for 20 years and counting, Men's Folio features Singapore's best and most inspiring Bromances – brothers turned designers with a true passion for fashion, friends who bond over tattoos like no one else, and business partners who champion looking good and feeling even better.
Oliver Burlot, CEO and Publisher for Heart Media comments: "2017 is off to an invigorating start, with a fresh cover that will pave the way for another year of exciting milestones for MEN'S FOLIO as we celebrate our 20th Anniversary this year! With many more amazing covers and events already lined-up, 2017 will truly be a year of fashion talents in Asia."
Visit Men's Folio's digital page, www.mens-folio.com, for leading news in men's fashion & lifestyle. The tablet edition of Men's Folio is also available for subscription on all Google Play and Apple Newsstands via Magzter, which is supported on all Android and Apple smart devices.
————
About MEN'S FOLIO
Men's Folio was launched in 1997, and is Singapore's first men's fashion and lifestyle magazine. Available at all major bookstores across the island, it is also delivered to over 1,200 specifically selected high-end hair salons, clinics, marinas, golf, country and other member-only clubs.
Men's Folio is published in Singapore, Indonesia and Malaysia.
About HEART MEDIA
Heart Media, the publisher of Men's Folio, L'OFFICIEL Singapore, L'OFFICIEL Malaysia, PALACE, ART REPUBLIK, WOW, WOW Jewellery, L'OFFICIEL HOMMES Singapore, FORM, ROOM magazines, is committed to publishing market leading magazines and digital media which connect with the region's affluent and brand-conscious consumers through their chosen lifestyle activities. Heart Media's titles have established solid reputations in their respective sectors with illustrious track records. Each one has built a strong market presence across Singapore, Malaysia and Indonesia.
With a vision to strengthen its regional growth and offices in Singapore, Kuala Lumpur, Jakarta, Hong Kong and Shanghai, Heart Media is regarded as one of Asia's fastest growing media and publishing houses.
For more information, please visit www.heart-media.com or contact Adam Kosnan at [email protected]
---