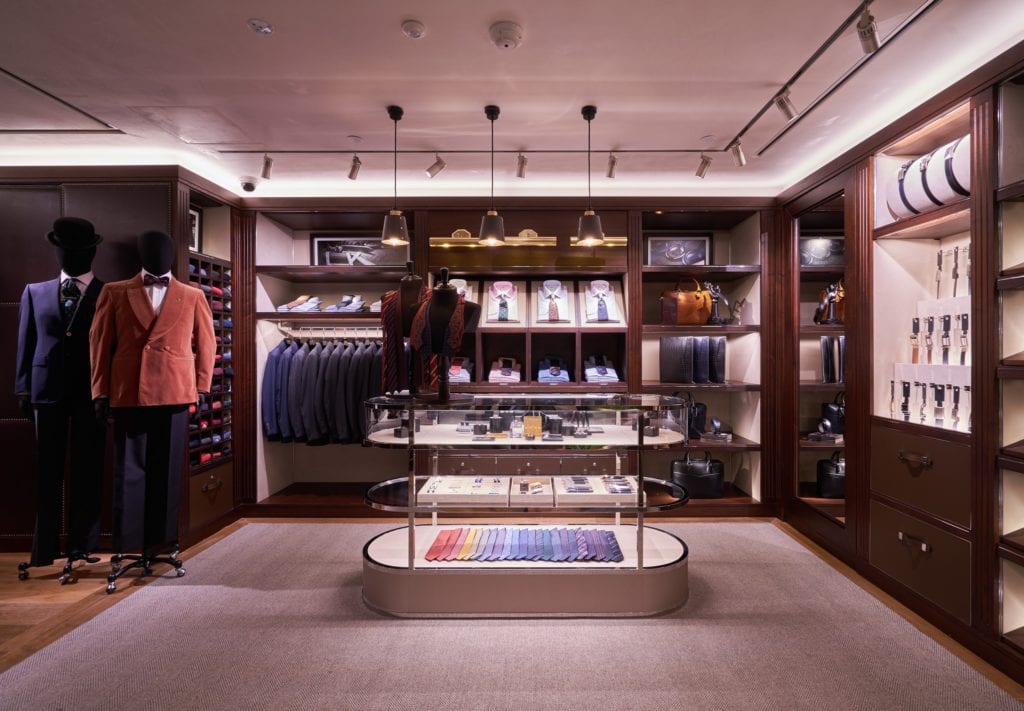 Dunhill recently reopened its store at Paragon, and unlike the previous store concepts since 1971, the British house has amalgamated contemporary elements with its English heritage in the interior design. Inspired by Alfred Dunhill's Bourdon House in London, the store features a mix of contemporary and vintage furnishings, and diverse curios and textures, seemingly curated by a thoughtful globetrotter who appreciates both modern luxury and traditional craftsmanship.
Home to the brand's latest menswear and accessories, the refurbished store is framed by curved glass bay windows and recessed doors that stay true to the Regency architectural style established in London's shopping arcades of Piccadilly and St James. The flooring, meanwhile, reflects the grand black and white checkerboard hallways of Victorian England. The crosshatched design of the entrance door kick plate references the engine turn pattern used on Dunhill products since the early '20s.
Dunhill has also embraced a warm and welcoming colour palette of blue and brown. The brand's iconic navy blue fills the store's exterior facade, evocative of the brand's evening dinner jackets. Sleek table tops are set against traditional wood paneling, adding to the eclectic arrangement of freestanding display cases and chairs. Beautifully crafted leather accentuates the interior through diamond stitch wall panels, drawer handle pulls, and charming vintage leather furniture. And grounding the store's interior is a melange of wooden floor finishes and oriental rugs traditionally found in the most exclusive London private clubs. Just the perfect backdrop for the brand's dapper suits and smart separates, if you ask us. 
---