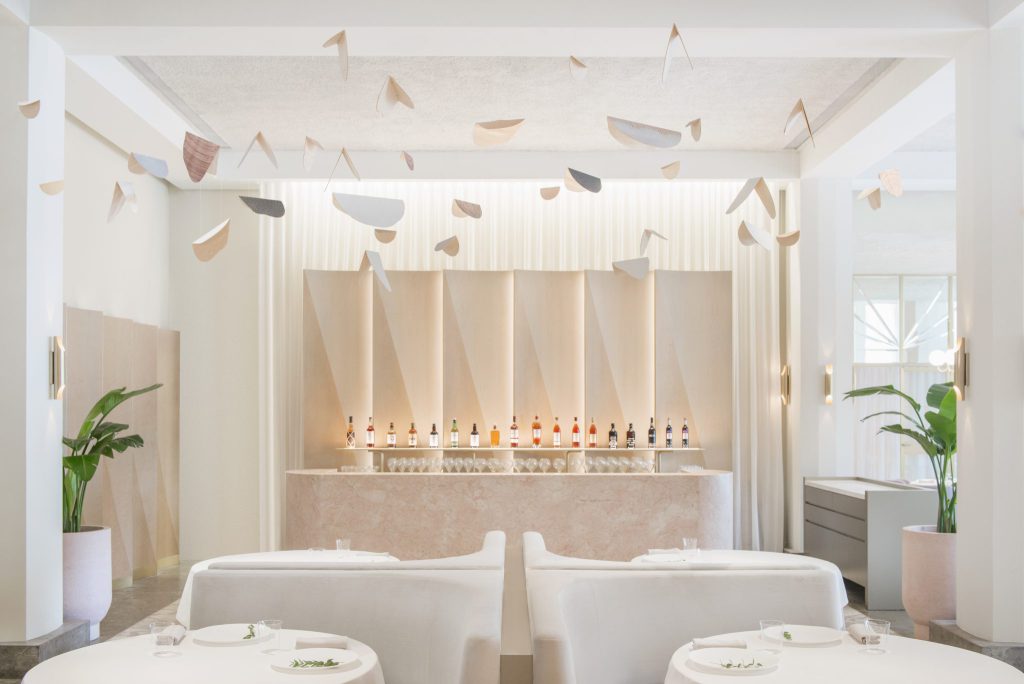 So Thursday night was an exciting one for the F&B industry, and saw 29 restaurants bestowed with shiny new Michelin star ratings, leaving Singaporeans with a whole new list of venues to visit, where they can have their tastebuds tantalised. A huge congratulations, of course, from us at MF to all the chefs and their teams; we know how you work yourselves to the bone everyday to serve up plate after plate of delectable cuisine in an attempt to slake our insatiable appetites. Here is a recap of some of our favourites among the list of restaurants that have been newly baptised into the name of the Revered Circle of Tyres. 
The Kitchen at Bacchanalia – 1 star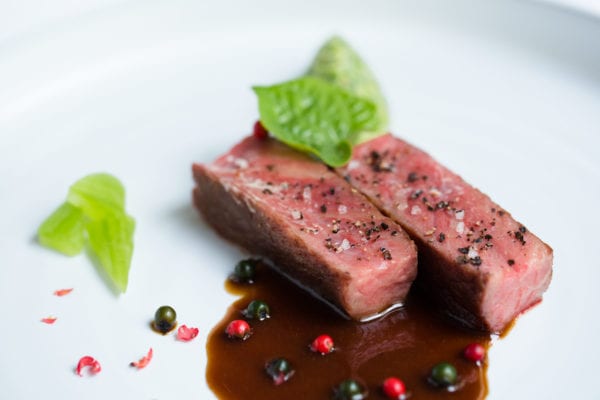 From the signboard-less front and warm lighting to the minimalist, earthy furnishings, Brazilian chef Ivan Brehm's The Kitchen at Bacchanalia is deliberately designed to break past the rigid formality associated with fine dining, and make guests feel like they are visiting a friend's house instead of a restaurant. One of the most important things you need to know about the food, apart from how good it tastes, is that pretty much everything on your plate has been sustainably sourced from around the region such as Brehm's farm in Cameron Highlands. With the varying seasonality and availability of ingredients, Brehm refreshes and updates his menu daily to ensure that guests can always look forward to something new and exciting each time they return. Some of the Kitchen's debut signatures include the Hamachi "On Toast", topped with osetra caviar; the beetroot tartare that combines different textures of beetroot with confit egg yolk; sea urchin with chocolate buckwheat pasta; and coconut risotto, which consists of aged carnaroli rice with fermented coconut. If you're lucky, you might also be able to catch the Wagyu au Poivre Vert, which would usually be the M9 Blackmore Wagyu with spiced beef jus so long as the restaurant's eco-friendly producer of grass-fed Wagyu has available stock.
The Kitchen at Bacchalania, 39 HongKong Street, Singapore 059678. 
Osia – 1 star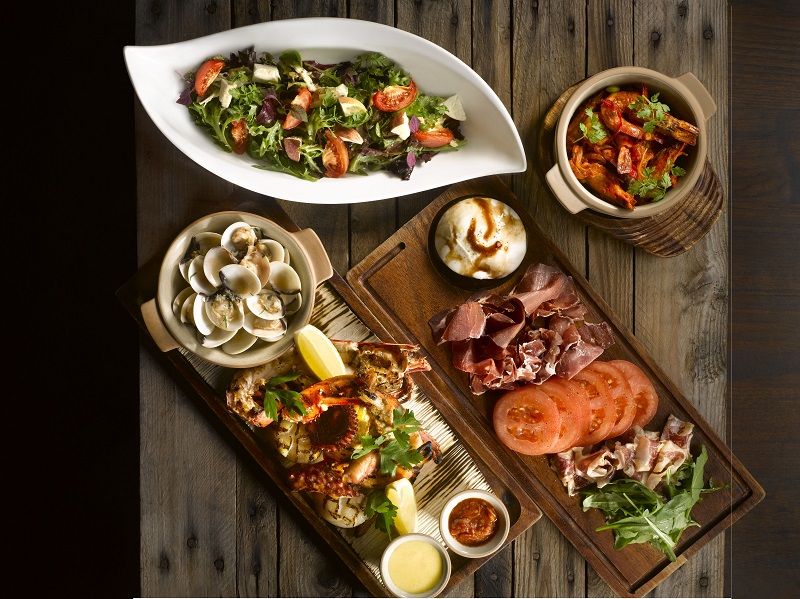 A steak and seafood grill restaurant located along the Festive Walk in Resorts World Sentosa, brought to Singapore by Australian celebrity chef Scott Webster and helmed by chef de cuisine Douglas Tay. Apart from the daily specials, the menu presents you options for sharing plates, small plates (appetisers), big plates (mains), sides, and offerings from Osia's stone hearth oven grill. The latter category, now the main feature of the establishment, encompasses fish, seafood, and premium quality meats flown in from Australia and grilled to tasty perfection. Prior to turning its focus towards contemporary grilled dishes and tapas, Osia's offerings tended more towards the experimental. In spite of the switch towards the more traditional expectations of Western food, loyal fans of the Osia's initial concept would be pleased to know that some of the restaurant's popular originals have been kept on the menu, such as the foie gras with banana textures, Madagascar vanilla and Jamaican rum; and, for dessert, the hot chocolate soup. An order of the stone hearth flat bread, with six different flavours to choose from, makes a lovely beginning to the meal. The mud crab cake with celeriac rémoulade and cocktail sauce is another satisfying tapas that you probably don't want to miss. The grill menu, satisfy your craving for red meat with the thick and juicy Byron Bay Berkshire Pork Rack, or the Mayura Station Matsusaka Signature Full Blood Wagyu Beef Rib Eye steak, or both, for that matter. 
Osia, 8 Sentosa Gateway, Festive Walk, Singapore 098269. 
Terra Tokyo-Italian Omakase – 1 star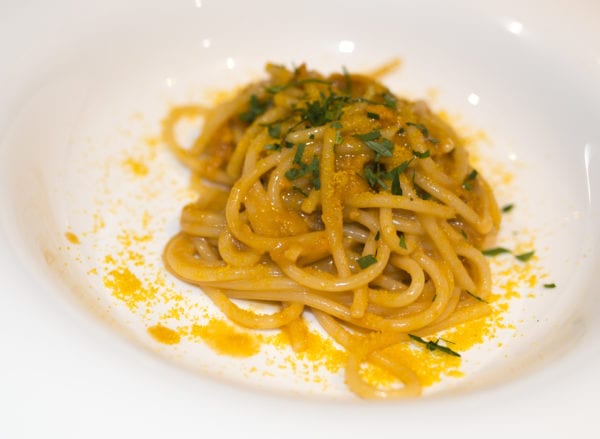 This elegant omakase restaurant in a cosy shophouse space along Tras Street is chef-owner Seita Nakahara's fulfilment of his vow to open shop here in Singapore. It presents a unique and thoughtful dining experience, and a fresh menu each time you step in through the doors of the establishment: the perfect choice for diners who are gastronomically adventurous enough to taste something new in a familiar and comfortable setting. For the full authentic experience, take a chance on Seita's omakase, a set of three courses which is available during both lunch and dinner. While it may seem unusual to have your meal so fully dictated by the chef, rest assured that everything on your plate will have been specially hand-picked by Seita himself at the market each morning. If you're lucky, you might get a taste of some of his personal favourites, such as the bottarga consisting only of fresh mullet roe, cured and done completely in-house, or the comforting acqua pazza, an Italian soup of poached fish and seafood, swimming in decadent saffron flavours. Just let the attentive wait staff know if you have any dietary restrictions so that arrangements can be made in the kitchen, or if you wish you have any wine or bubbly to accompany your meal.
Terra, 54 Tras Street, Singapore 078993. 
Odette – 2 stars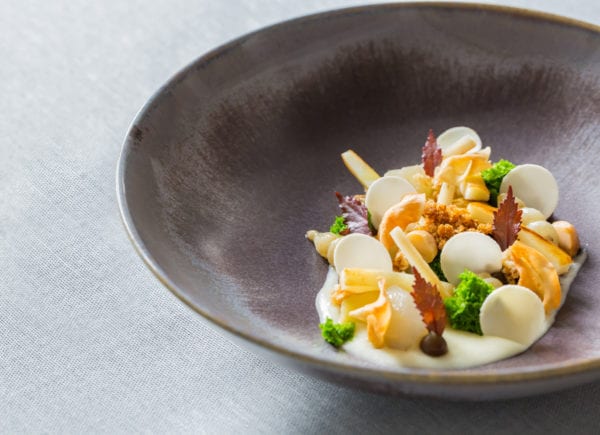 The anticipation surrounding Odette before it actually even opened was astonishing, with articles appearing in the press months before the restaurant actually opened its doors. Then again, what would you expect when the head chef of one of the most distinguished French fine dining establishments leaves his post to open his own place? At only 32 years of age, chef Julien Royer has, together with The Lo & Behold Group, set up shop at the former Supreme Court and current National Gallery Singapore, and named it after his grandmother. The story goes that it was she who passed on to Royer his fundamental cooking philosophy that the most amazing dishes can be made from the simplest of ingredients. Featuring some of the best produce shipped in from around the world, the dishes served up within the cosy 32-seater space are refined and beautiful in both cooking technique and presentation, yet heartwarmingly honest and sincere. Be sure to try the North Highlands beef tartare: hand chopped grass-fed beef from Scotland and smoked bone marrow, served with layers of pickled kohlrabi and grain mustard ice cream. Another recommendation is the Challans guinea fowl, which consists of a charcoal-grilled leg confit and breast, served with a celeraic risotto, foie gras coulant and Swiss chard with sauce albufera, a traditional French cream sauce inspired by grandmother Odette's chicken and cream gravy dish, Royer's childhood favourite. Of course, it is difficult to fully appreciate French food without wine and Odette offers a list curated by Royer and sommelier Vincent Tan, which includes Henri Giraud Fût de Chêne Aÿ Grand Cru, Chartogne-Taillet Rosé, and Krug Grande Cuvée. Better book a table fast, because it seems that the reservation waiting list is still a couple of months long.
Odette, 1 St. Andrew's Road #01-04. 
Cut by Wolfgang Puck – 1 star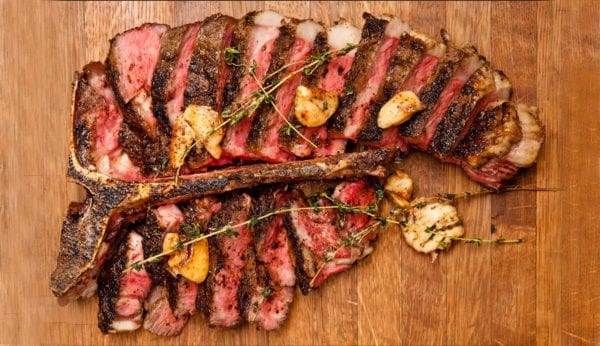 Despite the portraits of slightly-frowning celebrities hanging on the walls and the lavish furnishings and lights of the restaurant, the atmosphere at Cut by Wolfgang Puck is anything but aloof. The attentive service of the extremely affable staff is sure to make you feel like a star. Perch yourself on one of the high stools at the bar for some small bites and a swig from the constantly updated list of close to 60 original cocktails, each measured to help you shake off the stress and get you ready for a sumptuous meal. We recommend Rough Love, a cocktail of Tanqueray 10 gin, Japanese plum liqueur, and Piper Heidsieck champagne. In terms of starters, a must-try is the Hokkaido Scallop Carpaccio with shaved myoga and wasabi-kosho ponzu, which is a dish devised by executive chef Joshua Brown specially for Cut in Singapore. Also, as fresh peas are currently in season, go for the Spring Pea Soup with morel mushrooms, English peas, confit bacon and Marjoram cream. Follow that up with some Bigeye Tuna Tartare with wasabi aioli, ginger, togarashi crisps and Tosa soy; and the rich Bone Marrow Flan with mushroom marmalade and parsley salad. Be sure to leave space for the main event: The 100 per cent Wagyu Beef steak from Shiga Prefecture that almost melts in your mouth because of its sky-high grade of marbling. Alternatively, for the gentleman who needs that essential taste of beef, savour the American Wagyu from Snake River Farms. Do not leave the restaurant without having the luscious Dark Valrhona Chocolate Soufflé as well as the Baked Alaska variation that is inspired by local kaya toast.
Cut by Wolfgang Puck, The Shoppes at Marina Bay Sands, Level 2. 
Waku Ghin – 1 star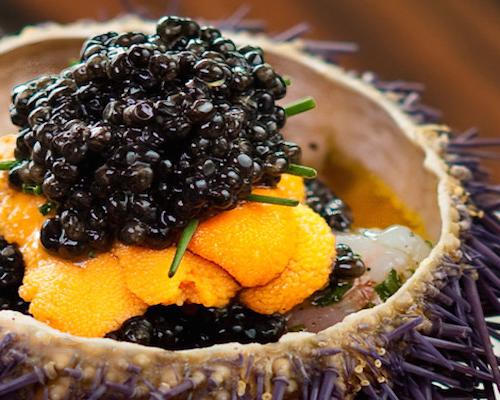 Image credit: City Nomads
Ranked seven on Asia's 50 Best Restaurants list and making it onto the World's 50 Best Restaurants list just last year, Waku Ghin's dining concept comprises the multi-facetted use of the 8,000-sq ft restaurant space. From the intimate lounge area where they are first welcomed into the establishment, diners move into private dining rooms, each holding up to eight people. There, sitting at the chef's table, they are served nothing but the freshest from an ever-evolving seasonal menu. Signature dishes include the Marinated Botan Shrimp with Sea Urchin and Caviar, as well as the Australian Wagyu with Wasabi and Citrus Soy. After working their way through the decadent 10-course degustation menu, guests are invited to make their way to either the main dining room or the drawing room for desserts and drinks, rounding off the entire bespoke experience with an astounding view of the Singapore skyline.
Waku Ghin, 10 Marina Bay Sands, L2-01, Atrium 2, The Shoppes at Marina Bay Sands.
---