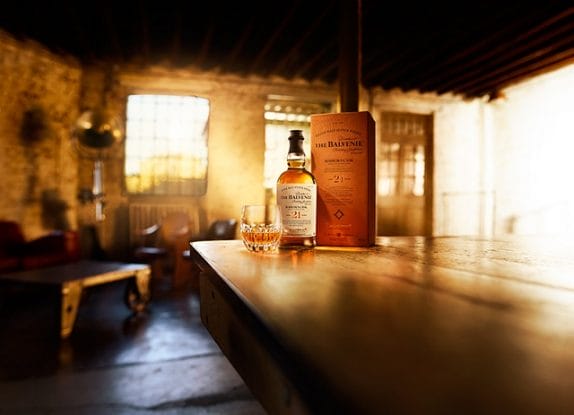 From March 2 – April 11, The Balvenie is having a showcase at Changi Airport's Terminal 1 to celebrate the introduction of the 21 Year Old Madeira Cask in an exclusive debut at the DFS. This more-than-two decade old whisky ensures its final character with notes of vanilla, oak and honey finishing with a luscious layer of rich spice through rigorous and constant sampling by Malt Master David Stewart. It retails for S$295. In keeping with The Balvenie's hand-crafted nature, travelers can create their own bottle tags by personally embossing their chosen design.
Within the showcase itself, travelers will have an opportunity to experience local craftsmen sharing their expertise in leather craft, printmaking and shoemaking. Guests will also get the opportunity to sample the whisky itself and get up close and personal with the The Balvenie Morgan, a handcrafted V6 Roadster built in collaboration with the Morgan Motor Company as an expression of the dedication to true craftsmanship held deeply by the two brands. Also featured is a cigar humidor, handcrafted from the staves of casks previously used to mature the precious whisky.
Tasting Notes
Nose
Fragrant fruity and floral, orange blossom, fresh pineapple juice and a touch of spicy ginger finishing on some vanilla syrup. 
Taste
A lovely mouth feel with a real juicy edge, exotic fruit salad and barley sugar with runny honey, cinnamon spices and gentle oak vanilla.
Finish
Lingering and luscious, sweet and malty alongside swathes of vanilla and a spicy layer.
---