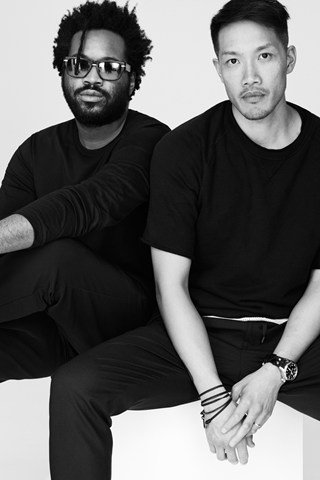 Dao-Yi Chow and Maxwell Osborne of CDFA Award-winning streetwear brand, Public School, have been announced the newest creative directors for Donna Karan's youth label, DKNY. The duo represents a concerted effort by Donna Karan International to form a greater connection with a new generation of designers and consumers, as well as re-establishing DKNY's urban identity.
Chow and Osborne have both celebrated the appointment by embracing the return to their New York roots. "We both grew up in New York, and DKNY has always been part of the landscape of this city," they wrote in a statement. "It is one of the brands that helped change the game for us and for American fashion. It evokes everything our city was always about—energy, disruption, new thinking, and transcending all boundaries.
With the roles being immediately effective, Chow and Osborne will juggle their time between DKNY and Public School.
DKNY has also created an additional position of Chief Image Officer for Hector Muelas, previously from Apple, on the team to manage brand image, marketing and creative services for Donna Karan International, including their digital platforms.
These changes may reflect a greater, imminent change to DKNY's overall image that will accelerate through the coming year.
---