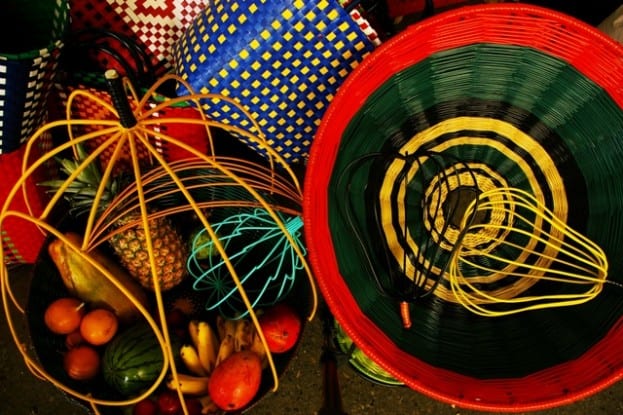 Contained within the Plaza de Mercado de Paloquemao in Bogotá is a thriving marketplace that is also a veritable palette of colours, found in the sights of fresh produce dotting the maze of stalls, to the warm, weatherworn faces of patrons and sellers alike. This electrifying vibrancy has lent inspiration to Italian design house, Marni's latest range of home décor, the Marni Mercado de Paloquemao collection.
Launched at the Salone del Mobile 2015, the collection was showcased in an installation, designed to mimic the famed marketplace, as well as links to the theme of the Expo Milano 2015, an exploration between food and the arts. Limited edition woven furniture, tableware, and form-focused banquet of fruit pieces encased in sculptures of wire-mesh and PVC were on display.
An interpretation of the composition and bold hues of Colombian fruits such as the pineapple, guanabana, zapote and curuba were the protagonists of the collection, alongside woven furniture handmade by a group of Colombian women – a part of Marni's charitable initiative where proceeds from product sales will be donated to Anayibe Rincon's Workshop, an artisanal workshop that supports the independence and emancipation of women.  
The Mercado del Palquemao installation also won the "Best Impact" prize of the Milano Design Award.
---