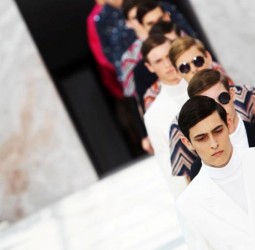 Louis Vuitton's heritage is inseparable from the world of travel and this association is still apparent even in the most recent of the maison's collections. For Spring, Kim Jones, style director of menswear at Louis Vuitton, presented a collection inspired, in part, by India and its upper crust, with the appearance of very functional, travel-appropriate accessories like waterproof leather bags, guitar bags and cases that revealed portable writing desks. Where will Jones take us to next? Tune in with us on 22 January, 2.30PM (Paris) / 9.30PM (Singapore) to find out.
For those who'd like a sneak peek of the collection, be sure to follow Louis Vuitton on Instagram (@louisvuitton) as Jones – who will be manning the account as we count down the days to the collection – takes us behind the scenes and into the workroom. We're seeing cashmere denim jeans, laser-etched shearling peacoats, monogrammed bags with mountain ropes and shearling trunks.
The designer even posted a rather quirky teaser, titled Work In Progress 1. See it below!
---