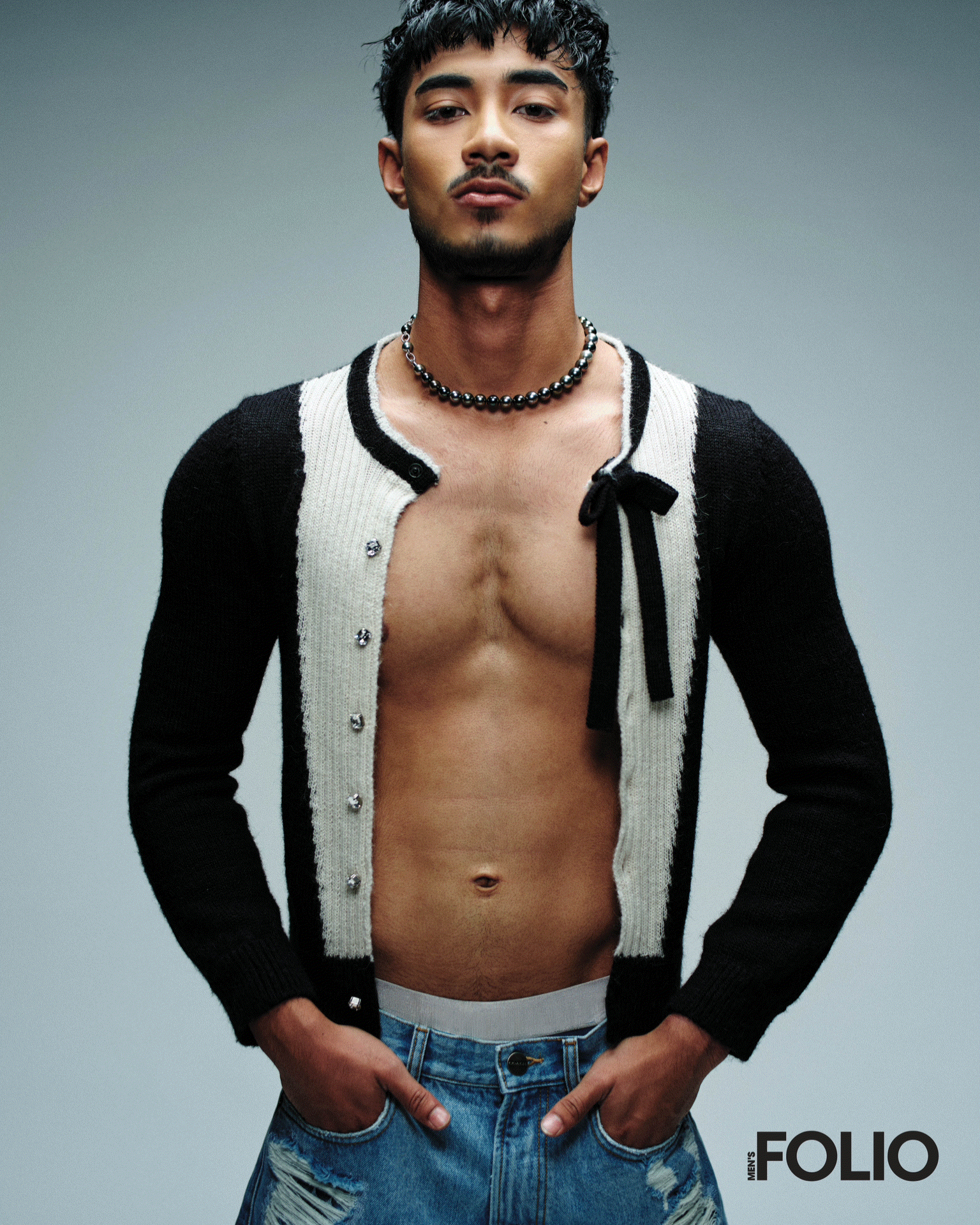 The Men's Folio Model Of The Year 2023 Competition is back; cast your votes on who should make it to the semi-finals.
There's no cookie-cutter way to make it as a model. "A lot of people, in my opinion, don't think of modelling when they start creating content on social media," says Silas Kirsh, Men's Folio Model Of The Year 2022 winner. "We don't think of how doing one thing could lead to something fulfilling. But (modelling) is definitely more accessible now." 

This year, the competition returns with a focus on elevating the way we think of style, culture and intelligence; and these shortlisted names are bound to reach higher and higher.
From now till 6pm, 31 August 2023, cast your votes below on who you think should make it to the next rounds.

ASHGER
in Celine Wool-blend knit sweater; Coach Jeans; Mikimoto M Code Liberté necklace; Model's own Cotton underwear

DHANI
in Loewe Wool sweater, silk satin boxer shorts; Swarovski Millenia crystal necklace, Mesmera Metal and crystal ring; Model's own Metal rings

GABRIEL
in Hermès Wool pants, leather derby shoes, Videpoches leather crossbody bag

ISAAC

in Prada Nylon duvet tank top, canvas sneakers; Zegna Wool shorts; Stylist's own cotton socks

JIA JUN
in Valentino Wool jacket, silk satin shirt, metal embellished jeans; Mikimoto V Code necklace with Ayoka cultured pearls

JUSTIN
in Bottega Veneta Leather intrecciato shirt, leather intrecciato pants; Gentle Monster x D'Heygere Metal and crystal embellished glasses

RYAN
in Versace Patent leather jacket; Coach Denim skirt; Givenchy Cargo jeans, TK-360 leather and canvas sneakers; Swarovski Dexteria Metal and crystal embellished body chain

XIJIE

in Prada Wool jacket, wool pants, rubber and canvas sneakers; Model's own Cotton underwear
Photography Zantz Han
Casting & Styling Izwan Abdullah
Grooming Eric Tan, Jenny Tan, Leny Fu | Palette.inc using Gucci Beauty
Hair Karol Soh |Palette.inc using KEUNE Haircosmetics
Photography Assistant Dennis
Styling Assistants Manfred Lu & Sadiq Shah
Casting Assistants Natalie Dykes & Danial Mirza
About Model Of The Year 2023
At Men's Folio Singapore, we believe the role of a model is much more than just an attractive face. The Men's Folio Model Of The Year competition is an initiative that hopes to uncover the next generation of talents who can help shape the modelling landscape into a diverse one.
Over the past editions of the competition, many of the finalists have signed with Singapore's top modelling agencies. This year, Men's Folio is looking for the best undiscovered and emerging faces from all backgrounds. Those who enter are in the running for a fashion feature in Men's Folio, lensed by a professional photographer and styled in the season's best looks. The winner of the competition will be featured in an exclusive editorial feature, and will recieve a modelling contract with Singapore's leading modelling agency, Mannequin Studios.
The goal of the competition is to establish new faces within the industry but also ensuring that they receive the adequate opportunities and experiences. Candidates who make it to the semi-finals will receive training and workshops from the editorial team, Mannequin Studio, and past finalists of the competition.
They will also have the opportunity to be included in several fashion features which will help build towards establishing their portfolio images. Since 2021, the competition is open to ages 18 and above with no age ceiling, and masculine aligned individuals.
Note: 25% of public votes account for the final results, together with the competition's sponsor Mannequin Studio (25%) and opinions of the editorial team (50%).
For more information about the Men's Folio Model Of The Year 2023 competition, please submit your queries to manfred@heart-media.com
Once you're done with this story, click here to catch up with our August 2023 issue.
---
RELATED ARTICLES