The winners of the Men's Folio Designer of the Year and Male Model Search 2018 competitions share the love.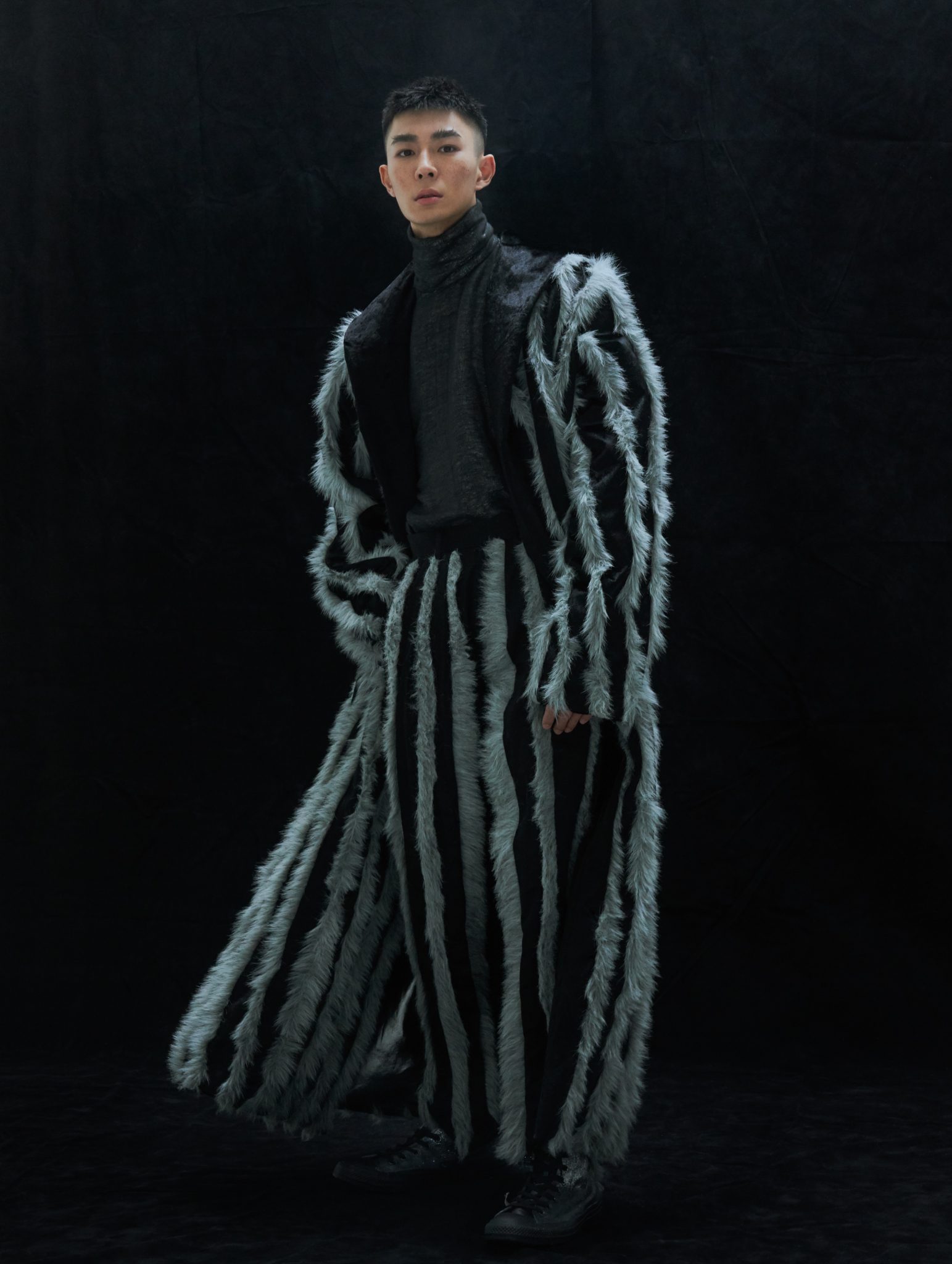 AZ.S Wool-blend jacket, cotton-bland turtleneck sweater, wool-blend pants, canvas sneakers
AZRA SYAKIRAH
Winner of Men's Folio Designer of the Year 2018
Congratulations on winning the Men's Folio Designer of the Year 2018 competition.
It is so surreal, to be honest. I have tried joining this competition the past couple of years but have never been shortlisted before, so winning is like a dream come true.
What is your biggest takeaway from your winning collection, "GIN OUKAM"?
Other than the message of the collection (which is to not look at everything as it is, perfect or imperfect — there is always a story behind it), I feel that this collection has allowed me to recognise and be more confident in my own skills and abilities. I realised my biggest mistake was the constant need for approval and assurance; I should listen to my own instincts instead, they are right most of the time.
What are you working on next?
In March, I will be having a trade show in Tokyo to showcase the "GIN OUKAM" collection, with the aim of exposing my brand to the Japanese market as well as putting the collection on some of the racks there. I am also already starting on Spring/Summer'2020.
Tell us about your label.
AZ.S (pronounced "ah-z") addresses psychological and theoretical issues through the means of representational interpretations. We are often too caught up in our own lives that we forget we are human beings with emotions, and with all the politics and chaos in the world we forget that we are tender beings in need of care. My aim is to never lose focus on ethics and empathy amidst the fast-changing, face-paced fashion world.
Who is your main audience?
The young adult to adult male fashion scene in Japan, which prioritises on quality, cut and innovation. For the past couple of months, I have been travelling back and forth between Singapore and Japan to gather information and sit down with people in the fashion scene (and even those not in the scene) to hear their stories.
What is the most important piece of advice you have received as a designer?
The most important and best advice I have received is that failure is part of your journey. You will always have to fail at every point in your life, because that is when you are able to grow and evolve as a designer. And you have to accept failure with open arms, as you would with success — they are both equally beneficial.
What is your favourite piece of menswear?
Generally, men's bags have always been sort of my weakness. I feel that it makes rather than breaks an outfit; men accessorising with flashy bags or clutches is so underrated.
In your opinion, where is menswear headed?
As with fashion in general, menswear is heading towards the direction of hypebeast and streetwear. It loses a lot of cuts and the tailoring factor is completely gone, which makes no sense to me. I believe tailoring is the very foundation of menswear, but it is seen as old-fashioned and technical instead of a necessity. Menswear is perceived as "simple" and "easy" when, in my opinion, it is so much challenging than womenswear in fashion.
Since this is our "New Love" issue, share with us your latest love.
I would not consider it so much as new, but renewed. I have discovered and rediscovered the love I have for myself, the people around me, old and new friends, and just humanity in general. I am in love with the interactions we have with each other, the things we learn form one another, and how someone can easily change a person without even knowing it. It is so beautiful.
AZ.S Wool-blend sweater, wool-blend pants
MAKO CHIA
Winner of the Men's Folio Male Model Search 2018
Congratulations on winning the Men's Folio Male Model Search 2018 competition.
I am more surprised than anything as I am the youngest and most inexperienced. It was also the first time I got to walk the runway!
What is your biggest takeaway from the competition?
Working with the Men's Folio team as well as designer Azra (Syakirah) was enlightening. I had a ton of fun doing every shoot and fitting.
What does being a male model mean to you?
It is humbling to be recognised as a male model, but I feel I should not be put on a pedestal of any sort. I am just grateful for all the people that I have met thus far and the experience that I have gotten out of this journey.
Are there any international male models you look up to?
Keisuke Asano, Sen Mitsuji — these are the people that I have been following for years.
What is the most important piece of advice you have received as a model?
On my first couple of shoots there were a bunch of people looking at me, and the photographer simply said "Be yourself and ignore what's in front of you." That stuck with me.
What is your favourite part about modelling?
Donning clothes that I have dreamed of wearing, meeting new people and photographers, and learning something different each time.
Since this is our "New Love" issue, share with us your latest love.
My first and latest love would be my girlfriend, who has been supportive of me throughout.
AZ.S Wool-blend jacket, turtleneck top, leather pants
Photography Shawn Paul Tan 
Styling Wilson Lim 
Grooming Jane Lau/ PaletteInc using YSL Beauty  
Hair Christvian Goh/ ARX using Kevin Murphy 
Photography assistants Melvin Leong, Kat Midori 
Styling assistants Sapphire Chin, Khoo Yong Hao, Marcus Li 
Model Mako/ Blu
---
Luxify listings
Powered by