When did the basic three-steps skincare regime turn into ten-steps? Men have the Koreans with their impeccable "North-Star-level" glowing skin to blame. Now that k-wave has spread across the world, everyone is looking to South Korea as the nexus of inspiration, including looking like their idols. When pressed to share their secrets of youthful glowing skin, the male idols revealed their obsession with hydration. That obsession peaks with the double dosage of products that essentially perform the same function, resulting in a multiplying effect and the ten-steps skincare routine.
If one is wondering if the ten steps entail slathering ten products on the face in one sitting, the answer is yes. So how does the ten-steps regime really work? Here is an anecdote to illustrate the point: you are out drinking with the lads and in that night, you started with beer then moved to martini, white wine, red wine, dessert wine, brandy, whisky, tequila shots, vodka and capped it off with champagne. The aim was to get wasted (for maybe the entire of next week) and that has been well achieved with such a potent cocktail of alcohol. Would you do this every weekend? I hope your answer is no but the point is nobody really has the capacity to commit to a ten-step skincare regime unless your point of existence is centered on looking like a K-pop star. Also, if you keep loading your skin with hydrating skincare, it will definitely appear plump as it is high on hydration. 
Many people fail to consider that the ten-steps was created by women for women and men's skin are structured differently. Men tend to have skin which are more oily, have bigger pores and are less hydrated hence creating the demand of dedicated men's skincare. Moreover, these specialised skincare target men's skin more effectively and their disinclination towards any sort of skincare regime.
The first three steps in the ten-step routine, oil cleanse, foam cleanse and exfoliate is basically step one of the typical regime. Double cleansing is a hallmark of the ten-steps because the skin is believed to be thoroughly cleaned. Oil cleanser is said to remove makeup, sunscreen and pollutants accumulated on the surface while foam cleansers target deeper skin cleaning. Again bringing up the point on getting men to start on any kind of skincare regimen, the ten-steps want men to actually wash their face twice and that is a tall order. If makeup and sunscreen are out of the equation then cleansing once would effectively do the job.
Many beauty experts would argue that twice weekly exfoliating is vital, especially for men who tend to have darker skin and more dead skin accumulation due to thicker hair follicles and repeated shaving. This would increase the "washing face" portion of skincare from two times to three. However, there are already cleansers in the market that include exfoliating properties to cut out the fuss. Such a product is Biotherm Homme's Aquapower Cleanser containing non-abrasive exfoliator, Anisic acid which is suitable for daily use. Three in one, it is really that simple.
Steps four through six; tone, essence and serum can fundamentally be packed into one step: tone. Another hallmark of the ten-steps routine is step five, essence where a nourishing liquid concentrate is sprayed as a mist to skin and help lock moisture. Then, the serum is a viscous concentrate version of the essence, used to target specific skin issues like uneven tone and sagging skin. But, a powerful toner like SK-II Facial Treatment Essence can merge tone, essence and serum into one simple step. Containing Pitera, the SK-II's toner is able to illuminate, firm, eradicate lines, even tone and smooth skin, which are virtually the functions of the essence and serum, all while keeping the skin moisturised.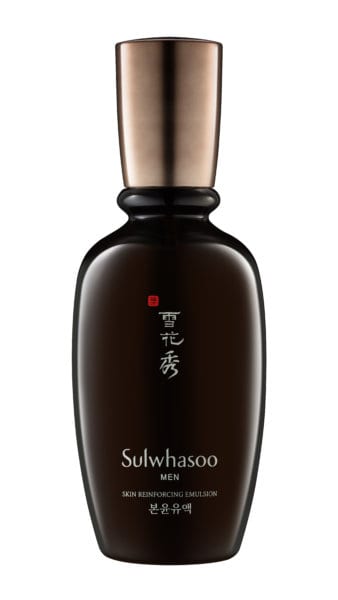 The mind boggling part of the ten-steps is in steps seven through ten – mask, eye cream, emulsion and cream. Granted that the mask does not have to be done in the day or every night (but the k-pop stars mask their face religiously day and night), the rest is a serious amount of moisturiser to slap on. Using the cream in the ten-steps routine is seen as locking in the emulsion to keep the face hydrated. Once again, an efficient moisturiser like Sulwhasoo Men Skin Reinforcing Emulsion, straight from the k-pop idol's arsenal, would do the job just fine. The lotion-type moisture-rich emulsion contains sea buckthorn that creates a moisturising protective film to soothe skin damage caused by external stress. The use of eye cream is debatable as the skin around the eye area is thinner and more delicate hence requiring a separate moisturiser. 
To conclude, the ten-steps skincare might be too excessive especially for the time-strapped men. What men need are three high-functional products each for the category of cleanse, tone and moisturise. So men are not selling themselves short if they ever commit to a three-steps skincare regime. Key words: "ever commit".
---
Luxify listings
Powered by