What a year it has been for Hollywood! A quick recap from Jimmy Kimmel's Oscars monologue would have given you ample updates on some decade-long socio-political open wounds that either faced the music — #TimesUp (CC: Weinstein), and/or hit a climax with Afrofuturism thanks to Black Panther (Wakanda forever!).
As we see closure on the sexual misconducts and justice served on a platter of name-and-shame (yes thank you), equality has been deftly navigated back to the Hollywood equation. Hey, we are not fretting. We give credit to Hollywood's efforts at improving its race, orientation, and gender representation. So right now, we celebrate and congratulate the best of the best: Best Picture and Best Director, The Shape of Water by Guillermo del Toro; Adapted Screenplay, Call Me By Your Name, Best Actor, Gary Oldman. A Men's Folio favourite, we give special shoutout to Timothée Chalamet on his incredible performance on Call Me By Your Name and Lady Bird. Forgive us for our breathy monologue, we promise all this talk leads to something bigger: Times up for the old traditional tux and a grand hello a more nuanced idea of masculinity (read: velvet tux) in the age of post-Weinstein Oscars. 
We have some show-stopping red carpet style to soak in and we're looking at some next level OOTD. Here's a roll call of the best looks at the 2018 Oscars:
David Kaluuya
We really dig men who do bold colours and we're pleased to see fine Kaluuya shining in bronze velvet. We spy the nominated leading actor in "Get Out" with an added swagger adorning an IWC Ingenious Chronograph timepiece.
Timothée Chalamet
We have very high sartorial expectations for Chalamet and he has certainly brought IT to the table. Taking a cue from fairytales, the prince charming was channeling chic from head-to-toe in an ivory Japanese wool suit from Berluti. Truly a sight to behold.
Chadwick Boseman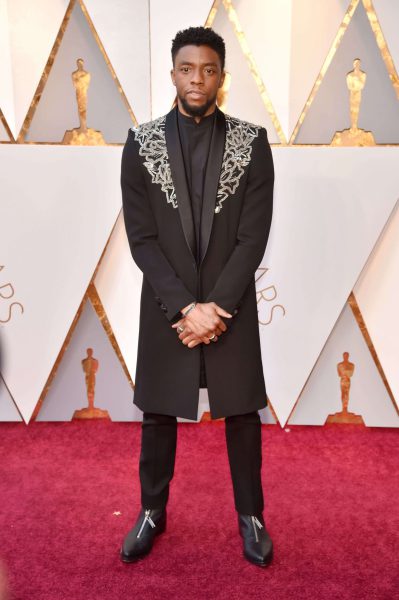 Flawless as we know it, Boseman in Givenchy Haute Couture is literally serving us some Wakanda realness. Poised like a true royalty in a wool tuxedo coat with Mystères d'un jardin de suit hand-embroidery, we are living in his hype.
Armie Hammer
We know velvet is not everyone's cup of tea but this season, a softer touch seemed to be the sartorial weapon of choice. We have another frontrunner showing us standard folks how velvet is done without looking like an copycat Hugh Hefner. We love how he swanks it up in sultry wine red without looking over the top.
Mahershala Ali
Be prepared for sequels of the velvet suit. Once more, another Hollywood elite caught in the velvety touch of textbook elegant. The much-celebrated Ali is dressed in Berluti with a dark Emerald hued shawl collar to impress. It doesn't get more homme fatale than this.
---
Luxify listings
Powered by